Training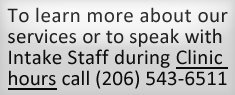 The University of Washington's clinical psychology doctoral training program places great value on the scientist-practitioner model of training. Toward that end, graduate student therapists in the Clinic have a wide variety of training options available to them, with increasing emphasis being placed on training that incorporates both science and practice.
Graduate student therapists in the Clinic may have the opportunity to be supervised by one or more of the University's clinical faculty, some of whom are nationally or internationally recognized for their clinical treatment research. See the Psychology Department's web page for faculty and research center web pages.
The Clinic also allows students to integrate both science and practice into their clinical training through the ongoing program evaluation research project. All student therapists and their clients are asked to participate in an ongoing evaluation of their progress in therapy. Results of the study will provide important feedback on both the service and training goals of the program.
The primary function of the Clinic is to provide an introduction to clinical training for clinical psychology graduate students. Students begin seeing an average of three clients in the Clinic during their second year in the program. After the second year, students are encouraged to supplement their training through outside practica. The Seattle community provides a rich and varied array of practicum placements which allow students to receive a greater breadth and depth of experience than could be gained through the Clinic. Students are welcome to continue to see a limited number of clients through the Clinic until they leave on internship as long as they are making good progress on their research and academic requirements.
For more information about the graduate program in clinical psychology, visit the Psychology Department's Graduate Admissions web page.