General Description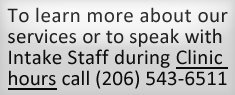 The primary function of the Psychological Services and Training Center (The Clinic) is to provide an introduction to clinical training for clinical psychology graduate students. The secondary function of the Clinic is the provision of quality psychological services to residents of the Greater Seattle area, including UW faculty, staff, and students.
The UW Department of Psychology partially subsidizes the training function of the Clinic, which allows us to offer psychological services at substantially reduced fees. This fee policy enables us to reach many typically underserved populations such as low-income, ethnic and sexual minorities, as well as children and families.
An additional goal of the Clinic is the integration of research and clinical training. Toward that end, there is an ongoing program evaluation in which all trainees, their supervisors, and their clients participate. Additionally, students and faculty are welcome to make use of the Clinic for approved research projects.