About Us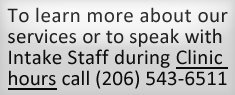 The University of Washington's Psychological Services and Training Center (The Clinic) provides psychotherapy and psychological assessment to residents of the Seattle metropolitan area, including University of Washington students and their families.
The Department of Psychology at the University of Washington maintains the Psychological Services and Training Center as a training site for graduate students in the clinical psychology Ph.D. program. Graduate student therapists provide therapeutic services and are supervised by licensed psychologists and other experienced mental health professionals. Please use the menu options above to learn more about the Clinic and services we offer.
The LEARN Clinic- Learning Disability and ADHD Assessment
The LEARN Clinic is a small specialty clinic, operating through the Clinic, that offers a comprehensive range of learning disability and ADHD assessments. Learn more about the LEARN Clinic under the LEARN Clinic menu above.