Summer 2020
Published: 06/15/2020
Greetings,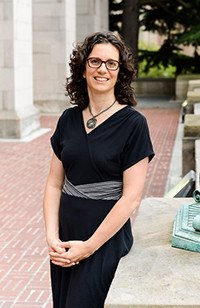 Cheryl Kaiser
This academic year has been like no other. The global pandemic has affected every aspect of our department including our teaching, research, therapy, and community outreach. And simultaneously, the longstanding pandemic of racism and the need for dismantling of racist practices has implications for all aspects of society, including our department practices. I'd like to share how Psychology is responding to both of these pandemics.
When the magnitude of the coronavirus pandemic became clear, we rushed to deliver final winter lectures and exams online, and spent spring break overhauling classes so we were ready for the thousands of students who would soon join our virtual classrooms. Faculty, staff, and students alike learned to manage new technologies, multiple time zones, lack of childcare, loss of lives, illness, economic devastation, and the uncertainty and distress that characterized our spring. Our philosophy was mutual compassion and grace, and along the way, we found opportunities, including increased access to classes that were often unavailable due to limited physical classroom space. Psychology of Human Sexuality was offered to 1,200 students, creating the largest class offering in UW's history. Our training clinic adopted telehealth approaches to serve clients, and while much research remains halted, some found pathways to new approaches to continue research projects. We shifted major events online, and most notably, honored 500 Psychology graduates this spring in a virtual graduation ceremony. UW psychology members also had an unusually strong presence in the media, with commentary and advice for coping with the pandemic. Although plenty of challenges remain, our resilience and creativity were remarkable, and will serve us well as we continue to face uncertainty in the coming academic year.
Diversity, equity, and inclusion (DEI) are core to our mission, and these values require active engagement in recognizing and dismantling racist practices that disadvantage communities of color, and in particular Black and Indigenous members of our community. Psychology spent much of this year advancing DEI in our department, and the protests this spring served to underscore the significance of these initiatives and the work ahead of us to better center the needs and perspectives of community members of color. Anti-racism is all of our work, and you will learn more about our initial efforts in this newsletter.
At the start of fall quarter, Dr. Chadwick Allen, Associate Vice Provost for Faculty Advancement, led our faculty through a workshop that focused on DEI best practices in faculty hiring. Dr. Allen has been a vital resource in supporting our faculty searches and department. This winter we received a UW Diversity Seed grant (described in this newsletter) to support a series of inclusive teaching workshops for our faculty. We gathered virtually this spring to learn about creating more inclusive syllabi and classroom practices, and we will continue with two additional workshops focused on microaggressions and disrupting bias, including a participatory interactive training with UW's Theater for Change. Our graduate student led Diversity Steering Committee (DSC) will evaluate our progress, with a baseline syllabus audit and post-treatment assessments, along with consultations to increase the inclusiveness of our syllabi and classrooms.
The DSC has shown phenomenal leadership (see the DSC update in this newsletter), from providing community building events such as coffee hours and writing sessions (in person pre-pandemic and now virtually), to developing resources for our community and holding our faculty and leadership accountable for inclusive practices. The DSC has several initiatives underway, including inviting faculty speakers of color, auditing departmental processes (e.g., who gets department awards), identifying strategies for diversifying our department, running a climate survey, and supporting students of color. The Chair's Office meets regularly and collaborates with the DSC leadership, and offers at least 220 hours of funding each quarter to support the work of this committee and provides a discretionary budget to support the committee's activities.
Our faculty are educating each other and forming workgroups to address how we can be more anti-racist in our research, mentoring/teaching, clinical training, and outreach. Faculty have been centering the requests by Black and Indigenous People of Color (BIPOC) members of our department for the changes they would like to see and how we can make those happen. These workgroups range from adopting holistic practices in our undergraduate and graduate admissions, to creating bias reporting channels, to diversifying our department, improving clinical training, and supporting our students and staff.
The Department's Strategic Planning Committee (the department's policy setting body) created a Diversity Advisory Committee to support our faculty search committees' use of evidence-based fair hiring processes with the goal of actively recruiting more BIPOC faculty. The Strategic Planning Committee also added a voting faculty member to the committee to represent DEI perspectives, including the voices of graduate students of color, in department policy setting. All committee members share a responsibility to advocate for DEI, and the new position dedicated to this perspective helps hold us accountable to these goals. This new committee member was nominated by the graduate students on our Diversity Steering Committee.
Over the past years, we have also approached departmental practices with an eye toward enhancing equity. Our faculty, staff, and alumni have fiscally supported a food gift card panty for graduate students. For the past two years, we have provided all incoming graduate students with a $1000 relocation payment to support their move to Seattle. We have also increased the amount of annual travel funding provided to graduate students and created additional departmentally and donor supported fellowship quarters to support students. This spring, we created an emergency fund to support graduate students facing fiscal distress from both the pandemics of the coronavirus and racism.
It is important that we continue to support our DEI initiatives and students of color, and I invite you to join me and my family in directing your annual gifts to the Psychology Diversity Fund. This fund supports DEI efforts and serves as an emergency resource for graduate students facing financial hardships that can disrupt their studies and careers. We know all too well that the burden of economic inequality is carried disproportionately by communities of color, and these funds provide an opportunity for a safety net to support our students, and in turn promote racial diversity in our discipline, including future generations of professors, therapists, and employees across a broad range of psychology-relevant fields. If you have the capacity to give, please consider supporting our Psychology Diversity Fund.
We are committed to this anti-racism work and welcome any ideas that you have about our initiatives. We have work to do as individuals and as a department, and we invite you to hold us accountable to our vision.
This academic year saw a number of Psychology majors receiving awards and recognitions. Six of these outstanding individuals were featured during our virtual Graduation Celebration on June 13. We wanted to share their accomplishments and continue to celebrate them here.
Savannah Cassis - President's Medalist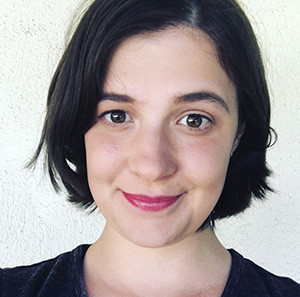 Savannah Cassis
"I was amazed every time I stepped foot onto campus that I was lucky enough to study at the University of Washington. I am grateful for the research opportunities, the supportive teachers, the eye-opening classes, and the overall Psychology Department. I am also thankful for the support and help I received from Dr. Chantel Prat, Teddy Haile, and everyone at CCDL while completing my honors project."
- Savannah Cassis
The President's Medal award celebrates the top student in each undergraduate class. Psychology honors student Savannah Cassis is this year's President's Medalist. Savannah transferred to UW from Tacoma Community College and graduates Summa Cum Laude. Following graduation, she plans to travel to Japan where she will teach English. Please join us in celebrating Savannah as the 2020 President's Medalist!
Drew Callipare - Dean's Medalist for the Arts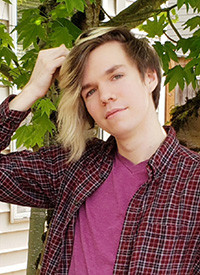 Drew Callipare
"As a psychology major at UW, I surrounded by passionate and bright individuals from various backgrounds. I met many great people who were using psychology as a launch pad into a diverse array of careers."

- Drew Callipare
Each spring, the College of Arts & Sciences awards the Dean's Medal to a particularly outstanding senior in each division of the College.
Join us in celebrating psychology senior Drew Callipare who was selected by the College as the 2020 Dean's Medalist in the Arts Division. Drew graduates Summa Cum Laude with a B.A. in dance and psychology and a minor in gender, women & sexuality studies. Following graduation, Drew plans to find work in the community helping others during these difficult times.
Nell Baumgarten - Dean's Medalist Nominee for the Natural Sciences
Nel Baumgarten
"I chose to study both psychology and biology because I was interested in learning about the nervous system and behavior from multiple perspectives. As a psychology student, I was encouraged to draw connections between cognitive processes and the underlying neurobiology. Through the Psychology program, I developed a strong appreciation for these interdisciplinary connections and the value of a holistic education."

- Nell Baumgarten
We also wish to congratulate the Psychology Department's nominee for this honor in the Natural Sciences Division, Nell Baumgarten. Nell graduates Summa Cum Laude with a B.A. in psychology and a B.S. in biology. She has interned with the UW's Experimental Education Unit and Autism Center's Apex Summer Camp, and also at Children's Hospital. She is the recent recipient of a Washington Research Foundation innovation fellowship. This summer, Nell will study spontaneous brain waves in early development with the UW Institute for Neuroengineering. Her ultimate goal is to become a developmental pediatritian.
Kitty Slocum - Aric Chandler Scholar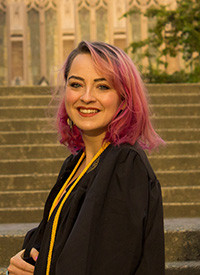 Kitty Slocum
"My time studying psychology at UW has taught me so much about the human mind - what creates us, drives us, and connects us. I have learned valuable lessons, such as how to communicate better, how to understand people better, and even how to better understand myself. I am so incredibly grateful for my experiences and people I have met in the Psychology Department. They have made a remarkable impact on my life and I will never forget them."

- Kitty Slocum
In memory of Aric Joseph Chandler, his parents, family, and friends established an endowed scholarship fund to support Univeristy of Washington-Seattle undergraduate psychology majors who transferred to UW from a Washington community college. This generous gift was made to advance Aric's passion, vision, and dedication to helping others, especially young people.
In fall quarter, Kitty Slocum was named the 2019-2020 Aric Chandler Scholar. Kitty graduate Cum Laude with a B.S. in psychology. While at UW, she worked as a Study Skills Coach with Academic Support Services, served as a peer mentor for new psychology transfer students, and conducted research in the Foster School of Business. Following graduation, Kitty will prepare for graduate study in social psychology with a goal of working in schools to teach students how to be advocates for compassion and social connection.
DiShawnn Newell - Gonfalonier for UW Commencement Ceremony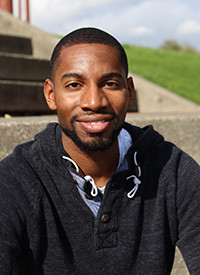 DiShawnn Newell
"The UW psychology major provided me with the opportunity to explore the mind on a deeper level than I could ever have imagined. With classes ranging from basic sensory perception to in-depth brain dissection, I undoubtedly gained a foundation in biological psychology that rivals the best. The strength of the education, the innovation of the faculty, the plethora of supportive resources, and the wide range of research opportunities reassured me on a daily basis that attending UW to study psychology was not only the right choice, but the best choice."

- DiShawnn Newell
The College of Arts & Sciences selected psychology major DiShawnn Newell to be a gonfalonier at the UW Commencement Ceremony. The gonfaloniere (as they are called collectively), are outstanding graduating seniors who represent their colleges by carrying large banners - gonfalons - into the Commencement Ceremony. Even though the event was virtual this year, DiShawnn was still front and center leading fellow students.
DiShawnn came to UW following eight years serving as a nuclear engineer with the United States Navy. He graduates with a B.A. in psychology and a B.S. in neuroscience. While at UW, he conducted research, served as a peer mentor for psychology transfer students, and interned with Amazon. Post-graduation, DiShawnn's plans include seeking a project management position in industry with the ultimate goal of working as a hospital administrator.
Katie Spink - Fulbright Scholar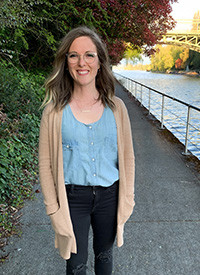 Katie Spink
"As a transfer student and a mother, I entered UW with the hope to complete a high quality Bachelor's education. Not only was my education experience more than I'd hoped for, I was blown away by the widespread opportunities to become involved and build supportive relationships in the Psychology Department. Participating as a research assistant, undergraduate research leader, and a teaching assistant, along with the guidance from professors, graduate student mentors, and peers have been critical to my goal of becoming a researcher."

- Katie Spink
The Psychology Department is very proud of graduating senior Katie Spink who has been selected as a 2020-2021 Fulbright Scholar. Following graduation Magna Cum Laude, Katie will be at the University of Auckland where she will work on a landmark longitudinal study focusing on socioeconomic and ethnic differences in pre-adolescent expectations and self-beliefs.
Katie plans to pursue a Ph.D. in clinical psychology with the aim of supporting families, particularly in disadvantaged populations, by examining factors that enhance or hinder family functioning and child development. She hopes to build on this understanding by developing and improving feasible, affordable interventions that will buffer disadvantaged families from negative health outcomes.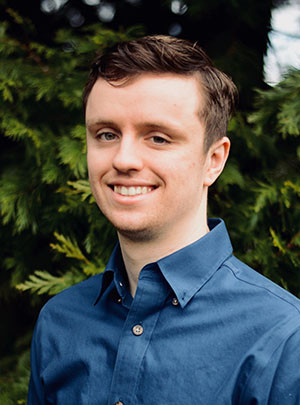 Adam Smiley
The National Science Foundation's Graduate Research Fellowship Program (GRFP) is highly competitive and provides fellowship support for graduate students (master or doctoral) in science, technology, engineering, and mathematics. Recipients are given a three-year award consisting of a fellowship stipend and an education allowance, in addition to the powerful networking opportunities and resources afforded by being selected as a fellow.
The Department of Psychology is fortunate to have several NSF fellows in our graduate program. Adam Smiley, a second year student in the Social Psychology & Personality Area with Dr. Cheryl Kaiser, is our most recent recipient of this prestigious fellowship.
Let's start with the basics, where are you from and where did you complete undergrad/masters?
I grew up in Bellingham, WA, about 90 miles north of Seattle. I earned my BA in Psychology with a minor in Biblical Studies from Biola University in Southern California.
How did you wind up at UW/why did you apply here? What do you think about living in Seattle?
I moved to Seattle in 2017 when my wife, Andrea, started grad school at UW in the Doctorate of Physical Therapy (DPT) program (she graduates in June!). When she began her program, I was working as a behavior technician and later a barista, and volunteered as a research assistant in Sapna Cheryan's lab during my free time. I got to meet a lot of the graduate students and faculty during my time as an RA, and I soon knew that UW was the place for me. I began as a PhD student in 2018, and I am very happy with my decision so far.
One of my favorite things about Seattle is all the opportunities for outdoor recreation. I love to run and bike on the Burke-Gilman trail, and swim in Lake Washington in the summer. It is also great to live close to my family, who live in Bellingham.
What is your research interest and how did you get into it (what inspires/motivates you)?
My main research interests involve looking at how political partisanship can function as a social identity. I'm interested in how Democrats and Republicans interact with each other, and I hope to learn how to reduce affective polarization (animosity and social distance between people of different political parties) and increase political cooperation.
I'm motivated to pursue this topic because even in my relatively short lifetime, I have already seen political discourse deteriorate, legislative cooperation take a backseat to partisan point-scoring, and friendships fall apart due to political disputes.
How did you learn about your funding opportunity and tell us about the application/waiting process?
My advisor, Cheryl Kaiser, encouraged me to apply for the NSF GRFP and assisted me throughout the process (as did many of my classmates and other faculty!). Waiting was hard, and I tried not to get my hopes up too much because I wasn't sure if I would get it or not.
How did you feel when you learned that your application was accepted and that you will receive funding?
On March 30th (the day before my birthday) I checked my email and saw a bunch of emails from people in the department with "Congratulations" in the subject line. I was confused for a second, but then I scrolled down and saw the email from NSF, and I was so excited. It was just as fun telling my family, friends, and mentors the good news in the coming days! Not too shabby of a birthday present.
What is the name of your project and the funding source?
The name of my NSF-funded project is The Effect of Cross-Party Contact on Affective Polarization and Cooperation.
How might your research change the world?
It's hard to say at this point if it will change the world or not! But I hope it will help people to move beyond political differences and treat each other as human beings who are worthy of dignity and respect.
Do you have any advice/tips/suggestions for others who may apply to this opportunity? About graduate study in general?
It worked out in the end, but I would have started on this grant MUCH earlier if I were to do it all over again. I think in the last 24 hours before the deadline I wrote three drafts of the proposal completely from scratch, trying to get it just right.
What do you like doing in your spare time?
During my free time I train for triathlon, play and watch soccer, attend UW football games, and read books about history. In the era of Covid-19 I've been really into online chess and hosting trivia contests for my friends on Instagram.
Supplemental Reading:
Please join the Psychology Department in recognizing the distinguished contributions and service of our faculty who have retired during the 2019-2020 academic year. These faculty members leave significant legacies in our undergraduate and graduate programs and we wish them well in their retirements. If you would like to send a memory or message of gratitude and congratulations along, they can be sent to the Assistant to the Psychology Chair. Donations in honor of our faculty can be made here.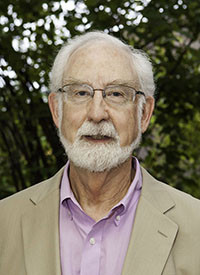 Mike Beecher
Professor Michael Beecher retires from the Department of Psychology at the University of Washington after 49 years as a professor. Mike joined the Department of Psychology in 1978 as an Associate Professor after coming from Eastern Michigan University where he had been an Assistant and Associate Professor since 1971. He also holds an adjunct appointment with the Department of Biology where he has been a member since 1981. Mike served as Psychology Department Chair from 1993 to 2002 and has been on many department committees. In addition to service at UW, Mike served as the President (2002) and Program Officer (2011-2015) of the Animal Behavior Society and as Program Director (2006-2007) of Behavioral Systems in the Division of Integrative Organismal Systems at the National Science Foundation. He was editor of Animal Behavior (1985-1988, 1997-present) and the Proceedings of the Royal Society of London, B (2010-2014). During his academic career at UW, Mike has taught many undergraduate and graduate courses, including Animal Behavior, Animal Communication, Mechanisms of Animal Behavior, Sociobiology, Evolutionary Psychology and the Animal Mind. He served as the primary advisor for 15 graduate students, and mentored many more.
Beecher's research addresses the function of song and song learning in birds, with a focus on the song sparrow (Melospiza melodia). Mike conducted the first long-term study of how juvenile birds learn songs in their natural environment. Previous research in this area studied song learning in birds raised in captivity in the lab. To do their studies, Mike and his students and postdocs had to individually color-band every baby song sparrow hatched in nests in Discovery Park in Seattle, and they then followed and recorded songs from those young birds as they left the nest and interacted with adult male sparrows. Their research showed the critical importance of social interactions between juvenile and adult birds in determining what and when birds learn to sing something that had not been appreciated from decades of laboratory studies. This uniquely ambitious research program has changed our view of how birds learn to sing, and set the model for research on this topic by a new generation of investigators. Mike has also performed a number of collaborative integrative studies that examined the role of neural song centers for song production and perception with Professor Eliot Brenowitz.
Throughout his career at UW, Mike has played a central role as the leader of the Animal Behavior area, and in the Department of Psychology as a whole. He showed that animal research is an integral part of Psychology, and that animal behavior serves as a bridge between human research and behavioral neuroscience. Mike's impact on our department will continue to be felt long after he retires from the faculty.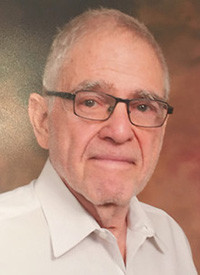 Bob Kohlenberg
Professor Robert Kohlenberg has served the University of Washington, the Department of Psychology, and the Clinical Psychology program for more than a half-century. Though retiring in 2020, his contributions as a clinical scientist and mentor will continue as he assumes emeritus status in the Department and continues his work. Bob joined the UW clinical program in 1968 and was a key contributor to the transformation of our program into the top echelon of clinical programs. He initiated and supported a number of training innovations that increased student productivity and morale. From 1997 to 2004, a period during which the program ascended to a top national ranking, Bob served the program as Director of Clinical Training. He also contributed at the local and state levels, receiving the Distinguished Psychologist Award from the Washington State psychological Association in 1999.
Bob's theoretical orientation was strongly behavioristic and had a strong Skinnerian influence. He was (and remains) committed to applied behavior analysis, the application of operant principles to changing behavior. Over the years, he has successfully applied operant principles to to a wide variety of problems, including depression, persistent vomiting, and self-destructive behavior in clinical settings. In the late 1980s, Bob's attention turned to the enterprise of psychotherapy. Considerable empirical evidence showed that the client-therapist relationship is an essential factor in positive therapeutic change. Based on the principle that client behaviors that occur in their "real world" interpersonal relationships will, given a therapeutic relationship of sufficiently high quality, occur in the therapeutic relationship as well, Bob and his spouse, Mavis Tsai, developed a new treatment approach that focused on behavioral exchanges within therapy. The publication of their seminal 1991 book, Functional Analytic Psychotherapy, heralded a major new phase in Bob's career trajectory. In FAP, a functional analytic operant strategy is used to decrease maladaptive behaviors in therapy within a collaborative relationship through the use of compassion, encouragement, and positive reinforcement and to increase incompatible desired behaviors as defined by the client's own treatment goals.
Bob has been a productive scholar over the years, with over 100 journal articles, chapters, and books to his credit. He is a brilliant instructor whose course, "Behavior Change" has been a curricular component since his arrival. His kindly and gentle nature has attracted many students who are grateful for his generous mentoring, and he has an enviable number of graduated Ph.D.s. Bob has been a true blessing to students and faculty, and his retirement leaves a gap in our program that will not easily be filled.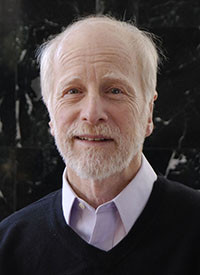 Tony Greenwald
Professor Anthony Greenwald retires from the Department of Psychology at the University of Washington after 34 years as a professor. Tony joined the Department of Psychology in 1986 after 21 years at the Ohio State University where he had been an Assistant, Associate, and Full Professor since 1965. He also holds an appointment as the Adjunct Professor of Marketing and International Business, an appointment he has had since 2005.
Tony has received many distinguished awards, including the Golden Goose Award from the American Association for the Advancement of Science (2018), the Distinguished Scientific Contributions Award from the American Psychological Association (2017), the Kurt Lewin Award from the Society for the Scientific Study of Social Issues (2016), the William James Lifetime Achievement Award from the Association for Psychological Science (2013), the Distinguished Scientist Award from the Society of Experimental Social Psychology (2006), the Thomas M. Ostrom Award from the Person Memory Interest Group (2001), the Research Scientist Award from the National Institute of Mental Health (1998-2004), and the Donald T. Campbell Award from the Society of Personality and Social Psychology (1994). Tony is also an Elected Fellow of the American Association for the Advancement of Science, the Association for Psychological Science, and the American Psychological Association Divisions 1 (General)/3 (Experimental)/8 (Social & Personality)/9 (Social Issues)/23 (Consumer). Several of his PhD students went on to conduct groundbreaking research, including Mahzarin Banaji (Harvard), John Cacioppo (U Chicago), and Anthony Pratkanis (UC Santa Cruz). Tony served as chair of the Society of Experimental Social Psychology (1985-1986) and Editor of the Journal of Personality and Social Psychology (1977-1979). Tony was also on the Oprah show in 2007!
The phenomenon of implicit bias that Tony's research amply and rigorously demonstrated has become an integral part of the public discourse on social disparities. The number of articles published in the US referring to implicit bias has increased at least 100-fold in the last decade alone. Few people think they are racist or sexist, yet when they take the Implicit Association Test that Tony and colleagues devised, they experience that they respond differently to different groups. Even after becoming aware of this, most people cannot control it, and can see it could result in unintended disparities and discriminatory consequences. The fact that this highly replicable phenomenon coexists with people's deeply and sincerely held conviction that they are not biased has changed how we now think about prejudice.
The profound contributions Tony has made through his research on implicit biases reflect his distinctive approach to psychological science. Rather than first developing theories and then testing them, which is a path followed by many, Tony's focus is on discovering previously unknown and consequential behavioral phenomena by inventing the methods for finding them. An excellent example is a paper he published in Science, describing a new method that can "reliably demonstrate unconscious activation of meaning by subliminal (visually masked) word." Tony's contribution to psychological science reminds us of how the invention of telescopes, microscopes, and particle accelerators fundamentally changed astronomy, biology and physics. Tony articulated his approach almost two decades ago in a whimsically titled chapter referring to Monty Python's "Dead Parrot" sketch of John Cleese's ultimately futile effort to prove that the pet parrot he just purchased was not merely asleep or stunned. In this chapter, he argued that while theory refutation is the foundation of a common conception of scientific progress, in actuality it is nearly impossible. Tony followed this up in a paper with a table showing that after decades of research, nearly all prominent theory competitions in psychology have yet to be resolved, and that a vast majority of Nobel prizes are given to scientific methods for discovery.
Tony's rather unorthodox focus on methods to discover new and important phenomena proved foresightful, in light of how instrumental his Implicit Association Test has been for establishing implicit bias as a reliably observed phenomenon. But that is not the first time his unorthodox approach turned out to foretell important developments in psychological science. For example, in his 1975 Psychological Bulletin paper Tony anticipated the "replication crisis" four decades later, warning that among the papers that journals publish, "a high proportion will erroneously reject the null hypothesis," resulting in false positives. In his 1986 Psychological Review paper, Tony documented his relentless effort to replicate the sleeper effect, which had been firmly enshrined in social psychology textbooks. His eventual discovery, after 7 years and 16 experiments, of the key condition necessary for the effect to occur not only led to a deeper understanding of the psychological processes underlying it, but it also to an important reconceptualization of social psychology research. In doing so, Tony turned on its head Bill McGuire's observation that the prevailing approach to research was less a test of the original hypothesis but more a test of the researcher's persistence and ingenuity for producing the conditions that demonstrate the predicted result. Rather than finding this a reason to be discouraged, Tony articulated new approaches to research that embraces it, which he called the Method of Condition-Seeking, and Design Approach. In these approaches, the question is not whether or not a phenomenon occurs, but rather, analyzing just what it takes to make it occur, and using this analysis as the basis for deeper insights into human behavior.
The insights Tony has provided throughout his long career will continue to shape psychological science, and may well revolutionize how future researchers approach research of human behavior. Most importantly, however, Tony has applied his relentless pursuit of rigorous and innovative methods to understand and uncover biases. We are reminded of this every time we pass his office. Right above his name next to his office door is an old newspaper clipping about Lyndon Johnson's commitment to affirmative action. In the middle of the office door is a fortune cookie message, the version of which famously corrected by Tony is, "There isn't anything which that cannot be improved."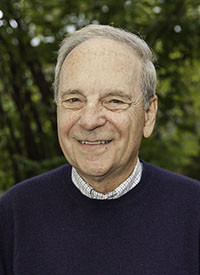 Ron Smith
Professor Ronald Smith has served the Clinical Psychology Program at the University of Washington since 1969. From the very start, to this day, he has been recognized and appreciated for his congenial and compassionate disposition. Although he is now retiring, his major contributions to our field and our department will continue in his role as an Emeritus Professor.
Ron received a degree in psychology from Marquette University in 1963, and after an internship at the Neuropsychiatric Institute and the Center for the Health Sciences at UCLA went on to receive a Ph.D. in clinical psychology from Southern Illinois University in 1968. In 1969, he joined the University of Washington and had a central role shaping its clinical psychology program. From 1981 to 1985, and again from 2004 to 2019, Ron served as Director of Clinical Training. Ron also served as the Area Head of the Social/Personality program from 1990 to 1993. He served as president of the Association for the Advancement of Applied Sport Psychology from 1987 to 1988, was elected as its Fellow, as well as becoming a Fellow of the American Psychological Association. Ron is a recipient of the Tyee Professor Award and the Davida Y. Teller Distinguished Faculty Award for Graduate Student Mentoring.
Ron's research, teaching, and administration, reflected the deeply caring and compassionate person that he is. He developed, refined, and evaluated a variety of cognitive-behavioral techniques to help people cope with stress, culminating in a psycho-educational program called the Cognitive Affective Stress Management Training (C-ASMT). It incorporated the "induced affect" technique he pioneered that that included relaxation responses and stress-reducing self-generated statements- all integrated in the breathing cycle. For example, while inhaling, a client may say to herself, "I may not like this, but I can deal with it..." and then, while exhaling, say "so... relax," triggering a relaxation response she had practiced earlier until it became automatic. In recent years, Ron further enhanced this by combining it with on-line daily diaries. By accessing the entries the clients had made in the previous week, trainers were able to help them recall the most stressful experience they encountered and recorded. With the therapist-trainer's guidance, clients immerse themselves in a vivid re-living of the stressful situation until it becomes unbearable, at which point the therapist-trainer prompts them to use the integrated coping response linked to inhaling and exhaling. This provided clients with a second (and third, and fourth) chance to "re-do" how they coped with the stressful experience, but this time with a different ending than the first time, building skills and confidence to deal with similar situations in the future.
In another line of research, with his longtime collaborator Frank Smoll, Ron has developed a training program for coaches of youth sports. Systematic observations of over 80,000 behaviors of about 70 coaches and nearly 1,000 children led to important discoveries of how young athletes' well-being was affected by their coaches' behavior, such as criticizing mistakes when losing a game. These behaviors had detrimental effects, particularly among those with low self-esteem. These findings led to the development of the Mastery Approach to Coaching, which teaches coaches how to create an environment in which the focus is on effort and commitment to getting better, rather than game outcomes. It defines skill improvement and personal growth as success, and minimizes pressures to win. The mastery motivational climate it created was found to reduce fear of failure and general anxiety, increase liking of teammates and dramatically reduce dropping out. Remarkably, the healthy achievement motivation it fostered generalized to academic activities as well.
Ron's research has crossed disciplinary boundaries more than most. His papers appeared in flagship journals in social and personality psychology, sport psychology, community psychology, as well as clinical psychology. His body of work makes it abundantly clear that the research he conducted was not simply to address questions that any particular discipline happens to consider important. Rather, his research reflects his deep commitment as a clinical psychologist to make tangible differences in each individual's life, and he has combined the best of the conceptual and methodological tools from multiple disciplines. Ron's work in sport psychology and his commitment to the well-being of children participating in youth sports led to crossing artificial disciplinary boundaries. This, of course, is the direction that psychological science is taking, and Ron's career set an example for many to follow.
We are forever grateful to Ron for inspiring us with his focus that never wavered from the ultimate goals of enhancing the wellbeing of his clients, youth sport and research participants, students, and colleagues through his research, teaching, and administration always driven by his deep compassion for others.
This spring we celebrated the graduation of nearly 500 undergraduates and 2 PhD graduates from the Department of Psychology. We are proud to welcome them into a community of UW Psychology alumni with a dedication to impact and using their skills and training to change lives. We're grateful that many of our alumni choose to share their appreciation to the university through philanthropic support back to the Department of Psychology. Dr. Joyce Yang ('13, '17) was inspired to support the Department of Psychology to ensure the next generation of clinical scientists and researchers receive the same level of support that she was able to receive during her time at UW.
As a Clinical Psychology graduate student, Dr. Yang's dissertation work focused around designing and pilot testing an intervention to reduce stress for individuals recently diagnosed with HIV in China. By working under Dr. Jane Simoni's global health research priorities in China, Dr. Yang was able to integrate community-based participatory research (CBPR) methods, implementation science, and global mental health research training. Dr. Yang received a National Research Service Award (NRSA) from the National Institute of Mental Health for this work. In her research, participants recently diagnosed with HIV reported high rates of distress resulting from isolation from their community and social support due to the cultural context of significant HIV stigma coupled with a lack of access to mental health resources. This dissertation experience provided invaluable training in engaging with stakeholders to understand site and population specific concerns to inform appropriate intervention development and implementation.
Dr. Yang went on to do her clinical internship at the VA Palo Alto Health Care System and completed her postdoc in the Advanced Research Fellowship in Mental Illness Research and Treatment at Stanford University in the Department of Psychiatry and Behavioral Sciences and the National Center for PTSD at VA Palo Alto. Now as tenure-track Assistant Professor of Psychology at University of San Francisco, Dr. Yang's research continues to use CBPR to address health disparities affecting marginalized populations. Recently, she has begun a project examining anti-Asian race-based stress resulting from the COVID-19 global pandemic. Her ongoing interests include understanding BIPOCs experiences of race-based stress and trauma and the intersection with PTSD and treatment outcomes, as well as addressing discrimination in healthcare settings in order to move towards health equity for communities of color.
Looking back on her time at UW, Dr. Yang fondly recalls the spirit of collaboration and support from the department. "It's a culture that goes beyond your advisor: all of the faculty, staff, and grad students I worked with were invested in each student's success. Amongst peers, there was a sense of collective benefit when one of us does well, we knew the success would be shared and we would all be better for it." This sense of community and collaboration continues to influence her work today and she is proud that the Department continues to support the next generation of students in this same way. After reconnecting with the department, Joyce shared her interest in supporting diverse students in the department and learned of an opportunity to support students facing emergencies and food insecurity. As costs of living continue to rise in Seattle, graduate stipends can be stretched thin during emergency situations, such as those that arose during COVID-19 as students faced challenges with shifting to be solely online and other unanticipated expenses. To bridge this gap, the department created sources of funds that could be distributed to student emergency awards. These awards are discretionary and can be used to address any expense a student might be facing. Recognizing the role that structural racism can play in higher education experiences, Dr. Yang gives to the University of Washington Psychology Department to "help alleviate some of the financial constraints that disproportionately impact BIPOC students." Dr. Yang hopes to be able to support these students facing these added challenges so that students are able to remove a financial stressor and able to focus on their studies and training to be the next leading clinicians and researchers to advance the field.
We thank Dr. Yang for her commitment to supporting Psychology students through philanthropic support. It is because of alumni like her that the department can provide supplemental support to enhance the experience of our graduate students and help to alleviate pressures facing our students so that they can focus entirely on their education and research experiences during their graduate studies.
If you would like to join Dr. Yang in investing in the life-changing impact that a UW Psychology education has on our students, we invite you to pledge a gift today.