New NSF Fellow Studies Cognitive Ability of Crows
The National Science Foundation's Graduate Research Fellowship Program (GRFP) is highly competitive and provides fellowship support for graduate students (master or doctoral) in science, technology, engineering, and mathematics. Recipients are given a three year award consisting of a fellowship stipend and an education allowance, in addition to the powerful networking opportunities and resources afforded by being selected as a fellow.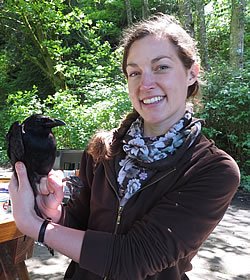 Photo: Kelsey McCune
The Department of Psychology has been fortunate to have several NSF fellows in the program each year. Kelsey McCune, a first year student in Animal Behavior with Drs. Renee and Jim Ha, is one of two of our most recent recipients of this prestigious fellowship.

Let's start with the basics, where are you from and where did you complete undergrad/masters?
I'm from Sapulpa, Oklahoma. I did my undergrad at Randolph-Macon Woman's College in Lynchburg, VA where I majored in Biology and minored in Chemistry and Spanish.
How did you wind up at UW/why did you apply here? What do you think about living in Seattle?
I took two years off after undergrad to explore field jobs and to figure out on which area of animal behavior I wanted to focus. After many long hours spent hanging out with a crow patient at a wildlife rehabilitation clinic, I was hooked on birds, and corvids in particular. Further hours spent reading papers indicated that the Ha Lab was the best lab to be in for corvid cognition research. I came to UW to work with Renee and Jim Ha, but now that I'm here, Seattle is definitely growing on me too. I'm a huge fan of Mt. Rainier!
What is your research interest and how did you get into it (what inspires/motivates you)?
Aside from loving crows, I'm interested in the factors affecting the evolution of intelligence across taxa. Corvids are a great system to study this because the species shows a range of social systems and ecological environments. By doing comparative research we can begin to understand which elements of the environment- physical or social- could lead to different aspects of cognitive ability. It's really intriguing that cognitive ability of many corvids is strikingly similar to that of primates, yet the species are evolutionarily very distant.
How did you learn about your funding opportunity and tell us about the application/waiting process?
The NSF GRFP is a really great program through which students can take their ideas and make them tangible. The application process helped me to flesh out the ideas that I had and begin the process of putting them in to action. Even if I hadn't succeeded in being funded this year, just the act of thinking through and writing out my project proposal would have been very beneficial. Since the essays can only be two pages long, you are really forced to narrow your thoughts down to the essential information.
How did you feel when you learned that your application was accepted and that you will receive 3 years of funding?
The email notifying me of my acceptance went to my spam folder, so when I heard from a friend that I was on the recipients list I thought it was a mistake. I didn't believe it was true for like a day and a half! Then I became cautiously ecstatic :-)
Do you have any advice/tips/suggestions for others who may apply to this opportunity? About graduate study in general?
When applying for something like this, have as many people as you can find comment on it. My lab was really an immense help in showing me what my application needed to take it to the next level. As for my advice for graduate study in general: read, read, read!
What do you hope to accomplish with the funding and/or while in the UW Psychology graduate program?
I hope to accomplish all that I can! My project ideas are pretty time-consuming, and thanks to NSF I now have more time to accomplish all of my goals.
What do you like doing in your spare time?
In my spare time I do a lot of bird watching! Also: hiking, traveling, reading, games of all sorts, and meeting friends at happy hour.
The last book and/or movie you saw and enjoyed?
Currently reading and enjoying "The Red Queen: Sex and the Evolution of Human Nature".
What you plan to do once you complete your PhD?
I think I'd like to do a post-doc. There are some great people all over the world doing research on comparative cognition that I'd love to learn from.
Supplemental Reading: