NSF Funded Research Strives to Understand Political Affiliation as Social Identity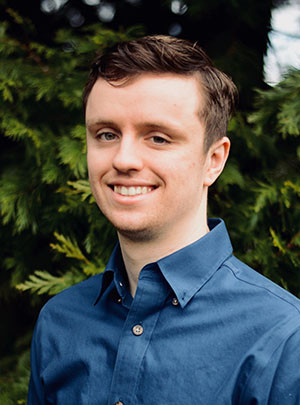 Adam Smiley
The National Science Foundation's Graduate Research Fellowship Program (GRFP) is highly competitive and provides fellowship support for graduate students (master or doctoral) in science, technology, engineering, and mathematics. Recipients are given a three-year award consisting of a fellowship stipend and an education allowance, in addition to the powerful networking opportunities and resources afforded by being selected as a fellow.
The Department of Psychology is fortunate to have several NSF fellows in our graduate program. Adam Smiley, a second year student in the Social Psychology & Personality Area with Dr. Cheryl Kaiser, is our most recent recipient of this prestigious fellowship.
Let's start with the basics, where are you from and where did you complete undergrad/masters?
I grew up in Bellingham, WA, about 90 miles north of Seattle. I earned my BA in Psychology with a minor in Biblical Studies from Biola University in Southern California.
How did you wind up at UW/why did you apply here? What do you think about living in Seattle?
I moved to Seattle in 2017 when my wife, Andrea, started grad school at UW in the Doctorate of Physical Therapy (DPT) program (she graduates in June!). When she began her program, I was working as a behavior technician and later a barista, and volunteered as a research assistant in Sapna Cheryan's lab during my free time. I got to meet a lot of the graduate students and faculty during my time as an RA, and I soon knew that UW was the place for me. I began as a PhD student in 2018, and I am very happy with my decision so far.
One of my favorite things about Seattle is all the opportunities for outdoor recreation. I love to run and bike on the Burke-Gilman trail, and swim in Lake Washington in the summer. It is also great to live close to my family, who live in Bellingham.
What is your research interest and how did you get into it (what inspires/motivates you)?
My main research interests involve looking at how political partisanship can function as a social identity. I'm interested in how Democrats and Republicans interact with each other, and I hope to learn how to reduce affective polarization (animosity and social distance between people of different political parties) and increase political cooperation.
I'm motivated to pursue this topic because even in my relatively short lifetime, I have already seen political discourse deteriorate, legislative cooperation take a backseat to partisan point-scoring, and friendships fall apart due to political disputes.
How did you learn about your funding opportunity and tell us about the application/waiting process?
My advisor, Cheryl Kaiser, encouraged me to apply for the NSF GRFP and assisted me throughout the process (as did many of my classmates and other faculty!). Waiting was hard, and I tried not to get my hopes up too much because I wasn't sure if I would get it or not.
How did you feel when you learned that your application was accepted and that you will receive funding?
On March 30th (the day before my birthday) I checked my email and saw a bunch of emails from people in the department with "Congratulations" in the subject line. I was confused for a second, but then I scrolled down and saw the email from NSF, and I was so excited. It was just as fun telling my family, friends, and mentors the good news in the coming days! Not too shabby of a birthday present.
What is the name of your project and the funding source?
The name of my NSF-funded project is The Effect of Cross-Party Contact on Affective Polarization and Cooperation.
How might your research change the world?
It's hard to say at this point if it will change the world or not! But I hope it will help people to move beyond political differences and treat each other as human beings who are worthy of dignity and respect.
Do you have any advice/tips/suggestions for others who may apply to this opportunity? About graduate study in general?
It worked out in the end, but I would have started on this grant MUCH earlier if I were to do it all over again. I think in the last 24 hours before the deadline I wrote three drafts of the proposal completely from scratch, trying to get it just right.
What do you like doing in your spare time?
During my free time I train for triathlon, play and watch soccer, attend UW football games, and read books about history. In the era of Covid-19 I've been really into online chess and hosting trivia contests for my friends on Instagram.
Supplemental Reading: