First Year Student Awarded National Science Foundation Fellowship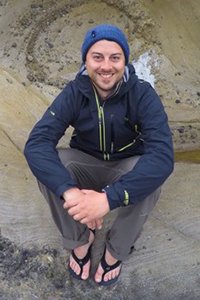 Trent DesChamps
The National Science Foundation's Graduate Research Fellowship Program (GRFP) is highly competitive and provides fellowship support for graduate students (master or doctoral) in science, technology, engineering, and mathematics. Recipients are given a three year award consisting of a fellowship stipend and an education allowance, in addition to the powerful networking opportunities and resources afforded by being selected as a fellow.

The Department of Psychology is fortunate to have several NSF fellows in our graduate program. Trent DesChamps, a first year student in Child Clinical with Dr. Wendy Stone, is our most recent recipient of this prestigious fellowship.

Let's start with the basics, where are you from and where did you complete undergrad/masters?
I grew up in Spokane and moved to Seattle in 2011 to finish my undergraduate degree here at the UW.

How did you wind up at UW/why did you apply here? What do you think about living in Seattle?

I applied to the UW program because the research and clinical training is top notch, the culture of the program is awesome, and I knew that Dr. Stone (my advisor) and other faculty would provide me with excellent mentorship. Also, given that the Pacific Northwest is arguably one of greatest places on earth, my wife and I liked the idea of staying in Seattle.

What is your research interest and how did you get into it (what inspires/motivates you)?

My primary research interest is autism spectrum disorder (ASD). Specifically, I'm interested studying both brain and behavior to understand how disruptions in typical neurodevelopment contribute to the core social and sensory related behaviors that characterize ASD.

I kind of stumbled into the ASD research world. I was originally interested in social cognition broadly and was working with Dr. Sommerville here at the UW investigating social cognitive development in babies. Knowing that I wanted to continue to gain research experience, I took a job in a lab in psychiatry that focuses on ASD. I didn't know much about ASD at the time, but I was eager to learn. After interacting with children and families, I was hooked – I knew I wanted to do research that has the potential to have a direct, positive impact on children and families.

How did you learn about your funding opportunity and tell us about the application/waiting process?

As I worked in labs before entering the program I asked a lot of questions about the grad school process including funding opportunities. I knew the NSF GRFP was something I wanted to apply for and when I was accepted to the program my advisor was supportive. I wrote the application during my first quarter, which was a little challenging given the amount of coursework and other obligations associated with being a first year student in the clinical program. That said, I had a lot of fun doing it. My thought process was that it was a good opportunity to practice applying for funding and cultivate some research ideas. However, I didn't have high hopes that I would actually receive the award so after I submitted the application I turned my attention to my semi-neglected coursework and didn't worry about it for a few months.

How did you feel when you learned that your application was accepted and that you will receive funding?

Shocked. The announcement was sent out a few weeks earlier than I expected so I wasn't really thinking about it at all. It was a great email to wake up to!

What is the name of your project and the funding source?

The project title is "Early Development of Neural Systems Supporting Social Perception". The source of funding is the National Science Foundation Graduate Research Fellowship Program.

How might your research change the world?

My hope is that my research will contribute to our understanding of what causes ASD and how it develops with the goal of informing intervention strategies that benefit children and their families. I don't know if my research will change the world in a big way – science is a slow process - but I am firmly committed to the idea that we can slowly make change one dataset at a time, and more importantly, one person at a time. This is what intrigues me the most about clinical research - we get to do both.

Do you have any advice/tips/suggestions for others who may apply to this opportunity? About graduate study in general?

For applying to the NSF GRFP, I recommend reaching out to other students who have applied before and bending the ears of as many faculty members as possible to get feedback on your ideas. It's also really important that you demonstrate that your research and training will make a broader impact; that either through datasets and/or just becoming a better human being you will slowly become a leader of change in the world.

For graduate school in general, I recommend the same thing - ask other students and faculty a lot of questions, and always remember that you signed onto this journey because you want to leave the world a little bit better than how you found it.

What do you hope to accomplish with the funding and/or while in the UW Psychology graduate program?

In the near future, I am planning on starting some research that will lay the foundation for my dissertation work. Given that autism research is a challenge that requires multidisciplinary and multimethod approaches, I also hope to initiate relationships with faculty and students in psychology and other departments that might provide opportunity for collaboration. Beyond the science stuff, I am looking forward to becoming more active in our department regarding the many issues facing our students and our broader community.

What do you like doing in your spare time?

In the past two years I started sailing and backpacking a lot. At this point, if I have free time I'm looking at weather forecasts to figure out if I can be on the water or in the mountains. As long as it's not below 40 degrees I'm game to do either, rain or shine.

The last book and/or movie you saw and enjoyed?

I read a cheesy James Bond novel by Ian Fleming recently. It was ok. The most enjoyable part was when I was reading it next to a creek in the middle of the North Cascades.

What you plan to do once you complete your PhD?

My plan is to take a sailing trip up the inside passage of Vancouver Island, get a post-doctoral gig, and pursue a faculty position.

Supplemental Reading: