New Student NSF Studies Group-Based Bias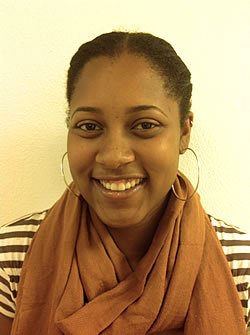 Photo: Arianne Eason
Arianne Eason, a first year student in Social Psychology and Personality, was awarded an NSF before she joined our program in the fall. She will be working with Cheryl Kaiser and Jessica Sommerville. A brief introduction of the NSF is provided in a previous article.
Let's start with the basics, where are you from and where did you complete undergrad/masters?
I am originally from Los Angeles, CA. Then I went all the way across the country to Yale University for my Bachelor's degree.
How did you wind up at UW/why did you apply here? What do you think about living in Seattle?

The UW has an amazing blend of faculty in the Social and Developmental areas that really matched with my research interests. And I was definitely drawn in by the cross-area collaborations that were taking place and the want to engage in even more. So I knew that this was a place that I could learn the skills I wanted in both the social and developmental area, and engage with some top-notch research faculty and graduate students.
So far, I am really enjoying Seattle, there are so many awesome places to explore!
What is your research interest and how did you get into it (what inspires/motivates you)?
I am really interested in understanding the origins of group-based bias, especially unconscious/subtle forms of racial bias. My interest in this topic came primarily during my sophomore year when I took an amazing class, Social Psychology of the Oppressed, and I worked in the Social Cognitive Development lab at Yale. I think these experiences showed me how I could take real observable phenomena, scientifically test them, and then apply them back to the world to create some form of change. I just want to figure out how people learn about the social world, and make sense of all the complexity to arrive at group-based generalizations that carry with them so many implications. In the end, I love big questions because there are so many places to go in the future.

How did you learn about your funding opportunity and tell us about the application/waiting process?
While the NSF GFRP is a well-known source of funding in psychology, I remember my undergraduate advisor, Kristina Olson, and I sat down one day to talk about some things that I should consider as I was applying to graduate school. She suggested that I write an NSF application, so I did.
I was extremely nervous while writing the application, because at that point I had not even gotten into graduate school, much less applied. So I thought it was crazy that I was applying for funding for a proposed plan of study, when I thought it was unclear if I would even be accepted into graduate school. But once it came time to write the proposal, I was so excited to see my own ideas on paper and see where my research could go in the future. I had a combination of nervous excitement during the entire process. And to be honest, after I submitted, I totally pushed it out my mind, and refocused on my graduate school applications and my senior thesis.
How did you feel when you learned that your application was accepted and that you will receive two to three years of funding?
I woke up to an email telling me congratulations. And immediately I jumped out of bed and ran to my roommate's room, woke her up and started yelling. She had no idea what was going on, but just celebrated with me. I was ecstatic; it didn't feel real!

Do you have any advice/tips/suggestions for others who may apply to this opportunity? About graduate study in general?
I would definitely suggest trying to find examples of successful applications, that gave me an idea of how to even begin. And then I would say get a lot of feedback from a lot of different people, but especially your advisors, at every stage, from brainstorming ideas to having a polished product. But really, I think a big thing is to make your whole application show what you are passionate about, tell them why it is important that somebody do the work you are proposing. And then show them why you are person that should do it.
What do you hope to accomplish with the funding and/or while in the UW Psychology graduate program?
I really want to learn a set of skills that will allow me to be an amazing researcher. I want to learn how to ask and answer questions that are both important to society and the field of psychology. And the NSF funding will give me the chance and the time to put together a program of study that helps me to be proficient in both developmental and social psychology.
What do you like doing in your spare time?

What I enjoy most in my spare time is just hanging out with my friends. Whether that means exploring Seattle together or just sitting on the couch talking (or video chatting with my friends from across the country). If my friends aren't around I am most likely napping or catching up on a TV show.
The last book and/or movie you saw and enjoyed?

The summer before I started graduate school I got to watch a lot of movies. So I cannot decide which one movie I want to mention, so I will give three that I really enjoyed, in no particular order: 1) The Odd Life of Timothy Green, 2) The Words, and 3) Trouble with the Curve.
What you plan to do once you complete your PhD?
I really want to be a professor at a research institution. Being able to explore questions that I am interested in for the rest of my life sounds absolutely amazing. But even outside of research being able to be in constant contact with masses of people who want to learn and grow—whether that be undergrads or other faculty—is pretty awesome to me, and I can't imagine being anywhere else right now.
Supplemental Reading: