NSF Fellow Seeks to Understand and Change Discrimination and Prejudice
The National Science Foundation's Graduate Research Fellowship Program (GRFP) is highly competitive and provides fellowship support for graduate students (master or doctoral) in science, technology, engineering, and mathematics. Recipients are given a three year award consisting of a fellowship stipend and an education allowance, in addition to the powerful networking opportunities and resources afforded by being selected as a fellow.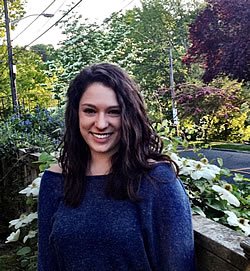 Photo: Laura Brady
The Department of Psychology has been fortunate to have several NSF fellows in the program each year. Laura Brady, a first year student in Social Psychology and Personality with Cheryl Kaiser, is one of two of our most recent recipients of this prestigious fellowship.
Let's start with the basics, where did you grow up and where did you complete your undergraduate and masters degrees?
I grew up in Rockford, Illinois, close to the Wisconsin border. I moved to Chicago (go Cubs!) to attend DePaul University, where I earned a BA in Psychology.

What attracted you to study at UW?
There is so much exciting research going on here, and so many opportunities to learn from brilliant people. As an undergrad, I worked in a lab that investigated prejudice and discrimination by looking at the influence of social structures, implicit attitudes and interpersonal interactions. I saw UW as the perfect place to continue and expand this line of learning. Plus, Seattle charmed me. When my plane landed for interview weekend, and I saw all of the trees and water, I had a moment of realization that this is where I wanted to spend the next five years. I love city living, but growing up close to Wisconsin and spending every summer camping makes me crave nature from time to time. I think Seattle has a great mix of these two things.

How do you like living in Seattle?
I longer I live here, the more I like Seattle. I've made a point to do at least one new thing each month, so I've begun to see some of the quirky only-in-Seattle things.

What is your research interest and how did you get into it (what inspires/motivates you)?
Broadly, I'm interested in prejudice and discrimination. I want to understand how these processes are created and maintained, and how they can be reduced or circumnavigated to create opportunities and fair treatment for disadvantaged groups. I'm not sure if it's more accurate to say that justice or injustice inspires me, but many of my research interests have arisen from problems I've seen in the real world. I have this insatiable desire to understand and change injustice through research.

Specifically, what do you hope to accomplish with the funding?
Research, research, research! I always have research ideas stewing, and I plan to use my fellowship time to complete as many of the projects in my "Research Ideas" folder as possible.

Why did you apply for this funding opportunity? Was the application process hard? How long did you have to wait after submitting to hear you were funded?
An NSF fellowship is a great opportunity, and within the Social/Personality area, I had many exemplars to look to for guidance throughout the application process. The application process was challenging, but fortunately, my advisor and I began early. We started talking about my NSF application before I even started grad school. I finally submitted my application in November and heard about the decision in April.

How did you feel when you learned that your application was accepted? What does it mean to you to have this period of guaranteed funding?


I had a moment of disbelief when I found out that I received funding. I had spent months mentally preparing myself for the possibility that I'd have to reapply next year. When I checked my email at 6 am and saw the decision, I thought I was dreaming. That moment quickly passed, and I screamed and woke up all of my roommates. Fortunately, they forgave me. Receiving an NSF fellowship is such an honor, and I'm so grateful for all of the support I received throughout the application process. The UW community has been immensely helpful, and I'm excited to spend the next three years focusing more intensely on research.

Do you have any advice/tips/suggestions for others who may be thinking of applying for this opportunity? About graduate study in general?


Start early and work closely with your advisor. Things don't always go as planned. For example, I spent a long time developing a research proposal about one topic before my advisor and I decided to go in a different direction. That change wouldn't have been possible if my advisor hadn't pushed me to think about my proposal well before the deadline. I would also suggest taking a grant prep class to impose weekly writing deadlines and asking previous fellows to share their essays and reviewer feedback.

What do you like doing in your spare time?


I really enjoy being outside and exploring Seattle. I also really enjoy pestering my fluffy, slightly overweight cat.

The last non-academic book you read and/or movie you saw and enjoyed?


Book: "The House on Mango Street," by Sandra Cisneros
Movie: Monsieur Lazhar

What you plan to do once you complete your PhD?
I think that as long as I'm doing research and continuing to learn, I'll be happy. Hopefully I'll figure out in the next few years which research setting would be the best fit.
Supplemental Reading: