Undergraduate Program
This academic year saw a number of Psychology majors receiving awards and recognitions. Six of these outstanding individuals were featured during our virtual Graduation Celebration on June 13. We wanted to share their accomplishments and continue to celebrate them here.
Savannah Cassis - President's Medalist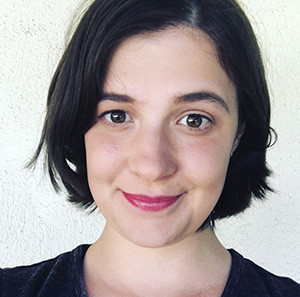 Savannah Cassis
"I was amazed every time I stepped foot onto campus that I was lucky enough to study at the University of Washington. I am grateful for the research opportunities, the supportive teachers, the eye-opening classes, and the overall Psychology Department. I am also thankful for the support and help I received from Dr. Chantel Prat, Teddy Haile, and everyone at CCDL while completing my honors project."
- Savannah Cassis
The President's Medal award celebrates the top student in each undergraduate class. Psychology honors student Savannah Cassis is this year's President's Medalist. Savannah transferred to UW from Tacoma Community College and graduates Summa Cum Laude. Following graduation, she plans to travel to Japan where she will teach English. Please join us in celebrating Savannah as the 2020 President's Medalist!
Drew Callipare - Dean's Medalist for the Arts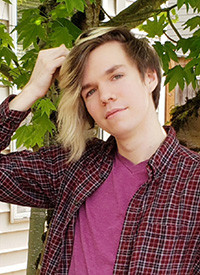 Drew Callipare
"As a psychology major at UW, I surrounded by passionate and bright individuals from various backgrounds. I met many great people who were using psychology as a launch pad into a diverse array of careers."

- Drew Callipare
Each spring, the College of Arts & Sciences awards the Dean's Medal to a particularly outstanding senior in each division of the College.
Join us in celebrating psychology senior Drew Callipare who was selected by the College as the 2020 Dean's Medalist in the Arts Division. Drew graduates Summa Cum Laude with a B.A. in dance and psychology and a minor in gender, women & sexuality studies. Following graduation, Drew plans to find work in the community helping others during these difficult times.
Nell Baumgarten - Dean's Medalist Nominee for the Natural Sciences
Nel Baumgarten
"I chose to study both psychology and biology because I was interested in learning about the nervous system and behavior from multiple perspectives. As a psychology student, I was encouraged to draw connections between cognitive processes and the underlying neurobiology. Through the Psychology program, I developed a strong appreciation for these interdisciplinary connections and the value of a holistic education."

- Nell Baumgarten
We also wish to congratulate the Psychology Department's nominee for this honor in the Natural Sciences Division, Nell Baumgarten. Nell graduates Summa Cum Laude with a B.A. in psychology and a B.S. in biology. She has interned with the UW's Experimental Education Unit and Autism Center's Apex Summer Camp, and also at Children's Hospital. She is the recent recipient of a Washington Research Foundation innovation fellowship. This summer, Nell will study spontaneous brain waves in early development with the UW Institute for Neuroengineering. Her ultimate goal is to become a developmental pediatritian.
Kitty Slocum - Aric Chandler Scholar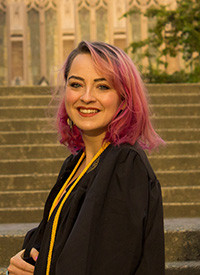 Kitty Slocum
"My time studying psychology at UW has taught me so much about the human mind - what creates us, drives us, and connects us. I have learned valuable lessons, such as how to communicate better, how to understand people better, and even how to better understand myself. I am so incredibly grateful for my experiences and people I have met in the Psychology Department. They have made a remarkable impact on my life and I will never forget them."

- Kitty Slocum
In memory of Aric Joseph Chandler, his parents, family, and friends established an endowed scholarship fund to support Univeristy of Washington-Seattle undergraduate psychology majors who transferred to UW from a Washington community college. This generous gift was made to advance Aric's passion, vision, and dedication to helping others, especially young people.
In fall quarter, Kitty Slocum was named the 2019-2020 Aric Chandler Scholar. Kitty graduate Cum Laude with a B.S. in psychology. While at UW, she worked as a Study Skills Coach with Academic Support Services, served as a peer mentor for new psychology transfer students, and conducted research in the Foster School of Business. Following graduation, Kitty will prepare for graduate study in social psychology with a goal of working in schools to teach students how to be advocates for compassion and social connection.
DiShawnn Newell - Gonfalonier for UW Commencement Ceremony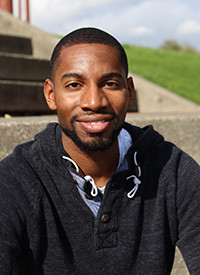 DiShawnn Newell
"The UW psychology major provided me with the opportunity to explore the mind on a deeper level than I could ever have imagined. With classes ranging from basic sensory perception to in-depth brain dissection, I undoubtedly gained a foundation in biological psychology that rivals the best. The strength of the education, the innovation of the faculty, the plethora of supportive resources, and the wide range of research opportunities reassured me on a daily basis that attending UW to study psychology was not only the right choice, but the best choice."

- DiShawnn Newell
The College of Arts & Sciences selected psychology major DiShawnn Newell to be a gonfalonier at the UW Commencement Ceremony. The gonfaloniere (as they are called collectively), are outstanding graduating seniors who represent their colleges by carrying large banners - gonfalons - into the Commencement Ceremony. Even though the event was virtual this year, DiShawnn was still front and center leading fellow students.
DiShawnn came to UW following eight years serving as a nuclear engineer with the United States Navy. He graduates with a B.A. in psychology and a B.S. in neuroscience. While at UW, he conducted research, served as a peer mentor for psychology transfer students, and interned with Amazon. Post-graduation, DiShawnn's plans include seeking a project management position in industry with the ultimate goal of working as a hospital administrator.
Katie Spink - Fulbright Scholar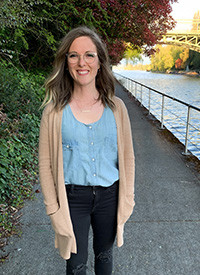 Katie Spink
"As a transfer student and a mother, I entered UW with the hope to complete a high quality Bachelor's education. Not only was my education experience more than I'd hoped for, I was blown away by the widespread opportunities to become involved and build supportive relationships in the Psychology Department. Participating as a research assistant, undergraduate research leader, and a teaching assistant, along with the guidance from professors, graduate student mentors, and peers have been critical to my goal of becoming a researcher."

- Katie Spink
The Psychology Department is very proud of graduating senior Katie Spink who has been selected as a 2020-2021 Fulbright Scholar. Following graduation Magna Cum Laude, Katie will be at the University of Auckland where she will work on a landmark longitudinal study focusing on socioeconomic and ethnic differences in pre-adolescent expectations and self-beliefs.
Katie plans to pursue a Ph.D. in clinical psychology with the aim of supporting families, particularly in disadvantaged populations, by examining factors that enhance or hinder family functioning and child development. She hopes to build on this understanding by developing and improving feasible, affordable interventions that will buffer disadvantaged families from negative health outcomes.
While the past several months have brought new and often unforeseen challenges to the University of Washington community, our students have demonstrated tremendous strength, creativity, and resilience. This year, two of our most cherished traditions moved into the virtual world. Both the Undergraduate Honors Poster Session and the Psychology Graduation Celebration are end of the year milestones that mark our students' transitions from psychology majors to alumni.
In late May, members of the 2020 Psychology Honors cohort showcased the results of their research. Honors Program director Dr. Chantel Prat masterfully moved this event to an online forum that allowed for individual student presentations and the opportunity for questions and answers. We congratulate our 18 graduating honors students on this impressive accomplishment: Elizabeth Abel, Yasmeen AlAwadhi, Savannah Cassis, Elaine Currie, Maria Ilac, Jasmine Lee, Yilin Liu, Naomi McQuary, Kristen Pedersen, Cristian Rivera Nales, Macey Schallert, Ally Sowers, Katie Splink, Aleksandra Umanskaya, Betty Wang, Carol Wei, Yongping Zhuang, and Sophie Ziliak. You can read the students' abstracts here in the Honors Poster Session program.
On June 13, the Psychology Graduation Celebration also moved into the virtual realm. Over 300 of our 500 graduating seniors chose to take part in the event that included a welcome from Psychology Department Chair Dr. Cheryl Kaiser, the celebration of students receiving awards and recognitions, and a virtual procession of the graduates. A highlight of the event was a sequence of videotaped student reflections. Students selected to offer reflections on their experiences as UW psychology majors are: Sahian Cruz, Azaria Keys, Alya Khairuzzaman, Daniel Prabahkar, Katie Shieff, Kitty Slocum, Aleksandra Umanskaya, Wan Nur Ardini Batrisyia, and Alexandria Wu. You can view the Graduation Celebration Program here.
The Psychology Department is proud of the numerous accomplishments of our undergraduate students. In addition to the achievements of the students profiled in the Awards & Recognitions article, check out some additional highlights from this year:
The Guthrie Prize is awarded annually to two students for excellent writing in psychology. This year's winner for the Best Empirical Paper is Betty Wang. Betty's paper, titled "On the Value of Data Loss: A Study of Atypical Attention in Autism Spectrum Disorder Using Eye Tracking," was completed under the direction of Dr. Frederick Shic of Seattle Children's Hospital. Betty is a Psychology honors student and graduates Summa Cum Laude with a B.S. in Psychology and a minor in Eduction, Learning & Societies.
The Guthrie Prize winner for the Best Conceptual Paper is Eva Johnson. Eva's paper, titled "Heterogeneity Across Individuals with Comorbid Anxiety and Chronic Pain and the Efficacy of Mindfulness and Acceptance-Based Treatments," was completed under the direction of Dr. Kate Foster. Eva will continue on as a Psychology honors students working with Dr. Foster and is set to graduate in the coming year.
This year, 19 Psychology majors were named Mary Gates Leadership or Research Scholars. These dedicated students are: Elizabeth Abel, Ahmed Alattas, Kylee Bunch, Rikhia Chatterjee, Beatriz Cuevas, Daniel Guion, Lisa Gyuro, Maria Ilac, Caroline Jones, Shivani Pandey, Aiva Petriceks, Kitty Slocum, Lu Song, Katie Spink, Alder Strange, Ziheng Wang, Mingkang Zhou, Stephanie Zhu, and Sophie Ziliak.
In winter quarter, 12 students were named recipients of a Hagenstein Research Travel Award. Made possible by the Ruth H. Hagenstein Endowment, these travel awards assist undergraduate Psychology majors who plan to attend and present at professional conferences. This year's Hagenstein Scholars are: Ahmed Alattas, Alec Bergen, Alexis Florence, Jordan Ingersoll, Allegra Johnson, Cristian Rivera Nales, Macey Schallert, Lu Song, Katie Spink, Mars Torres, Aleksandra Umanskaya, and Sophie Ziliak.
Five Psychology majors were selected to be part of the McNair Scholars cohort. The Ronald E. McNair Post-Baccalaureate Achievement Program provides strong mentorship and guidance for students who are planning to pursue doctoral studies. Congratuations to the 2019-2020 McNair Scholars Daniela Acuna, Sahian Cruz, Beatriz Cuevas, Yasmin Landa, and Keionna Newton.