Welcome to the UW Psychology 2020 Cohort!
Welcome to the UW Psychology 2020 Cohort!
This year, fifteen students joined the University of Washington's Psychology Department! Prior to joining the program and beginning their doctoral studies, these students earned their undergraduate degrees locally (from the UW and Seattle University) and other institutions in the West (UC – Berkeley, Colorado State, and Pomona College), the Midwest (Northwestern, University of Missouri, University of Wisconsin, Lawrence University), the South (Trinity University, Emory, and Georgia State), and the Northeast (Swarthmore College, Boston University, and Bowdoin College).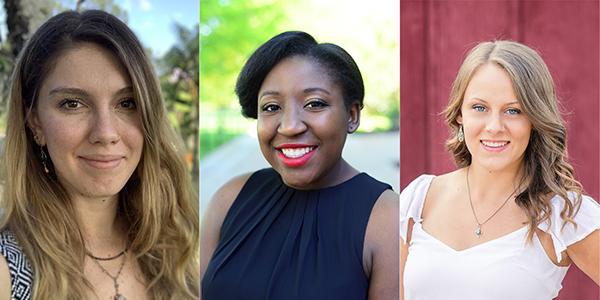 Adult Clinical: Kara Dastrup, Chelsea Mackey, and Kristyn Smith-LaCavalier
Due to COVID-19, the 2020 cohort attended remote orientation events prior to the start of Fall Quarter. This included a summer check-in chat with their Lead TA Melissa Gasser (Adult Clinical Area with Bill George and Mary Larimer), Jeanny Mai (Graduate Advisor), and Shannon Dorsey (Director of Graduate Training and Child Clinical Area). Heading into fall quarter, our students participated in orientation which consisted of a University-wide TA/RA orientation conference and three days of Psychology Department-specifc events.

Child Cinical: Lindsey Green, Clara Johnson, Megan Schultz, Fronk Song, and Caitlin Stavish
The departmental orientation was organized by Melissa Gasser, as the continuing Lead TA for 2020-2021. Though the orientation was conducted over Zoom, students were able to meet with many department members including Jeanny Mai, Cheryl Kaiser (Department Chair and Social Psychology & Personality Area), and Shannon Dorsey, as well as attend research and teaching panels of faculty and current fellow psychology graduate students. Students also enjoyed getting to know their cohort in addition to other orientation events including presentations from university organizations and resources, such as the Diversity Steering Committee and Hall Health Center Services. Since orientation, the first year students have continued to connect remotely for group studying and socializing.
| | | |
| --- | --- | --- |
| | | |
| Behavioral Neuroscience: Natalie Clay and Victoria Ivanova | | Developmental: Saena Sabine and Bahar Sener |
This latest cohort has already earned awards and fellowships, including the University of Washington Top Scholar Awards, Provost Fellowships, and Psychology Department Scholar Awards. Additionally, they have continued to demonstrate resilience and willingness to help each other navigate beginning graduate school while working remotely.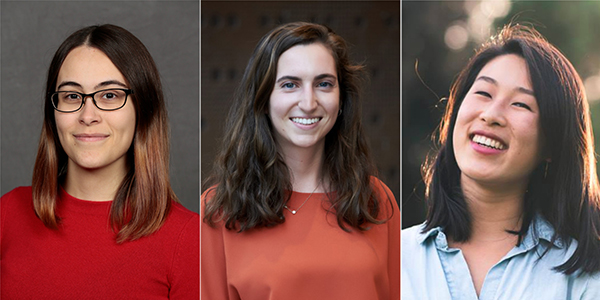 Social and Personality: Zoe Ferguson, Rebecca Schachtman, and Rachel Song
We are proud of the what they have already brought to the UW community and look forward to seeing their future achievements and working with them in person!
Supplemental Reading: