Welcome to our 2018 Psychology Graduate Student Cohort!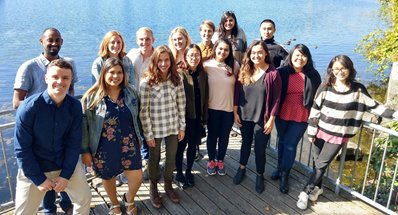 2018 Graduate Cohort
In fall we welcomed 15 new PhD students to the Psychology Department at the University of Washington! The new graduate students have a diverse array of interests across many areas of psychology. We welcomed four students to the adult clinical area, two students to the child clinical area, four students to the cognition area, three students to the social and personality area, one student to the developmental & cognition areas, and one student to the developmental & social and personality areas.
Incoming students hail from across the United States including the East Coast (Dartmouth College, Duke University, Fordham University, University of Massachusetts-Amherst, University of Massachusetts-Boston), the Midwest (Ashoka University, University of Wisconsin-Madison), the West Coast (Biola University, California State University-Northridge, Claremont McKenna College, University of California-Santa Cruz, University of Oregon, and the University of Washington), and the world (University of Edinburgh).
Already they are hugely accomplished, with four students who have received University of Washington Top Scholar Awards and four students who received Psychology Department Scholar Awards. Additionally, one student is a GO-MAP McNair fellow, one student is Ford Foundation Fellow, and one student was awarded an NSF Graduate Research Fellowship Program. We are so proud of all of their accomplishments and are excited to see all of the amazing things they will do in the future!
All new students attended a week-long orientation before the start of fall quarter. Two days were devoted to a campus-wide TA/RA orientation, and three days were devoted to the Psychology Department orientation. The Psychology Department's orientation was organized by 5th year developmental graduate student Elizabeth Enright (Developmental with Jessica Sommerville and Kristina Olson). Students met many members of the psychology department including Jeanny Mai (Graduate Advisor), Cheryl Kaiser (Department Chair), and Kristina Olson (Director of Graduate Training). Students also learned about many resources outside of the Psychology Department including Hall Health, UW Library Resources, and UW Recycling. Some of the biggest hits of orientation included teaching and research panels with current psychology graduate students and faculty members.
Supplemental Reading: