2013 Cohort Impresses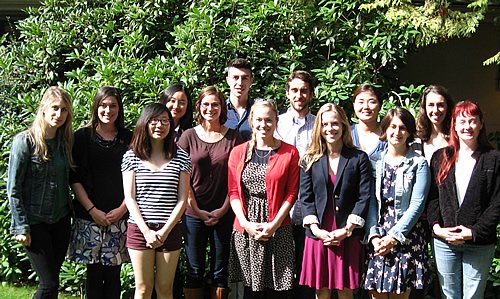 The 2013 cohort to the UW Psychology Graduate Program joined our Lead TA, Nicole Stettler (Child Clinical with Lynn Fainsilber Katz) for a weeklong Orientation before Autumn quarter began. Students from this cohort came from universities close to home (University of Washington, University of Puget Sound, and Seattle University), from the eastern US (Skidmore College and Temple University) and from across the Pacific Ocean (University of Korea).
Orientation covers many aspects of the graduate school experience including teaching and research responsibilities, campus and departmental resources/policies, and laboratory and field safety protocols, to name a few. It is an intense week. The week ended with a Welcome Party hosted by the Psychology Department. The party fell on one of the last sunny days of Fall which enabled us to celebrate in the back patio area of Guthrie Hall. Many thanks to Nicole for guiding our new students through the orientation process.
Our 2013 cohort is quite the accomplished group:
Three students were awarded Top Scholar Summer Research Assistantships which will provide them with support during their first summer in our program.
One student has scuba certification.
One student is co-author of a PsycCritiques book review.
Two students have already presented posters at national conferences.
Three students were the recipients of the College of Arts & Sciences, Natural Sciences Fellowship in recognition of their outstanding credentials as they entered our graduate program.
Two students received fellowship and assistantship support from the UW Graduate School, the Graduate Opportunities and Minority Achievement Program (GO-MAP). These awards provide tuition waivers, stipends, and cover health insurance.
Two have NSF applications in progress.
Supplemental Reading: