Undergraduate
The trip to Chile was an excellent blend of academic work, cultural immersion, and fun because Jaime ensures that each day is a fulfilling experience.
- Miranda Sitch, Psychology Major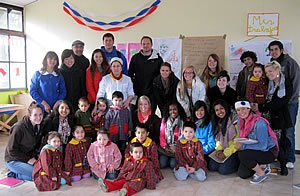 Photo: Jaime Olavarria and his students visit with school children in Coyhaique, in the Patagonia region of Chile.
This high praise for Associate Professor Jaime Olavarria's Exploration Seminar, "A Changing Public and Mental Health Care System in Chile," is not unique. For the past five years, Dr. Olavarria has led a group of undergraduate students to his native Chile to study the contrast between urban and rural health care delivery systems. (More detailed information about the program can be found here.) "This year's group included students with different academic and professional interests, as well as from different countries," says Dr. Olavarria. "Students got along very well, worked hard, had fun, and--as usual--made friends among each other."
For the students who participate, the experience is transformational. "The program was life changing and I would recommend it to anyone," says Miranda Sitch, a psychology major who participated this past summer. The opportunity for students to have an insider's look into health care delivery is something that would never be available to undergraduate students here in the United States. One on one discussions with physicians, mental health practitioners, and public health officials, as well as tours of hospitals and clinics are daily occurances throughout the four week program. While the program solidifies the interests of many participants, for some others it becomes the springboard for launching them in new directions. Of the program's inaugural group of participants, several have gone on to graduate or professional study in health fields. Several past participants are currently in medical school, nursing programs, and graduate programs in public health.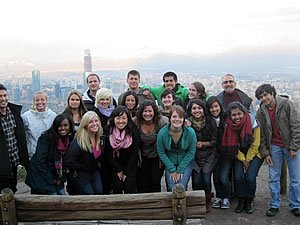 Photo: Students and Jaime Olavarria check out some of the beautiful vistas from a viewpoint about Santiago, Chile.
In addition to the academic component of the program, students have the chance to immerse themselves in a rich culture, to explore a beautiful country with varied and stunning scenery, and to create new and lasting friendships. "The lectures by health care professionals were engaging, the food was delicious, and there were hikes that lead to gorgeous views of Santiago," recalls Miranda Sitch. Throughout the program, students have the benefit of Dr. Olavarria's expertise as well as his boundless enthusiasm for sharing all that his homeland has to offer.
Chrysteen Borja, another psychology major who took part in the program this past summer, came to UW a year ago as a transfer student. It is often said that transfer students have a kind of "aha!" moment when they finally feel connected to UW. For Chrysteen, the trip to Chile was that moment. "Learning about Chile and its health system brought about a lot of new interests in career choices and in furthering my education in public health," says Chrysteen. "But, the biggest aspect that I will remember forever," she continues, "is the community of people that I studied with there." And, that community endures, according to Dr. Olavarria. "This group has remained active after returning to the U.S., organizing ways to get together," he says, "I miss them!"
Professor Randy Kyes and ten students--including six undergraduate and one graduate student from UW--spent nearly four weeks last summer observing and studying free-ranging longtailed macaque monkeys on an island off the coast of Java, through the International Field Study Program-Indonesia, entering its 18th year. Each of this past year's cohort received a $1300 stipend through the United States Indonesia Partnership Program; UW was one of six U.S. universities to receive this funding from the Department of State.Read more.
Phi Beta Kappa

Congratulations to the undergraduate psychology majors who were invited to join Phi Beta Kappa in late spring quarter 2012.
The invitation is based upon the students' excellent academic record and interest in the liberal arts. http://depts.washington.edu/uwpbk/
The students are: Kelsey Frost, Aziza Seykota, Andrea Vernon, and Anne Wolken.
2012 Guthrie Prize
Zeke Barger, Becca Emery, and Monica Rapp were co-winners of the 2012 Guthrie Prize in Psychology.
Becca's paper, "Negative Urgency Strengthens the Effects of Negative Affect and Dietary Restraint on Loss of Control Eating: Evidence from Cross-Sectional and Experimental Data," sponsored by Assistant Professor Kevin King, tied for best empirical paper. Monica's paper, "Mathematical Reasoning with Rational Numbers: Evidence of Differences in the Representation of Fractions and Decimals," sponsored by Professor Miriam Bassok, also received an award in the best empirical category. Zeke's paper, "Attention Requirements from Gist Recognition in Central and Peripheral Vision," sponsored by Associate Professor Geoff Boynton, was chosen as best research proposal.
Levinson Emerging Scholars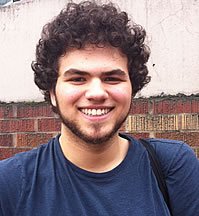 Nile Gaddia was the recipient of a Levinson Emerging Scholars award. Nile is a psychology honors student, working with Professor Sheri Mizumori. His research focus is in the area of learning and memory. The Levinson program supports undergraduates pursuing independent research in genetics, neuroscience, biochemistry, bioengineering, bioinformatics, and related fields in the life sciences.