Graduate

The 2012 cohort to the UW Psychology Graduate Program was one of our largest in recent years. Lead TA Danny O'Rourke spent weeks preparing for their orientation, which takes place a week before the start of autumn quarter. This year's sessions combined many aspects of training and orientation--students participated in the campus-wide TA/RA Conference, laboratory and field safety training, and familiarized themselves with the UW Psychology Department's resources and research.
And, like all previous cohorts, 2012's group arrived with many and varied accomplishments. Some notables from the group:
Three students were awarded Top Scholar Summer Research Assistantships which will provide them with support during their first summer in our program.
One student is an international debating champion.
Another student was the second place winner of a watermelon eating competition in Shanghai.
Three students were the recipients of the College of Arts & Sciences, Natural Sciences Fellowship in recognition of their outstanding credentials as they entered our graduate program.
Two students received fellowship and assistantship support from the UW Graduate School, the Graduate Opportunities and Minority Achievement Program (GO-MAP). These awards provide tuition waivers, stipends, and cover health insurance.
One student just received funding through NSF before UW even started. Check out her profile here.
With credentials like these, we are looking forward to what the 2012 cohort will accomplish as they progress through our program!
Supplemental Reading: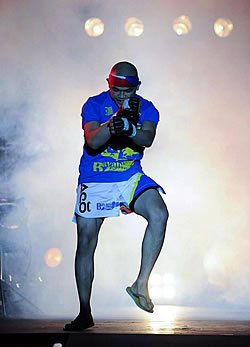 Photo: Andy Paves
Andy Paves, a fourth year student in Adult Clinical, recently received a grant from The National Institute on Alcohol Abuse and Alcoholism (NIAAA) for his project "Coping with Discrimination: Alcohol Abuse in Filipino(a) American Young Adults." His primary advisor is Mary Larimer. A brief introduction to his National Research Service Award (NRSA) is provided in previous article.
Let's start with the basics, where did you grow up and where did you complete your undergraduate and masters degrees?

I'm a Washington native. I was born in Chehalis and went to high school in the greater Seattle area. I did my undergrad work here at UW, as well.

What attracted you to study at UW?

I had a great experience here as an undergrad and knew the clinical psych program was top notch. I took several years working in research to gain some experience, save up some money, make sure grad school was for me, etc. By the time I decided to apply, I was at a point where I felt like I needed to leave Washington and honestly, I didn't expect to get in to UW! Luckily, I had some encouragement to apply and I fell in love with the campus and program again by the time interviews rolled around. Knowing how awesome the program and my advisor (Mary Larimer) are, not to mention being able to stay home, I couldn't say no to the offer.

How do you like living in Seattle?

I know nothing else! Even if I wasn't from here, I would feel very fortunate to study at a place where there's so much to do. And you'll never hear me complain about the weather! In fact, you're more likely to hear me complain about people who complain about the weather!

What is your research interest and how did you get into it (what inspires/motivates you)?

Broadly, it's a cross between multicultural psychology and health behaviors. The study which I got the funding for focuses on the experiences of Filipino Americans; specifically with discrimination, coping with race-related stress, and ethnic identity and potential relationships with alcohol use. What inspires me are disparities in health conditions between different communities and the fact that people who look like me are underrepresented in research and among researchers.

Specifically, what do you hope to accomplish with the funding?

Spend it all in two years...on my dissertation project of course. The purpose of the grant is to cover the research costs associated with my study. So things like participant payments, printing out study materials, etc. It will make recruiting and implementing my study so much easier!

Do you have any publications yet? What would you suggest that someone read to learn about your research interests?

A couple so far, but I think the ones I'm working on now are a better reflection of my interests. Stay tuned!

Why did you apply for this funding opportunity? Was the application process hard? How long did you have to wait after submitting to hear you were funded?

My advisor recommended that I apply. Several students and faculty in our lab had successfully applied previously and it would cover the research costs of my dissertation project. The application itself wasn't too difficult, as it's very similar to any other grant application. The only hard part was grabbing signatures from seven very busy people! Since my sponsor and co-sponsor are from different departments and schools, I had to grab the signature of the respective chairs and deans. The review process was very straightforward, I heard back within two months and luckily had good news!

How did you feel when you learned that your application was accepted? What does it mean to you to have this period of guaranteed funding?

Important, validated, all of the above. It felt great to have my work recognized and rewarded. It means I can pay the people who participate in my study...and that I'm on the clock.

Do you have any advice/tips/suggestions for others who may be thinking of applying for this opportunity? About graduate study in general?

I would highly recommend it, especially if your research that focuses on alcohol or drug use. It's a great resource to cover research costs. If you've already done an NRSA or other grant or research proposal, adapting for this application isn't too difficult.

As for grad school, don't do it! ...Kidding, of course. My best advice for that is to love what you do and do what you love. Once you find your niche it makes all the hard work that much easier!

What do you like doing in your spare time?

Funny enough, I've been interviewed about my spare time hobbies before.

The last non-academic book you read and/or movie you saw and enjoyed?

The Avengers. One of the rare times that Hollywood does a childhood favorite right!

What you plan to do once you complete your PhD?

Not sure yet but I think I'll have plenty of options. Clinical psych provides such a versatile skill set!
Supplemental Reading:
Photo: Joyce Yang
Joyce Yang, a third year student in Adult Clinical, recently received the National Research Service Award (NRSA) for her work on "Reducing Psychological Distress of HIV+ Parents and Their Families in China." Her primary advisor is Jane Simoni. A brief introduction of the NRSA is provided in a previous article.
Let's start with the basics, where did you grow up and where did you complete your undergraduate degree?
I got my BA from Washington University in St. Louis and my MA from Boston University. Where I'm from... my family is from Taiwan, I was born in LA, and I grew up in Jakarta and Shanghai.
How did you wind up at UW/why did you apply here? What do you think about living in Seattle?
I applied to the UW to work with my advisor, Jane Simoni, because I wanted to do work in a lab where cultural considerations in mental health interventions were a main focus of the research, rather than a component tacked on as an afterthought. The program turned out to be a great fit for me, and I'm very thankful to be here. Additionally, I love Seattle! I think the city makes me be a better (healthier, more active, more environmentally conscious) version of myself.
What is your research interest and how did you get into it (what inspires/motivates you)?
My goal for my education, research, and "plans after my PhD" is broadly to improve the well-being of Asians and Asian-Americans. I plan to pursue this goal through intervention development research that targets specific cultural groups to address concerns unique to that community. My passion for this work comes from seeing mental health and resource disparities among minorities in the US, as well as by and large around the world.
How did you learn about your funding opportunity and tell us about the application/waiting process?
I learned about the NRSA funding opportunity because the more senior students in my lab also have NRSAs. Their intellectual support and my advisor's guidance were indispensable throughout the application process. This strongly echos one of my main takeaways from grad school so far: this really is a communal experience - you don't have to, and indeed shouldn't, go through the process of grad school alone.
How did you feel when you learned that your application was accepted and that you will receive two to three years of funding?
When I found out that I had gotten four years of funding, my first thought was ... Man! I BETTER be done by then! Since being on the NRSA, I've realized that the greatest blessing I've experienced from it is having more freedom in terms of time. Overall, I feel less pressure to finish quickly, so I look forward to being able to take advantage of more of what the program has to offer, such as a breadth of practicum opportunities, taking on additional clients to learn different therapies, completing the diversity and quantitative minors, etc.
What do you like doing in your spare time?
In my spare time, I like to stay active (tri-training and playing sports), hang out with my puppy, and spend time with important people in my life.
The last book and/or movie you saw and enjoyed?
The last book I read that I really enjoyed was "The History of Love," by Nicole Krauss (which despite its hokey title, was shortlisted for the Orange Prize, and not at all a romance novel). I love this book because the stories of characters are unexpectedly connected, across eras and countries and methods of communication - to me, it speaks a truth that is so human ... we are different, yet we all are really searching for much of the same thing. (And! her words are delicious.)
Supplemental Reading: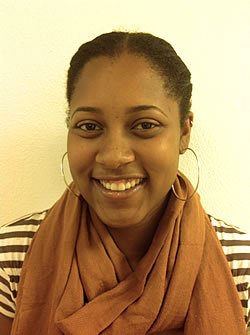 Photo: Arianne Eason
Arianne Eason, a first year student in Social Psychology and Personality, was awarded an NSF before she joined our program in the fall. She will be working with Cheryl Kaiser and Jessica Sommerville. A brief introduction of the NSF is provided in a previous article.
Let's start with the basics, where are you from and where did you complete undergrad/masters?
I am originally from Los Angeles, CA. Then I went all the way across the country to Yale University for my Bachelor's degree.
How did you wind up at UW/why did you apply here? What do you think about living in Seattle?

The UW has an amazing blend of faculty in the Social and Developmental areas that really matched with my research interests. And I was definitely drawn in by the cross-area collaborations that were taking place and the want to engage in even more. So I knew that this was a place that I could learn the skills I wanted in both the social and developmental area, and engage with some top-notch research faculty and graduate students.
So far, I am really enjoying Seattle, there are so many awesome places to explore!
What is your research interest and how did you get into it (what inspires/motivates you)?
I am really interested in understanding the origins of group-based bias, especially unconscious/subtle forms of racial bias. My interest in this topic came primarily during my sophomore year when I took an amazing class, Social Psychology of the Oppressed, and I worked in the Social Cognitive Development lab at Yale. I think these experiences showed me how I could take real observable phenomena, scientifically test them, and then apply them back to the world to create some form of change. I just want to figure out how people learn about the social world, and make sense of all the complexity to arrive at group-based generalizations that carry with them so many implications. In the end, I love big questions because there are so many places to go in the future.

How did you learn about your funding opportunity and tell us about the application/waiting process?
While the NSF GFRP is a well-known source of funding in psychology, I remember my undergraduate advisor, Kristina Olson, and I sat down one day to talk about some things that I should consider as I was applying to graduate school. She suggested that I write an NSF application, so I did.
I was extremely nervous while writing the application, because at that point I had not even gotten into graduate school, much less applied. So I thought it was crazy that I was applying for funding for a proposed plan of study, when I thought it was unclear if I would even be accepted into graduate school. But once it came time to write the proposal, I was so excited to see my own ideas on paper and see where my research could go in the future. I had a combination of nervous excitement during the entire process. And to be honest, after I submitted, I totally pushed it out my mind, and refocused on my graduate school applications and my senior thesis.
How did you feel when you learned that your application was accepted and that you will receive two to three years of funding?
I woke up to an email telling me congratulations. And immediately I jumped out of bed and ran to my roommate's room, woke her up and started yelling. She had no idea what was going on, but just celebrated with me. I was ecstatic; it didn't feel real!

Do you have any advice/tips/suggestions for others who may apply to this opportunity? About graduate study in general?
I would definitely suggest trying to find examples of successful applications, that gave me an idea of how to even begin. And then I would say get a lot of feedback from a lot of different people, but especially your advisors, at every stage, from brainstorming ideas to having a polished product. But really, I think a big thing is to make your whole application show what you are passionate about, tell them why it is important that somebody do the work you are proposing. And then show them why you are person that should do it.
What do you hope to accomplish with the funding and/or while in the UW Psychology graduate program?
I really want to learn a set of skills that will allow me to be an amazing researcher. I want to learn how to ask and answer questions that are both important to society and the field of psychology. And the NSF funding will give me the chance and the time to put together a program of study that helps me to be proficient in both developmental and social psychology.
What do you like doing in your spare time?

What I enjoy most in my spare time is just hanging out with my friends. Whether that means exploring Seattle together or just sitting on the couch talking (or video chatting with my friends from across the country). If my friends aren't around I am most likely napping or catching up on a TV show.
The last book and/or movie you saw and enjoyed?

The summer before I started graduate school I got to watch a lot of movies. So I cannot decide which one movie I want to mention, so I will give three that I really enjoyed, in no particular order: 1) The Odd Life of Timothy Green, 2) The Words, and 3) Trouble with the Curve.
What you plan to do once you complete your PhD?
I really want to be a professor at a research institution. Being able to explore questions that I am interested in for the rest of my life sounds absolutely amazing. But even outside of research being able to be in constant contact with masses of people who want to learn and grow—whether that be undergrads or other faculty—is pretty awesome to me, and I can't imagine being anywhere else right now.
Supplemental Reading: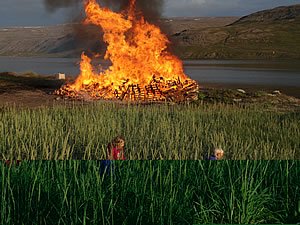 Photo: Children running in a field during Icelandic Summer Solstice celebration,
Jolina Ruckert, a graduate student in Developmental Psychology, recently returned from her 17 country, 15 month journey around the world as a Bonderman Fellow. The "Bonderman" provides the opportunity for extended independent travel abroad. It is awarded to UW students who demonstrate integrity, the capacity for vision and leadership, and the potential for humane and effective participation in the global community.
Jolina's explorations were focused on the ways fire bonds communities. Her first stop was Iceland, the Land of Fire and Ice, where people harness fire to power their lives through innovative, sustainable approaches.
Then she went to Southern Africa, and while with the Nara tribe witnessed some of earliest documented fire rituals preserved. In Zimbabwe, Jolina met an internationally acclaimed artist and experienced his exhibit depicting fire torture and the atrocities of the Ndebele genocide.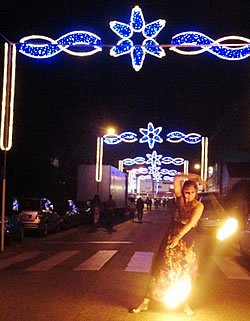 Photo: Jolina Ruckert spinning fire at Portugal festival
From Mozambique to Madagascar and Mayotte, she lived on a sailboat traveling to regions plagued by slash and burn agriculture and the corollary political and moral issues.
She returned to land and went from Kenya to Tanzania. Jolina visited the Maasi to discuss traditional fire building and trance dances.
Then she traveled to Thailand as an invited journalist for the Krabi International Rock and Fire Contest. In Cambodia, Laos, and Malaysia, Jolina visited temples and met with monks to discuss the use of fire in prayer and ancestor worship. In Vietnam, she explored the use of fire in warfare and the re-occurring theme in her journey regarding the use of firepower to support one community, while destroying another.
The journey has informed her sensibilities and the next steps in her academic career. Particular experiences such as living with indigenous peoples in Northern Thailand, Serengeti, and Kalahari, learning from founders of the field of shark cage diving ecotourism about environmental conflict resolution, and working with youth on an inner city farming initiative will directly inform her upcoming research endeavors.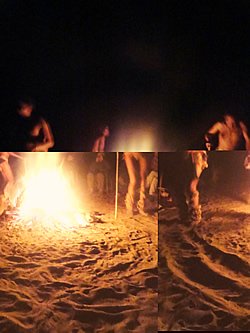 Photo:

Nara trance dance ceremony
Next stop – Jolina's dissertation investigating children's moral reasoning regarding environmental dilemmas.
Supplemental Reading:
| | |
| --- | --- |
| | October has been a busy month for the Diversity Steering Committee (DSC). This month the group participated in the 2012 SACNAS National Conference which took place in Seattle, October 11-14, 2012. They hosted a graduate program table and arranged a tour of a few research labs. Oliver Siy (Social Psychology and Personality), chair of the DSC, lead this initative, and Committee members spent most of the day with several students who were very interested Psychology graduate studies |
The tour covered four labs from different divisions that spanned cognitive to clinical. Graduate students Jared LeClerc, Joyce Yang, Bjorn Hubert-Wallander, Emma Wampler, and Oliver Siy volunteered time to speak about their research and being in graduate school. The tour seemed to inspire many of these students to pursue graduate careers in psychology. Most of them left with a strong impression of our program and plan to apply.
In addition to working with SACNAS, the DSC also awarded Diversity Science Specializations to three students, two of whom are recent graduates. The Specialization helps graduate students understand how the experiences of diverse populations can be utilized to inform the student's major area of study and cultivates an understanding of the relationship between diversity and psychological issues.
This year, graduates Drs. Lori Wu Malahy and Joshua Tabak from the Social Psychology and Personality area both earned diversity specializations to complement their PhD training. Current graduate student Sharon Hsu from the Clinical area also completed the Specialization as part of her training.
To understand what impact the specialization has had on students' training, the Committee was able to interview Lori Wu Malahy and ask her how she has made made use of the training that she received from the specialization. She comments, "the diversity specialization gave me a perspective grounded in science. I learned about specific research findings and scientific evidence that helped drive my research interests as a graduate student. My knowledge gained through diversity science continues to motivate my choices in my work outside of academia. When issues related to diversity emerge in the workplace, I am able to cite specific research studies to colleagues to shed light on motivations and consequences of various behaviors." For Dr. Malahy, the diversity specialization helped her develop the tools she needed to engage in dialogues about diversity in her new career.
Supplemental Reading:
Spring quarter 2012

Wenwen Ni, Oliver Siy (Social Psychology and Personality), and Sapna Cheryan authored an op-ed in Psychology Today on Jeremy Lin and the dark side of positive stereotypes. Basketball's favorite underdog story came to a temporary halt when Jeremy Lin announced on March 31 that he would be out for the rest of the regular season due to knee surgery. Lin's rise into the public consciousness over the previous few months had been shaped by two main storylines about race in American sports. The more negative storyline proclaimed that the racist insults that Lin had endured are proof that there is deep-seated racism against Asian Americans in this country. The second, and seemingly more positive storyline, celebrated Lin's accomplishments through the lens of his cultural roots.

Joshua Tabak (Social Psychology and Personality) was the lead author for a "gaydar" article that appeared in the open-access online journal PLoS ONE. After seeing faces for less than a blink of an eye, college students have accuracy greater than mere chance in judging others' sexual orientation. Their "gaydar" persisted even when they saw the photos upside-down, and gay versus straight judgments were more accurate for women's faces than for men's. The findings suggest that we unconsciously make gay and straight distinctions. "It may be similar to how we don't have to think about whether someone is a man or a woman or black or white," said Tabak. "This information confronts us in everyday life." The article has received over 500 online/print stores and was featured on KIRO-FM, an NPR affiliate in Los Angeles, and a show in New Zealand. The co-author is Vivian Zayas, who received her PhD from UW Psychology. "Gaydar automatic and more accurate for women's faces, psychologists find." The New York Times also covered this research.


Tony Greenwald's work on racial attitudes is looking at presidential elections. "The potency of race is not weakening," says Greenwald. "Nearly four years into Obama's presidency, people overlook that his race does still matter." After the 2008 election of President Barack Obama, many proclaimed that the country had entered a post-racial era in which race was no longer an issue. However, a new large-scale study shows that racial attitudes have already played a substantial role in 2012, during the Republican primaries. They may have even played a larger role in this year's presidential election. Other collaborators on this survey project include Teri Kirby (Social Psychology and Personality) and Kaiyuan Xu, both at UW.
In spring quarter 2012, four students completed their general exams and advanced to candidacy: Ashley Maliken (Child Clinical with Lynn Fainsilber Katz), Kerry Spalding (Social Psychology and Personality with Cheryl Kaiser), Andy Paves (Adult Clinical with Mary Larimer), and Jeremy Luk (Child Clinical with Kevin King).

The department had two students complete a Master of Science: Hollie Granato (Adult Clinical with Bill George) and Alissa Jerud (Adult Clinical with Lori Zoellner).

We had two students complete a specialty program of study. Lori Malahy (Social Psychology and Personality with Yuichi Shoda) completed a Diversity Science Specialization, and Rick Cruz (Child Clinical with Kevin King) earned a Quantitative Minor. Please read about the latest in Diversity Science.

Two students completed their program of study with us and are off to bigger things:

Jennifer Wang (Social Psychology and Personality with Jan Leu) graduated with her PhD with a successful defense of her dissertation "Why and when do racial microaggressions hurt? The role of perceived diversity credentials." Jennifer is an Assistant Professor in Psychology at the University of Wisconsin-La Crosse.

Joyce Bittinger (Adult Clinical with Mary Larimer) defended her dissertation "Retrieval-Induced Forgetting: A proposed mechanism for intrusive reexperiencing in PTSD" and is on an NIAAA Postdoctoral Fellowship (T32) with The Center for the Study of Health and Risk Behaviors (CSHRB) through the Department of Psychiatry and Behavioral Sciences at the University of Washington.

At the end of Spring 2012 quarter, the Psychology Department held its annual Psychology PhD Hooding Ceremony for recent graduates. Fifteen graduates attended with dozens of family and friends to cheer and support them through this final step in their careers as students. Congratulations to our graduating class and best wishes in all that you do!

Summer quarter 2012


Two clinical students sucessfully completed their general exam and advanced to candidacy: Hong Nguyen (Adult Clinical with Bill George) and Danny O'Rourke (Adult Clinical with Ron Smith).
Sharon Hsu (Adult Clinical with Mary Larimer) completed both a Master's degree and the Diversity Science Specialization.
The Psychology Department graduated 12 PhDs in Summer quarter, one of our largest classes yet! Our recent grads can be found as post-doc fellows at UW, Duke, UCLA, UCSF, Seattle Children's Hospital, and Johns Hopkins, as well as in professional positions at Rand Corporation and Youtube.
Summer graduates are: Karen Burner (Child Clinical with Geri Dawson and Sara Jane Webb), Zach Ernst (Cognition and Perception with Geoff Boynton), Jen Gerdts (Child Clinical with Geri Dawson, Raphael Bernier, and Wendy Stone), Lauren Graham (Behavioral Neuroscience with Jeansok Kim), David Huh (Adult Clinical with Jane Simoni), Cara Kiff (Child Clinical with Lili Lengua), Andrada Neacsiu (Adult Clinical with Marsha Linehan), Emily Neuhaus (Child Clinical with Ted Beauchaine), Eric Pedersen (Adult Clinical with Mary Larimer), Sarah Racz (Child Clinical with Bob McMahon), Trevor Schraufnagel (Adult Clinical with Bill George), and Joshua Tabak (Social Psychology and Personality with Sapna Cheryan)
Autumn quarter 2012

Joyce Yang just received the National Research Service Award for her work on "Reducing Psychological Distress of HIV+ Parents and Their Families in China". Check out her profile.
Erin Ward-Ciesielski was just awarded a 2012 APA Dissertation Research Award for her work in suicide intervention. She was previously profiled when she received NRSA funding last year.
Autumn quarter milestones will be covered in our Summer 2013 issue. Please stay tuned!