Undergraduate Accomplishments
Phi Beta Kappa

Congratulations to the undergraduate psychology majors who were invited to join Phi Beta Kappa in late spring quarter 2012.
The invitation is based upon the students' excellent academic record and interest in the liberal arts. http://depts.washington.edu/uwpbk/
The students are: Kelsey Frost, Aziza Seykota, Andrea Vernon, and Anne Wolken.
2012 Guthrie Prize
Zeke Barger, Becca Emery, and Monica Rapp were co-winners of the 2012 Guthrie Prize in Psychology.
Becca's paper, "Negative Urgency Strengthens the Effects of Negative Affect and Dietary Restraint on Loss of Control Eating: Evidence from Cross-Sectional and Experimental Data," sponsored by Assistant Professor Kevin King, tied for best empirical paper. Monica's paper, "Mathematical Reasoning with Rational Numbers: Evidence of Differences in the Representation of Fractions and Decimals," sponsored by Professor Miriam Bassok, also received an award in the best empirical category. Zeke's paper, "Attention Requirements from Gist Recognition in Central and Peripheral Vision," sponsored by Associate Professor Geoff Boynton, was chosen as best research proposal.
Levinson Emerging Scholars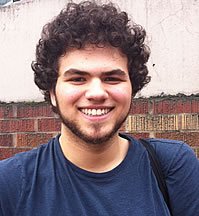 Nile Gaddia was the recipient of a Levinson Emerging Scholars award. Nile is a psychology honors student, working with Professor Sheri Mizumori. His research focus is in the area of learning and memory. The Levinson program supports undergraduates pursuing independent research in genetics, neuroscience, biochemistry, bioengineering, bioinformatics, and related fields in the life sciences.