Field Research in Indonesia: An Immersion in Science and Culture
Participating in the IFSP-Indonesia on Tinjil Island was entirely life changing. This experience has given me new inspiration and direction in furthering my studies and future career.
- Morgan Wilbanks, Psychology Major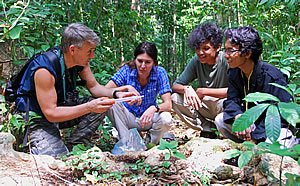 Photo: Randy Kyes and student researchers conduct field studies on Tinjil Island, Indonesia.
This coming summer, the International Field Study Program (IFSP)-Indonesia will enter its 18th year. Under the direction of Psychology Research Professor Randy Kyes, the program is a collaboration between the UW's Center for Global Field Study and the Primate Research Center at Bogor Agricultural University, in Indonesia. the program offers the opportunity for UW and other students to experience first hand the demands and rewards of living and conducting research in tropical field conditions.
During the summer of 2012, Dr. Kyes and 10 students--among them, six undergraduate and one graduate student from UW--spent nearly four weeks observing and studying free-ranging longtailed macaque monkeys on Tinjil Island, located off the southwest coast of Java, Indonesia. While the research experience itself is a unique and invaluable part of a student's education, participants also emphasized the benefit of stepping far outside of their comfort zone and immersing themselves in a new culture. "The gaining of field research experience was beneficial for me," says 2012 program participant Morgan Wilbanks, "but more important was becoming conscious of the Indonesian people and culture." Post-baccalaureate psychology student and program participant Anna Schier adds that "the exposure to different cultures and exotic locales helped evolve my appreciation for diversity and scientific perspective in remote and challenging conditions."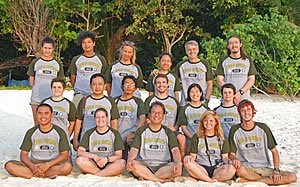 Photo: The 2012 IFSP-Indonesia program cohort, along with director Randy Kyes.
While study abroad, especially to remote destinations, can be an expensive undertaking for students, members of this past year's cohort were each helped significantly by a $1300 stipend provided as part of funding support from the United States Indonesia Partnership Program. UW was one of six U.S. universities to receive this funding from the Department of State. "I was very pleased to see that the U.S. government is working to improve ties with Indonesia," says Dr. Kyes. He continues, "I believe this initiative was an important step in helping to expand the study abroad opportunities in Indonesia which ultimately will serve to benefit both countries."