Faculty
Recently we had a chance to sit down and interview our newest faculty member, Noah Snyder-Mackler, who is an Assistant Professor in the area of animal behavior. He joined the psychology department in the autumn of 2017.
How did you become interested in science and more specifically in animal behavior?
My whole life I've been fascinated by animal behavior — a fascination that, fortunately for me, has progressed from an avocation to a vocation (or perhaps some combination of both). I was exposed to science early in life being raised by two scientists. My mother is a sports rehabilitation scientist and my father was a neuroscientist. In addition, my grandfather is an avid amateur naturalist also had an early influence on me in terms of my interest in animal behavior. I was fortunate as a PhD student to be trained as a naturalist and mentored as an integrative animal behaviorist by two premier animal behavior researchers (Dorothy Cheney and Robert Seyfarth) at the University of Pennsylvania where I combined behavioral observations with genetic analyses to study the evolution of sociality in cowbirds and gelada monkeys. After that, I went to Duke University for a postdoc where I worked with evolutionary biologist Jenny Tung and honed my genomics skills studying how our social environment directly affects our immune system.
What draws you to your work? Why are you passionate about it?
We still don't know how the social environment "gets under the skin" to alter physiology and impact health, survival, and reproduction in social animals. When I'm wearing my animal behaviorist hat, I'm study the interaction between the social environment and individual behaviors to see how these behaviors have ultimately been shaped by natural selection. When I'm wearing my biopsychologist hat, I am using my study subjects (monkeys) as a model for humans — after all, we're all primates! Most of the time I'm wearing both hats — drawing on my insights from behavioral ecology to gain a better understanding of human behavior and health.
Your work involves field research which can be exciting and challenging. Do you have a favorite field site where you conduct your primate research?
I conduct research at two field sites, which are very different from one another. The most comfortable of the two is Cayo Santiago, which is a small island off of the southeastern coast of Puerto Rico and home to a colony of over 1000 free-ranging rhesus macaques. This field station is maintained by the Caribbean Primate Research Center and the University of Puerto Rico. We can conduct our research on Cayo Santiago and then motor our way back to the main island of Puerto Rico each night. Cayo Santiago was unfortunately heavily damaged by Hurricane Maria, but we're gradually rebuilding infrastructure there. My other field site, where I study gelada monkeys, is in the highlands of Ethiopia – a much more remote and challenging site. Despite the limited communication and logistical nightmare of getting supplies to and from the campsite, this field site is my favorite. The amazing landscape and unique animals make it one of the most beautiful places in the world.
Why is your lab's research important? Why should the community care?
The one sentence cocktail party description of my work is "I study why chronic psychosocial stress is bad for your health and how having good friends can help protect you from those negative consequences". That's typically well-received, but it is often followed by the inevitable question: "So why aren't you studying humans?" The short answer is that the social animals that I (and others) study make for a simpler model of human social behavior because, while we share many core neural and genetic pathways with nonhuman primates, they don't have some of the added complications of human culture (e.g., monkeys don't smoke, drink, or do drugs). The ultimate goal is of my lab's work to identify underlying mechanisms so we can help people live longer, healthier lives.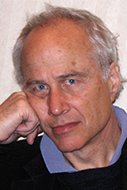 On November 1st, the UW Psychology commemorated the career of Professor Emeritus Geoff Loftus, who retired this year after an impactful 45-year tenure with the University of Washington. Faculty, staff, students, and friends gathered for a sold-out lecture by Geoff and his Stanford University colleague Brian Wandell. Geoff's Psychology colleagues Tony Greenwald, Andy Meltzoff, his former student Tom Busey, and more recounted their most memorable times working with Geoff over the years, including his incredible mentorship and commitment to making real-world change.
If you missed Geoff's lecture but would like to see a recording, please reach out to Jenny Whelan, Advancement & Outreach Officer, at jennywh@uw.edu.
With a focus on visual perception, Geoff Loftus and his lab have made discoveries in the topics of face memory, eyewitness testimonial, and visual hindsight bias. But beyond the groundbreaking research, Geoff is proudest of the students he has taught and mentored over the years. He notes that his biggest accomplishment has been "mentoring and drawing inspiration from the many undergraduate and graduate students with whom I've worked, who are now out trying to make the world a better place".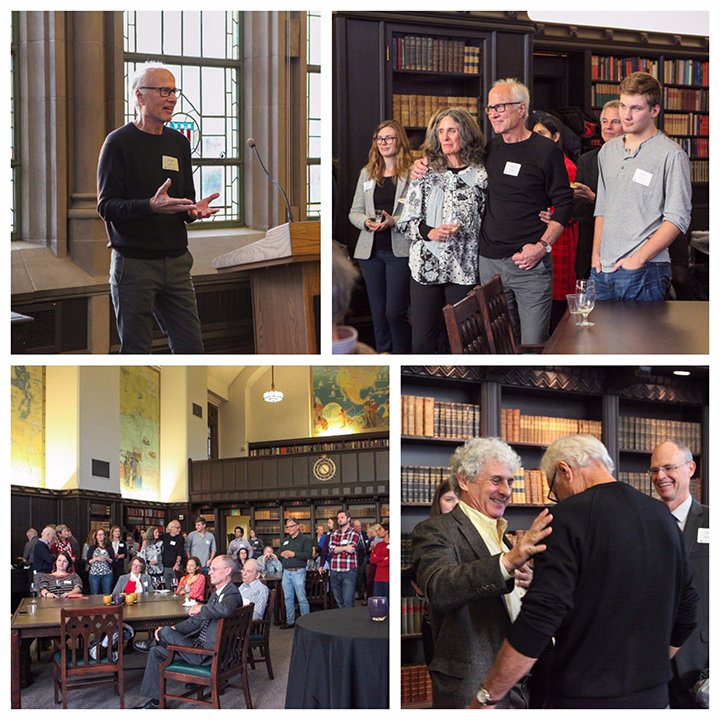 | | | | | |
| --- | --- | --- | --- | --- |
| | | | | |
| Sapna Cheryan | Randy Kyes | Jim Ha | Renee Ha | David Gire |

Associate prof. Sapna Cheryan has received numerous awards in 2017. In addition to the International Society for Self and Identity's 2017 Outstanding Early Career Award, Cheryan has been named a Fellow in the Society for Personality and Social Psychology, and a Fellow in the Society for the Psychological Study of Social Issues. In 2016, she was appointed Lenore Annenberg and Wallis Annenberg Fellow in Communication at the Center for Advanced Study in the Behavioral Sciences, Stanford University.
Prof. Randy Kyes received the "Kyes Award for Excellence in Educational Outreach" from the American Society of Primatologists - an award named for him as the inaugural recipient.
Emeritus research prof. Jim Ha and associate research prof. Renee Ha received the Continuing Education Outstanding Credit Program Award from the National University and Professional and Continuing Education Association for their Applied Animal Behavior certificate program.
Assistant prof. David Gire and his collaborator in France have been selected to receive a French/U.S. collaborative research award from the French Embassy and FACE Foundation. This is for their work on olfactory driven decision making in animals. The Thomas Jefferson Fund aims to foster forward-looking collaborative research in the fields of Humanities and Social Sciences, of Science, Technology, Engineering and Mathematics and of Science for Society that addresses the most pressing global challenges.
Assistant prof. David Gire and his collaborator in the Biology Department, Bing Brunton, received the 2017 UW Innovation Award. This award supports innovative research that addresses problems of humanity. The title of their project is "Modulating complex natural behaviors in rodents with direct closed-loop control of neural systems", and they plan to develop a novel method for understanding the integration of perception, decision making and memory during natural behaviors.
| | | | | |
| --- | --- | --- | --- | --- |
| | | | | |
| Joe Sisneros | Tony Greenwald | Mary Larimer | Marsha Linehan | Jane Simoni |

Prof. Joe Sisneros was among 19 UW Latina and Latino Faculty recognized by the Latino Center for Health. The Latino Center for Health at UW hosted the inaugural Latinx Faculty Recognition Event on May 16, honoring the scholarly achievements of 19 Latina and Latino faculty across the tri-campuses of the University of Washington for 2016-2017.
Prof. Tony Greenwald and his longtime collaborator Mahzarin Banaji were recipients of the Society of Experimental Social Psychology's Scientific Impact Award for their 1995 Psych Review paper entitled, "Implicit Social Cognition: Attitudes, Self-Esteem, and Stereotypes." They will be honored at the 2017 SESP meeting to be held in Boston in October.
Prof. Mary Larimer was selected as the 2017 recipient of the Wayne J. Katon Outstanding Mentoring Award. This prestigious award was created to recognize faculty members in the UW Department of Psychiatry and Behavioral Sciences who demonstrate a sustained commitment to mentoring, and is awarded to one faculty member each year.
Prof. Marsha Linehan was awarded the 2017 Grawemeyer Award for Psychology. The Grawemeyer Award is given to individuals whose ideas substantially impact the field of psychology and that have significant impact on our understanding of the human mind.
Prof. Jane Simoni was named a Foreign Expert again in China, in association with Jiaotong's School of Nursing where she does clinical research at the Xianhua hospital.