Community Connections
Calling all Psychology alum: now you can help a student with Huskies@Work, UW Alumni Association's job shadowing program.
Psychology is one of the most dynamic majors on campus: with a degree under their belt, students can pursue careers in research, therapy, business, community health, technology, and many other fields. As an alum, you can play a part in their path to choosing a career by showing them what can be possible after graduation.
Huskies@Work is offered twice each year, during one month in the fall and one month in the spring. Alumni and students fill out applications and are matched based on career field and interests. You'll get the chance to share a day in your life. From meetings to site visits, informational coffees to meetings over Skype or phone call — you can show a fellow Dawg what it's like to walk in your shoes.
Spring 2018 applications open in early 2018. Learn more and get involved today on the Huskies@Work website.
Looking for more ways to connect with UW Psychology post-grad and beyond? Visit the department website and stay connected with us today.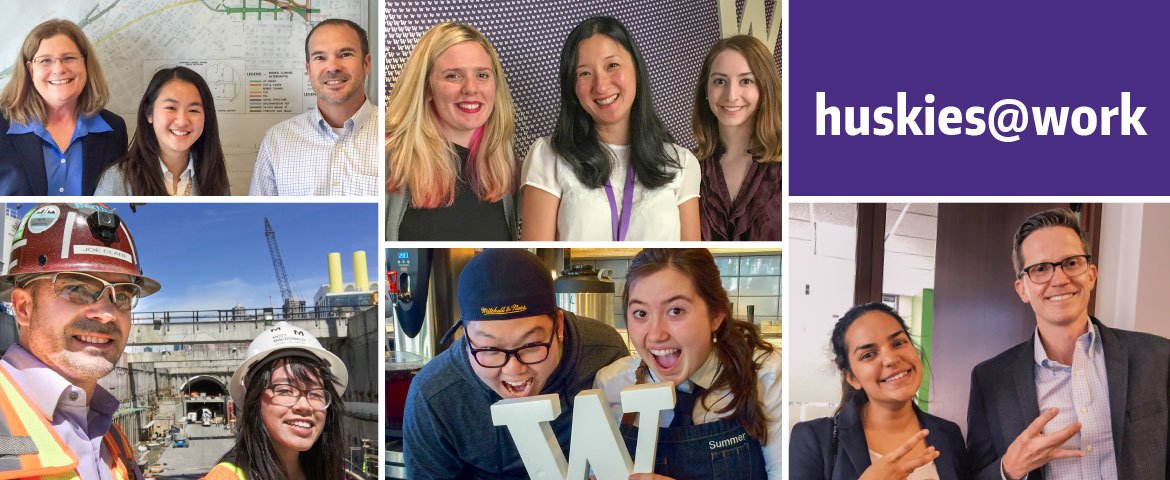 The Ned Wagner Memorial Endowment was established by clinical psychology faculty and alumni after the untimely passing of Dr. Nathaniel "Ned" Wagner, then the Director of Clinical Training (DCT). Ned played a pivotal role in developing the clinical psychology program into a premier one during his tenure as DCT between 1978 and his death in 1996. During that time, Ned created fund using moneys from his own speaking engagements to support clinical students' travel to conventions. That spirit and function was kept alive in the Wagner Endowment. Since its establishment, hundreds of students have travelled to conferences to present their work, further their knowledge, and careers in academia, industry, and beyond.
Current students and alumni alike have reflected on the impact the support has had on their growth:
"Support from the Wagner grant allowed me to attend an APA Convention where I presented my work and made valuable contacts that greatly advanced my career. I will be forever grateful for that support, and for the role that Ned played in my training."
"Our students are among the nation's leaders in convention presentations, thanks in large part to the Wagner fund that supports our travel. Ned Wagner has left a wonderful legacy of student support."
You too can help grow these travel opportunities that are so pivotal to the advancement of our students' education and careers by contributing to the Wagner Memorial Endowment. Thank you for your partnership.
As UW psychology rounds out our 100th year as a department, we aim to partner with local organizations that share our goals of promoting social equity, optimizing human potential, and understanding the mind through behavior and brain science. As such, we're introducing opportunities for forward-thinking organizations to foster the next generation of leaders in psychology through support of our weekly PhD student seminars.
We're pleased to announce that Microsoft Research will be psychology's inaugural PhD seminar partner. Partners like Microsoft Research will help enhance these weekly sessions in which students gather for educational talks by visiting or UW faculty or fellow students in their research area. These seminars are the place where graduate students sharpen their science and grow their potential, so they can build successful careers in academia, industry, and government.
Are you or your company interested in supporting psychology grad students? Contact Department Chair Cheryl Kaiser at ckaiser@uw.edu to learn more.
Philanthropic contributions from alumni and friends provide tremendous support for our students and help to expand our research initiatives. Keep an eye out for updates as your gift are put to work! Names appear in alphabetical order.
Individual Donors
Paul Adams | John Alderman | Brenda Bartell | Erik Bennigson & Gwendalyn Drolet | Yevgeny Botanov | Kevin & Diana Boyle | Abby Braden | Jo Broeckel | Mei Cass | David & Kacee Chandler | Sapna Cheryan | Allison Clarke | Katherine Comtois | Emily Cooney | Darren Courtney | Amy Culbertson | Sharmistha Das | Christopher Decou | Matthew Ditty | Katherine Dixon-Gordon | Andrea Doyle | Anthony Dubose | Lillian Eljaouhari | Jim Elsea | Richard & Margaret Elwood | Kenneth Fairbanks | Janet Feigenbaum | Reverend Heidi Fish | Jennifer Force | Alan Fruzzetti & Debra Hendrickson | Steven Galper | Karin Garcia | Paul & Sarah George | David & Brenda Gilbert | Robert Golden & Nona Phillips | Donald & Annette Greenland | Anthony & Jean Greenwald | Janice Haaken | Priscilla Hagan | Christina Harlan | Melanie Harned | Nicole Hernandez | Susan Heuer | LaRue & Donna Highsmith | Stephen & Anne Hirsch | Mika Hosek | Ashley Hoss | Kenneth & Adele Hoving | Larry Hurwitz | Kathryn Irish | Andre Ivanoff | Richard & Elaine Keefe | Nancy Kenney | Jeansok Kim & Eun Han | Michael King | Quinndel Kuhnhausen | Paul & Tanya Kulkosky | Sara Landes | Karen Lichtenstein | Benjamin Lile | Sophie Liljedahl | Lynn Logen | SueAnn Manipon-Hook | Yaffa & Paul Maritz | Craig Mason & Shihfen Tu | Anna McDonald | Lynn McFarr | Bruce Mehler | Stephen Mitchell & Stephanie Nishimoto | Sheri Mizumori | Joya Mukerji | Chelsey Neil | Alison Neils | Stevan & Dianne Nielsen | Mary O'Dell | Marsha Olson | Carol Orourke | Tisha Pae | John Palmer & Zelda Zabinsky | Nathaniel Parker | Walter Peale III | Katherine Peil | Eivind & Jill Perander | Francheska Perepletchikova | Patrick Peterson | Nona Phillips & Robert Golden | Judy Pigott | William Prelle | Andrea Quenneville | Jeff & Patricia Raikes | James & Tiffany Reed Jr. | Ann Reitan | Carson Robinson | Marcus Rodriguez | Allison Ruork | Randall Russac | Julie Saechao | Debra Safer | Jamie Schmidt | Sara Schmidt | Autumn Schnitzius | Jennifer Shaver | Paul Shelton | Michael Sheppard | Theresa Sherman | Kevin S. Y. Shiraishi | Yuichi Shoda | Elsa Sidoine | Roland Sinnaeve | Oliver Siy | Kirk Smith | Ronald Smith | Ronald Soper & Barbara Bunkle | Jana Spasovska | Jami Stewart | Jessica Thomas | Laura & Robert Thomas | Wesley Thomas | Marc & Nancy Tollefson | Shihfen Tu & Craig Mason | Amanda Uliaszek | Michaela Upshaw | Sheri Van Dijk | Aditi Vijay | Carla Walton | Robert & Becky Ward | Joanna Watson | Adam Weisman | Dan Wetterborg | Jennifer Wheeler | Kimberly Whipple | Andrew White | Gavin White | Jerry Whitlow & Carrie Guthrie-Whitlow | Martin & Sally Wikoff | Bart & Cynthia Wilson | Crystal Wisness | Christopher & Charlotte Wrather | Kaiyuan Xu | Serap Yigit-Elliott | Yigu Yu | Erin Zickler
Corporate & Foundation Donors
Bangor University | Behavioral Technology, LLC | Bill & Melinda Gates Foundation | Boston Children's Hospital | British Isles DBT Training | Brockman, Inc. | CDK Global, Inc. | Drexel University | Anonymous | Anonymous | First Nations Development Institute | French American Cultural Exchange | Maritz Family Foundation | Massachusetts General Hospital | Microsoft Corporation | Multicultural CBT-DBT | Northwestern University | Project Implicit, Inc. | Raikes Foundation | Satterberg Foundation | Anonymous | Seattle Children's Hospital Research Institute | State of Washington | The Schwab Fund for Charitable Giving | The Wrather Family Foundation | University of Pennsylvania | Vanderbilt University
Estates, Memorials, & Endowments
Aric Chandler Memorial Fund for Undergraduate Support ǀ Estate of Allen L. Edwards ǀ Fujita Family Fund for Graduate Student Support ǀ Ruth H. Hagenstein Endowed Scholarship ǀ Roger Brown Loucks Lectureship in the Neurophysiological Basis of Learning and Memory ǀ Earl Hunt Graduate Fellowship Fund | In honor of Ash | In honor of Claire Cassidy | In memory of Aric Chandler | In memory of Neil S. Jacobson