Undergraduate
"The most inspirational part of my educational career has been the people who have seen me differently than the majority of the students who attend UW. These are the people who respect my experiences, my drive, my energy, my perseverance and resilience, but most of all, who trusted me."
- Stephanie Shadwick, Psychology major and US Navy Chief Petty Officer
With the most recent observance of Veterans Day just behind us, it seems a good time to focus on some of the students who are both psychology majors and US military veterans. Each of the four students profiled here has taken his or her own unique path to UW. They have different goals and different experiences here at UW, but all share the characteristic of having volunteered to serve their county. We thank them.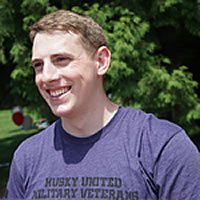 Photo: Jordan Houghton
Jordan Houghton - Psychology BA, August 2015 and former US Army Combat Medic/Healthcare Specialist
Born in Seattle and growing up mainly in Hawaii, Jordan enlisted in the US Army in 2009 in part to earn money to attend school through the Army's Tuition Assistance Program. He earned his EMT license at Fort Sam Houston, in Texas, and began his academic studies at Pierce College. As he left the military, Jordan had been accepted to attend Washington State University, but held out as long as he possibly could to hear from his top choice, UW. Taking it right to the wire, Jordan learned of his acceptance to UW while sitting in his orientation session for WSU!
While he believes that, in general, professors seem to have little understanding of veterans or their specific issues, he notes that happily most of his professor were different. "There are so many things that have inspired me," says Jordan, "from seeing the love and care that some students have for their peers to how much a teacher like Dr. Jacquie Pickrell or Dr. Jaime Diaz truly cares about your education and that you come out with the knowledge you need."
Student leadership experiences have been a highlight of Jordan's time at UW. As a peer teaching assistant in Psychology 101, Jordan felt rewarded by the enthusiasm of many of the students he worked with. Observing that some of the best leaders come out of the field of psychology, Jordan shares that he served as the 2014-15 president of the Husky United Military Veterans (HUMV) student organization, and that the current president is also a psychology major.
A recent graduate, Jordan is currently in the process of applying to graduate programs in clinical psychology, with his eye on the prize of potentially being admitted to the UW's clinical Ph.D. program.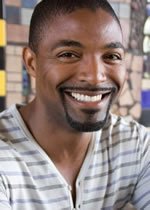 Photo: Dmarkis Wigfall
Dmarkis Wigfall - Pursuing a BA in Psychology and served in the US Navy
From Dallas to San Diego to Seattle, Dmarkis has packed a lot into his 41 years. From acting and performing to serving for 10 years in the US Navy to working as a professional barber, a common thread for Dmarkis has been the quest to learn and try new things and experiences. A high school career fair sparked his interest in the military, fueled perhaps by the fact that his grandfather had also enlisted as a young man. The Navy was his eventual choice. "They offered a pretty sweet deal and some direction that would grant me an education, adventure, and a career," recalls Dmarkis.
That education initially took the form of an Associate's Degree in cosmetology from San Diego City College - Dmarkis is a third generation hair stylist. It was in his work as a barber that Dmarkis began to notice a certain confidence in dealing with people, as well as a gift for being a good listener, experiences that led to his interest in psychology. Always hoping to pursue higher education, he entered North Seattle College and transferred to UW this autumn. "I fell in love with the campus before I even knew I would be a student here," remembers Dmarkis. Tenacious about obtaining his educational goals, Dmarkis hopes to honor the people in his life who have supported him. He also hopes that his own unique background will position him well to help others in need. "Being African-American, gay, former military, and a father, I have one hell of a story to tell," says Dmarkis, who wants to help others like him for whom he currently sees no real guides. "I want to be one of the persons to stand in the gap," he says.
Of his brief experience here at UW, Dmarkis says it has been relatively uncomplicated and very supportive. He recommends taking any class with Psychology lecturer Dr. Ann Voorhies, as well as Psychology 299, a course designed specifically for first-quarter transfer students planning to major in psychology. He is excited about the wide range of research and volunteer opportunities and encourages all students to "do your homework early about what your interests are and then throw out your net!"
Jack Ferguson - Pursuing a BA in Psychology and former US Army Combat Engineer
Jack remembers wanting to come to UW since he was in fifth grade. "It was the most prestigious university in Washington, plus my teacher was a Husky which didn't hurt to influence me" recalls Jack. After joing the US Army in 2000 and initially sustaining an injury at Airborne School, Jack served at Fort Irwin, in Death Valley, California, training units in desert warfare and counter terrorism tactics.
Born in Snohomish and having lived in Arizona, Alaska, California, and throughout Washington state, Jack now makes his home in Everett along with his wife (who is a disabled veteran), and their three children, ages three to eight. His inspiration to focus on psychology came while studying English at Everett Community College when his brother and fellow Everett CC student talked him into taking a psychology class. "After that quarter, I switched my major to psychology," recalls Jack, "as my new mission was to help veterans returning with a range of mental health needs in any way I can." He felt lucky to make the transition to UW.
But, the reality of that experience has, in some ways, not lived up to the expectations of that fifth grader who hoped to one day be a Husky. "The UW is unfortunately not a very friendly campus to veterans," related Jack. "Fortunately, we have overcome most of the obstacles put in front of us," explains this current HUMV president, "but tackling this beast, especially as a student with a wife and three kids, is a full time job and has become an immense strain on my life." Jack, who would like to see more support for veterans on campus, especially increased access to mental health care, sees the HUMV student organization as a bright spot where he feels welcomed and included. He encourages all students to volunteer and get involved, experiences that he has found truly rewarding.
Jack's post-graduation plans include earning a Ph.D. in clinical psychology, ideally at UW or Stanford. Armed with that, he plans to rejoin the US Army to be deployed in an active zone in order to best help service members in the critical stages of mental health needs. Eventually, he sees applying his degree in a research based way to understand suicide and perhaps working at the VA in order to "help veterans and their families heal from unseen wounds."
Photo: Stephanie Shadwick with husband Joseph and daughter Cassidy
Stephanie Shadwick - Psychology BA expected March 2016, US Navy veteran and current active-duty reservist
Originally from Fremont, California, Stephanie's path to UW came via four years in the US Navy from 2001-2005, a brief attempt to balance school and work, the past seven years as an active-duty Navy reservist, and graduation from Everett Community College in 2012. Along the way came marriage to her husband, also a veteran and current Navy reservist, and the birth of their now two-year old daughter - who as an infant accompanied Stephanie during her UW orientation session.
Stephanie credits the Post 9/11 GI Bill with allowing her to attend school full time without the added strain of holding a job. She also gives credit to some of those in the Psychology Department at UW who have been particularly supportive of her goals - Dr. Jaime Diaz, Dr. Debbie Chun, and Advising Office Director Carrie Perrin. Stephanie cites the time involved in being a reservist as the biggest challenge on the road to her degree. Currently stationed in Everett, mentoring and managing sailors' mobilization readiness as a Chief Petty Officer, her commitment involves one weekend a month and two full weeks each year. Her husband is also a reservist who recently earned his business degree from UW.
In spite of the challenges, Stephanie does note that her past and current military experience has allowed her to incorporate strengths gained in the service into her civilian life. Along with a high level of organization, attention to deadlines, and the unique ability to guide and mentor others, Stephanie highlights the lack of fear in actively pursuing her studies. "My experiences have allowed me to minimize my humility and pride so that I can ask questions in an open forum," she says, "questions I know many other students do not feel comfortable asking."
With a light at the end of the tunnel leading toward her BA in psychology, Stephanie looks forward to taking a break from school, enjoying her family, and taking the time to see what comes next. "The last two years have been stressful and challenging," she notes, "which have all been distractions from being able to pinpoint my true interest."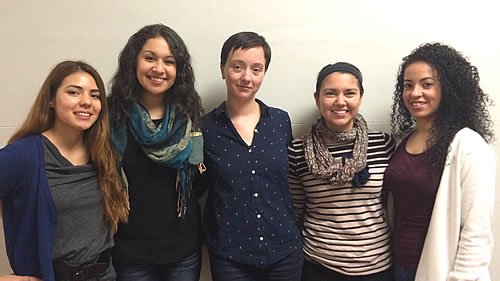 Photo: Psychology McNair Scholars Claudia Linares, Ibette Valle, Martina Fruhbauerova, Alicia Sawers, Reina Kluender – not pictured, Victoria Chambers
"The McNair Program has helped me find a cohort of likeminded individuals who are dealing with the same struggles as me, and who are dedicated to research. It's inspiring to be surrounded by individuals who've overcome so many barriers just to get into an undergraduate program."
- Alicia Mendez Sawers, McNair Scholar and Psychology major
This academic year, the Psychology Department is proud to have a record number of McNair Scholars representing our major. Six impressive women who found their way to UW from as far away as Panama and the Czech Republic are engaged in preparing to enter doctoral programs when they have completed their undergraduate degrees in psychology. But, distance has not been the only hurdle that these women have encountered on the road to higher education. Many of them have overcome profound challenges to reach UW and to become the first in their family to earn a college degree - let alone to go on to graduate school. "The concept of college is difficult for my family, who migrated here from Mexico, to understand," says Ibette Valle, "and what brought me to UW was my determination to improve my family's life." This sentiment is shared by Reina Kluender, who came to the US from Panama City, Panama. "My family and I immigrated to the US in the search for better educational opportunities for my children and myself," she recalls.
Following the death of Challenger astronaut and physicist Dr. Ronald E. McNair in 1986, the US Congress established the Ronald E. McNair Post-baccalaureate Achievement Program to encourage low income, first generation, and underrepresented college students to expand their educational opportunities and pursue graduate studies. Students in the program are mentored and provided with support and professional devleopment opportunities as they prepare for graduate studies. Claudia Linares notes that the McNair Program has given her confidence. "The support that I was given through the McNair advisor and my fellow Scholars has made me realize that this is all real, and that I am totally capable of achieving my dreams," says Claudia, who plans to pursue a Ph.D. in clinical or health psychology. Victoria Chambers adds that the program has been a "lifesaver" by helping her through the graduate school application process. The ability to attend professional conferences and to gain more experience in presenting her research has been key for Martina Fruhbauerova, originally from the small town of Trutnov in the Czech Replublic, explaining that "it is fundamentally important that we surround ourselves with people who support and understand us."
All of the Scholars are also keen to point to the support and opportunities that they have found within the Psychology Department. Reina highlights courses taught by Psychology professors Dr. Jaime Diaz and Dr. Nancy Kenney as covering especially "challenging and intellectually stimulating topics," while Victoria goes back to her Introductory Psychology class as having set her on the right path. With research at the heart of all the the students' academic work, much credit is given to the wide range of opportunities and ready access to undergraduate research afforded by the Psychology Department. Scholars Alicia, Martina, and Reina are taking part in the Department's rigorous honors program that spans two years and aims to give participants the kind of experience that they will encounter as a first-year doctoral student in a research oriented psychology graduate program. "If you are passionate about research or just want to learn more about how things in psychology are being discovered, getting involved in research is a great way to spend your time," encourages Martina.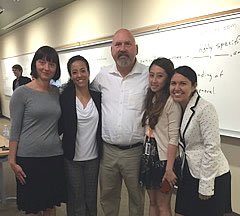 Photo: Scholars at a McNair sponsored conference in Eastern Washington – Martina Fruhbauerova, Reina Kluender, conference presenter Donald Asher, biochemistry major Yanting Zhao,and Alicia Sawers
In addition to crediting both the McNair Program and the Psychology Department with helping them to develop their passions, several of the Scholars also have found inspiration much closer to home - in the lives lived and examples set by their mothers. Alicia, whose goal is to obtain a Ph.D. in social work or social psychology, explains that her mother's challenging life and sudden, unexpected death led Alicia to honor her by pursuing her own education. "My educational path has been very untraditional," recalls Alicia, who didn't graduate from high school. Following her mother's passing, Alicia realized what she needed to do. "She always wanted me to finish school, and I felt that going back to school full time was the best way to honor her memory," she adds. A double major in Psychology and Early Childhood/Family Studies, Victoria remembers her mother's involvement in what turned out to be the genesis of her own interest in psychology. "My mom is a teacher and she ran an after school program for troubled students," says Victoria. A visit to the program years ago and her interactions with the students turned out to be the thing that sparked her interest in the study of psychology. Finding inspiration from her mother was easy for Claudia. Despite resistance from her own family, Claudia's mother was the first among them to attend college in her native El Salvador. Financial difficulties and immigration to the US may have ended her mother's educational path, but Claudia plans to carry on. The extreme challenges faced by her mother as an immigrant woman have led Claudia in a specific direction. "I am interested in studying the ways that social and economic stressors affect low income minority groups," she explains, "and finding culturally appropriate ways to intervene in the community to find better ways to cope with such stressors."
Ibette sums up the group's sentiments, noting that she is extremely thankful to McNair. "They have pushed me to do things I never thought I had the potential to do and I am doing these things with confidence," says Ibette. All impressive women. All with tremendous potential. And, all being assisted in reaching their dreams under the guidance and support of the Ronald E. McNair Program.
Phi Beta Kappa
Students invited during fall quarter to join Phi Beta Kappa are: Siyu Chen, Panyuan Guo, Mallory Jackson, Evan Jayne, Dmitry Levin, Katherine Seibel, Katherine Shirazi, John Stimson, Tianruo Tao, Steven Taylor, Elliot Wallace, and Xin-Mei Wang. Congratulations to all of them!
Psychology Honors Research Development Awards
The first annual Honors Research Development Awards in Psychology were given to two of our majors this fall. Zane Doyle is a senior honors student pursuing a BS in psychology. Zane's research is in the field of behavioral neuroscience in vision studies. His faculty sponsor is Professor Jaime Olavarria. Martina Fruhbauerova is also a senior honors student pursuing a psychology BS. Martina's research in the area of Post-Traumatic Stress Disorder is under the direction of doctoral student Libby Marks and Professor Lori Zoellner. Well done, Martina and Zane!
McNair Scholars
Photo: Martina Fruhbauerova presents at a McNair Scholars conference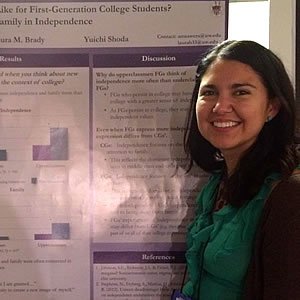 Photo: Alicia Sawers presents at a McNair Scholars conference
A record number of psychology majors were selected as McNair Scholars. The Ronald E. McNair Program provides strong mentorship and guidance for undergraduate students who are planning to pursue doctoral studies. Congratulations to Victoria Chambers, Martina Fruhbauerova, Reina Kluender, Claudia Linares, Alicia Sawers, and Ibette Valle! Read more about these impressive women here.