Meet the McNairs!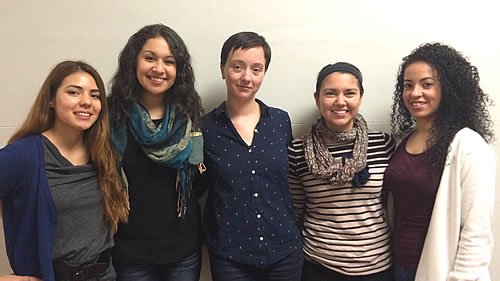 Photo: Psychology McNair Scholars Claudia Linares, Ibette Valle, Martina Fruhbauerova, Alicia Sawers, Reina Kluender – not pictured, Victoria Chambers
"The McNair Program has helped me find a cohort of likeminded individuals who are dealing with the same struggles as me, and who are dedicated to research. It's inspiring to be surrounded by individuals who've overcome so many barriers just to get into an undergraduate program."
- Alicia Mendez Sawers, McNair Scholar and Psychology major
This academic year, the Psychology Department is proud to have a record number of McNair Scholars representing our major. Six impressive women who found their way to UW from as far away as Panama and the Czech Republic are engaged in preparing to enter doctoral programs when they have completed their undergraduate degrees in psychology. But, distance has not been the only hurdle that these women have encountered on the road to higher education. Many of them have overcome profound challenges to reach UW and to become the first in their family to earn a college degree - let alone to go on to graduate school. "The concept of college is difficult for my family, who migrated here from Mexico, to understand," says Ibette Valle, "and what brought me to UW was my determination to improve my family's life." This sentiment is shared by Reina Kluender, who came to the US from Panama City, Panama. "My family and I immigrated to the US in the search for better educational opportunities for my children and myself," she recalls.
Following the death of Challenger astronaut and physicist Dr. Ronald E. McNair in 1986, the US Congress established the Ronald E. McNair Post-baccalaureate Achievement Program to encourage low income, first generation, and underrepresented college students to expand their educational opportunities and pursue graduate studies. Students in the program are mentored and provided with support and professional devleopment opportunities as they prepare for graduate studies. Claudia Linares notes that the McNair Program has given her confidence. "The support that I was given through the McNair advisor and my fellow Scholars has made me realize that this is all real, and that I am totally capable of achieving my dreams," says Claudia, who plans to pursue a Ph.D. in clinical or health psychology. Victoria Chambers adds that the program has been a "lifesaver" by helping her through the graduate school application process. The ability to attend professional conferences and to gain more experience in presenting her research has been key for Martina Fruhbauerova, originally from the small town of Trutnov in the Czech Replublic, explaining that "it is fundamentally important that we surround ourselves with people who support and understand us."
All of the Scholars are also keen to point to the support and opportunities that they have found within the Psychology Department. Reina highlights courses taught by Psychology professors Dr. Jaime Diaz and Dr. Nancy Kenney as covering especially "challenging and intellectually stimulating topics," while Victoria goes back to her Introductory Psychology class as having set her on the right path. With research at the heart of all the the students' academic work, much credit is given to the wide range of opportunities and ready access to undergraduate research afforded by the Psychology Department. Scholars Alicia, Martina, and Reina are taking part in the Department's rigorous honors program that spans two years and aims to give participants the kind of experience that they will encounter as a first-year doctoral student in a research oriented psychology graduate program. "If you are passionate about research or just want to learn more about how things in psychology are being discovered, getting involved in research is a great way to spend your time," encourages Martina.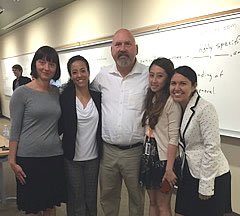 Photo: Scholars at a McNair sponsored conference in Eastern Washington – Martina Fruhbauerova, Reina Kluender, conference presenter Donald Asher, biochemistry major Yanting Zhao,and Alicia Sawers
In addition to crediting both the McNair Program and the Psychology Department with helping them to develop their passions, several of the Scholars also have found inspiration much closer to home - in the lives lived and examples set by their mothers. Alicia, whose goal is to obtain a Ph.D. in social work or social psychology, explains that her mother's challenging life and sudden, unexpected death led Alicia to honor her by pursuing her own education. "My educational path has been very untraditional," recalls Alicia, who didn't graduate from high school. Following her mother's passing, Alicia realized what she needed to do. "She always wanted me to finish school, and I felt that going back to school full time was the best way to honor her memory," she adds. A double major in Psychology and Early Childhood/Family Studies, Victoria remembers her mother's involvement in what turned out to be the genesis of her own interest in psychology. "My mom is a teacher and she ran an after school program for troubled students," says Victoria. A visit to the program years ago and her interactions with the students turned out to be the thing that sparked her interest in the study of psychology. Finding inspiration from her mother was easy for Claudia. Despite resistance from her own family, Claudia's mother was the first among them to attend college in her native El Salvador. Financial difficulties and immigration to the US may have ended her mother's educational path, but Claudia plans to carry on. The extreme challenges faced by her mother as an immigrant woman have led Claudia in a specific direction. "I am interested in studying the ways that social and economic stressors affect low income minority groups," she explains, "and finding culturally appropriate ways to intervene in the community to find better ways to cope with such stressors."
Ibette sums up the group's sentiments, noting that she is extremely thankful to McNair. "They have pushed me to do things I never thought I had the potential to do and I am doing these things with confidence," says Ibette. All impressive women. All with tremendous potential. And, all being assisted in reaching their dreams under the guidance and support of the Ronald E. McNair Program.