Undergraduate Accomplishments
Phi Beta Kappa
Students invited during fall quarter to join Phi Beta Kappa are: Siyu Chen, Panyuan Guo, Mallory Jackson, Evan Jayne, Dmitry Levin, Katherine Seibel, Katherine Shirazi, John Stimson, Tianruo Tao, Steven Taylor, Elliot Wallace, and Xin-Mei Wang. Congratulations to all of them!
Psychology Honors Research Development Awards
The first annual Honors Research Development Awards in Psychology were given to two of our majors this fall. Zane Doyle is a senior honors student pursuing a BS in psychology. Zane's research is in the field of behavioral neuroscience in vision studies. His faculty sponsor is Professor Jaime Olavarria. Martina Fruhbauerova is also a senior honors student pursuing a psychology BS. Martina's research in the area of Post-Traumatic Stress Disorder is under the direction of doctoral student Libby Marks and Professor Lori Zoellner. Well done, Martina and Zane!
McNair Scholars
Photo: Martina Fruhbauerova presents at a McNair Scholars conference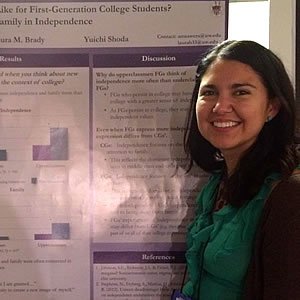 Photo: Alicia Sawers presents at a McNair Scholars conference
A record number of psychology majors were selected as McNair Scholars. The Ronald E. McNair Program provides strong mentorship and guidance for undergraduate students who are planning to pursue doctoral studies. Congratulations to Victoria Chambers, Martina Fruhbauerova, Reina Kluender, Claudia Linares, Alicia Sawers, and Ibette Valle! Read more about these impressive women here.