Updates from the Diversity Steering Committee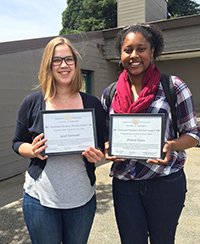 Sarah Edmunds & Arianne Eason
The Diversity Steering Committee (DSC) is wrapping up a busy year, a year in which we successfully moved forward on a number of major initiatives.
During the 2015-2016 academic year, we created a Department-wide graduate student survey on diversity related experiences. Approximately 60% of graduate students from all areas in Psychology participated, which provided excellent representation of the Department. During a Graduate Faculty meeting in March, we shared the results of the survey. The faculty members in attendance were very receptive, and we have since been brainstorming and planning ways in which to address some of the concerns raised by the survey results. Our goal is to have students, faculty and staff work together to make this department a place in which people of all backgrounds can grow and thrive. We would like to give a special thanks to Jane Simoni, Nancy Kenney, and Sheri Mizumori, who provided critical feedback and helped us prepare for our presentation.
In addition, we have been working with the Department Chair, Sheri Mizumori, and Nancy Kenney to create a Diversity Vision Statement for the Department. A finalized version of the statement is soon to come!
Sarah Edmunds (Child Clinical Area with Wendy Stone) and Arianne (Ari) Eason (Social Psychology and Personality and Developmental Areas with Cheryl Kaiser and Jessica Sommerville)'s time as co-chairs is coming to an end this year. Although this is undoubtedly sad for them, they are looking forward to seeing the DSC continue grow and impact the Department, under the leadership of Frances Aunon (Adult Clinical Area with Jane Simoni) and an incoming co-chair.
The DSC looks forward to supporting graduate students in exploring diversity science in their coursework, research, teaching, and other domains of engagement within and outside the UW. Please contact us at psychdsc@uw.edu for more information.
Supplemental Reading: