Diversity Steering Committee Reflects on Productive Year
The Diversity Steering Committee (DSC) has had a busy 2013-2014 academic year.
The Winter Quarter brought in a fresh group of prospective graduate students for the annual recruitment weekend. The DSC presented at both the general recruitment breakfast on Friday and at the Child Clinical recruitment lunch about DSC activities and disseminated information about diversity-related resources available at the UW.
In lieu of the DSC's annual Saturday recruitment brunch, the DSC worked together with GPAC to put together a TED Talks-style program on Saturday. The DSC is grateful to four speakers in particular for speaking about their diversity-related research: Karen Pang (Child Clinical with Elizabeth McCauley (Seattle Children's Hospital) and Lynn Fainsilber Katz), Laura Brady (Social Psychology & Personality with Cheryl Kaiser), Jennifer Staples (Adult Clinical with William George), and Dr. Kristina Olson (Developmental). The presenters spoke about a broad range of topics. For example, Karen spoke about her work on how culture affects the way positive affect is expressed among Caucasian and Asian American teens, and Jennifer spoke about the role of discrimination and internalized prejudice in the etiology of alcohol-related problems among transgender individuals.
The DSC has also continued its collaboration with Carrie Perrin (Undergraduate Psychology Advising, Director of Student Services) and Dr. Laura Little (Psychology Principle Lecturer and Associate Chair for Teaching & Curriculum) to measure the diversity climate within psychology classrooms. For the second year in a row, the undergraduate senior exit survey will include questions about the diversity experiences of senior psychology undergraduates in psychology. The survey from last year has already helped the DSC brainstorm how to develop best practices for promoting diversity within our classrooms. They will use this to implement a training session in the 2014-2015 school year to help graduate student TAs deal with diversity-related issues in the classroom.
A similar survey that seeks to understand the department diversity climate from the perspective of graduate students is in the works.
The DSC has also recently awarded the Psychology Diversity Science Specialization certificate to Teri Kirby, a fourth-year Social Psychology & Personality student (also DSC co-chair) working with Cheryl Kaiser and Tony Greenwald. To obtain the Diversity Science Specialization, Teri completed coursework in Diversity Science (Psych 547), Cultural Psychology (Psych 547), Core Concepts in Social Psychology (Psych 510), and Diversity Science Brownbag.
The Diversity Science Specialization has greatly impacted Teri's research. Teri noted:
Taking several courses related to diversity ultimately culminated in the formation of a dissertation project examining how diversity efforts affect the experience of racial minorities. I am testing whether diversity efforts that focus on appreciating group differences might affect the extent to which members of minority groups present themselves as prototypical members of their group in organizational contexts. Coursework for the diversity specialization led me to refine these ideas and come up with new directions based on relevant literature and feedback in class.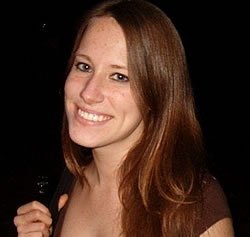 Photo: Teri Kirby
Teri has also been involved in other research related to diversity throughout her graduate career. With Dr. Cheryl Kaiser, she has examined how diversity efforts influence people's ability to detect unfairness in company policies. With Dr. Tony Greenwald, she has examined the effect of racial bias in the 2012 U.S. presidential election (see press release).
The DSC looks forward to supporting graduate students in exploring diversity science in their coursework, research, teaching, and other domains of engagement within and outside the UW. Please contact us at psychdsc@uw.edu.
Supplemental Reading: