Undergradute
"In more than 35 years here at UW, I have not worked with an undergraduate of Alex's abilities to think and question deeply, to integrate across fields (psychology, philosophy, and neuroscience, in this case), and domains of work (laboratory, computational, conceptual, and programming), and to propel his understanding and achievement far beyond his launch point."

- Psychology Professor Steve Buck, speaking about Alex Kale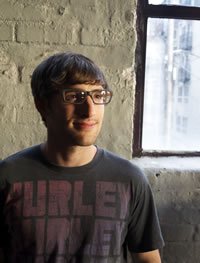 Photo: Alex Kale

As the son of a European history professor at Washington State University, Alex Kale seems to have been born to the academic life. It's no wonder that upon arriving at the University of Washington to begins his own studies his intellectual interests were ignited and he began to take advantage of the wide range of opportunities at his disposal. Now, set to graduate Magna Cum Laude and with Departmental Honors with a Bachelor of Science in psychology and minors in music and philosophy, Alex remembers a time when he worried about overdoing it. As he considered joining the psychology honors program at the beginning of his junior year, Alex wondered if he might be stretched to thin. "I worked part time and played trumpet in multiple ensembles," he recalls, "but I decided to pursue an honors project because I wanted to challenge myself and to experience the process of scientific research from start to finish."
Thinking back on that time of uncertainty, Alex now declares that he could not have chosen a better research lab than that of psychology professor Steve Buck. "Some of my best memories from the last two years are of sitting in the lab with Steve and his graduate students Joris (Vincent) and Tanner (DeLawyer)," says Alex, "realizing that I could come to the table with fresh ideas and make valued contributions in a room full of experts really helped me develop my own intellectual identity." With that now formed identity, Alex is considering graduate programs that will allow him to continue to do research and to explore his curiosities.
While his passion for the study of psychology, specifically the mind-body problem and the intersubjectivitiy of perception, remained central to his studies, Alex's interests extended beyond Guthrie Hall. A class on the philosophy of science, taught by philosophy professor Lynn Hankinson Nelson, caught his interest and led to his pursuit of a minor field of study in philosophy. "Philosophy continues to interest and challenge me," says Alex, "and I am sure it will inform my research in the future." A love of and deep appreciation for music also informed Alex's path. A member of several music ensembles, Alex speaks of his great fortune at having had the opportunity to work with one of Seattle's premier jazz musicians, Fred Radke. Alex notes that playing under Radke's direction as a member of the UW Studio Jazz Ensemble was a highlight of his UW experience.
Characterized by Professor Hankinson Nelson as an "intellectual boundary crosser," Alex has demonstrated throughout his UW career the kind of originality and sophisticated interdisciplinary work that one might hope to find among star graduate students and even faculty. His psychology honors advisor Steve Buck highlights Alex's unmatched ability to "integrate across fields and domains of work." While his faculty mentors hold him up as one of the best students with whom they have ever worked, Alex simply chalks things up to his intellectual curiosity and desire to pose questions. "Never stop asking questions," he urges, encouraging other students to take ownership of their education... and, to take bold and calculated risks. "This is how the best ideas are born," says Alex, "and without such risks, scientific inquiry would grind to a halt."
Far from being ready to grind to a halt himself, Alex plans to continue to play music, to continue researching and taking classes, and to continue asking questions.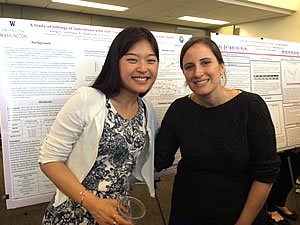 Photo: Honors student Veronica Kang with Research Fellow Emily Neuhaus

Members of the 2015 Psychology Honors cohort showcased the results of their research at the Psychology Honors Poster Session. The poster session, along with the completion of a senior thesis, marks the culmination of a two-year intensive research program.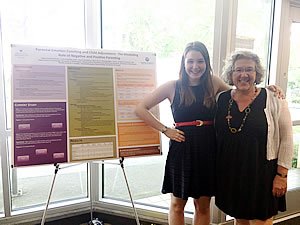 Photo: Honors student Makenzie Muilenburg with her faculty sponsor Lynn Fainsilber Katz

This year's cohort - 25 strong - was the largest to date. Congratulations to our honors students: Alexis Chamberlin, Shannon Chen, Sarah Colombo, Lucy Dong, Karalyn Holten, Alex Kale, Veronica Kang, Kevan Kidder, Chu-Hsuan (Iris) Kuo, Abigail Lim, Zoe Miles, Makenzie Muilenburg, Tara O'Connor, Jeffrey Ou, McKinzee Pachl, Elyse Postlewaite, Holly Quimby, Summer Raynor, Shane Snyder, Allisa Song, Taylor Stacy, Kelsey Wallach, Junting Yu, Aida Nadzirah Mohamed Zain, and Emily Zeng. Job well done!
With nearly 450 students earning their Bachelors Degrees in psychology over the course of this year there are lots of things -- and lots of people--to celebrate. Two events hosted by the Psychology Department marked this important and exciting time of transition for our undergraduate students.
On June 4, we hosted the second annual Psychology Senior BBQ to show our appreciation for our students. Under sunny skies, 80 graduating seniors along with faculty and staff got together to share food and fond memories of their time as UW psychology majors.
A more formal right of passage took place on the evening of June 11 as 250 of our graduates participated in the Psychology Graduation Celebration. Students, along with their families and friends, filled the HUB Ballrooms to capacity as we celebrated their accomplishments. The event included opening remarks from Associate Chair Kevin King, a keynote talk from Psychology Lecturer Nicole McNichols, and the presentation of the Guthrie Prizes for outstanding writing in psychology.
As always, a highlight of the evening was the procession of the graduates. Professor Jaime Diaz and Psychology Lecturer Ann Voorhies read each student's name as they crossed the stage to the cheers of the crowd. We wish all the best to our newest alumni and look forward to keeping in touch and learning about their accomplishments yet to come!
The Psychology Department is proud of the accomplishments of our undergraduate students. Check out some of the highlights from this year:
On May 15, most of our Psychology Honors students as well as a large number of their colleagues -- 80 students in all -- participated in the campuswide Undergraduate Research Symposium.
Congratulations to the ten psychology majors who were named Mary Gates Scholars this year. Our Leadership Scholar is Bailey Warrior. Research Scholars are: Sarah Colombo, Karalyn Holten, Georgia Judd, Greta Kaese, Abigail Lim, Baihan Lin, Aida Mohamed Zain, Makenzie Muilenburg, and Sullivan Swift.
This year, we offered the first round of Psychology Department Honors Travel Awards. Our 2015 awardees (listed with their faculty sponsors) are: Lucy Dong (Peter Vitaliano, Psychiatry and Behavioral Sciences), Veronica Kang (Sara Jane Webb, Psychiatry and Behavioral Sciences), Elyse Postlewaite (Deborah McCutchen, Education), Shane Snyder (Peter Vitaliano, Psychiatry and Behavioral Sciences), Allisa Song (Charles Chavkin, Pharmacology), Aida Mohamed Zain (Susan Joslyn, Psychology), and Emily Zeng (Peter Vitaliano, Psychiatry and Behavioral Sciences).
The 2015 Guthrie Prize was awarded to two of our graduating seniors, Sarah Colombo and Lucie Saether. Named for the late psychology professor Edwin R. Guthrie, the prize was established to encourage excellent writing about psychology that is both broad in scope and accessible to the non-specialist. Sarah won in the Best Empirical Paper category. Her paper, "Gender Identity Denial in Children," was sponsored by Assistant Professor Kristina Olson. Lucie's paper, "Do Infants Differentiate Moral and Conventional Transgressions?," was sponsored by Associate Professor Jessica Sommerville and won in the Best Research Proposal category.
Each spring, the College of Arts and Sciences awards the Dean's Medal to a top student in each academic division. Alex Kale was the Psychology Department's nominee for the Dean's Medal in the Natural Sciences Division. Alex will graduate Magna Cum Laude with a Bachelor of Science degree in psychology and minors in both philosophy and music. A member of Phi Beta Kappa and a trumpet player in the UW Studio Jazz Ensemble, Alex completed his psychology honors work under the direction of Professor Steve Buck. Alex was also the recipient of the 2014 Guthrie Prize for the best conceptual/review paper. Read more about Alex here.
In addition to being our Dean's Medal nominee, Alex was selected by the Arts and Sciences Dean's Office to represent the College at Commencement as a gonfalonier. The gonfaloniere (as they are called collectively), are outstanding graduating seniors who represent their colleges by carrying large banners -- gonfalons -- into the Commencement Ceremony. We are proud to have such an outstanding student representing our department!
The following students were invited to join Phi Beta Kappa this year: Emily Bunch, Katherine Caldwell, Grace Choi, Julie Chung, Sarah Colombo, Natali Coronel, Hannah Davich, Carly Fritz, Meyer Gorelick, Judy Han, Chenxu Hao, Benjamin Holman, Luke Hong, Ahn Huynh, Alex Kale, Haley Kerchman, Mitchell Krawczyk, Chu-Hsuan Kuo, Shu Lo, Zoe Miles, Mykelle Morrison, Stephanie Mundt, Carol Nishikawa, Leah Ogier, Riley Perdue, Elyse Postlewaite, Yingxue Rao, Lauren Selby, Victoria Slaven, Lorena Smith, Tyler Tanguchi, Annika Veis, Kelsey Wallach, Mitchell Walton, Jasmine Yip, and Vera Zaytsev.