Psychology Honors Poster Session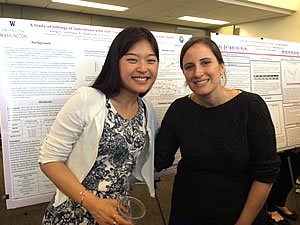 Photo: Honors student Veronica Kang with Research Fellow Emily Neuhaus

Members of the 2015 Psychology Honors cohort showcased the results of their research at the Psychology Honors Poster Session. The poster session, along with the completion of a senior thesis, marks the culmination of a two-year intensive research program.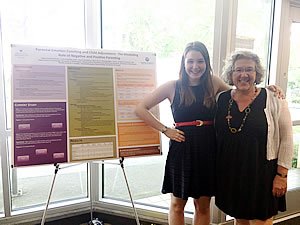 Photo: Honors student Makenzie Muilenburg with her faculty sponsor Lynn Fainsilber Katz

This year's cohort - 25 strong - was the largest to date. Congratulations to our honors students: Alexis Chamberlin, Shannon Chen, Sarah Colombo, Lucy Dong, Karalyn Holten, Alex Kale, Veronica Kang, Kevan Kidder, Chu-Hsuan (Iris) Kuo, Abigail Lim, Zoe Miles, Makenzie Muilenburg, Tara O'Connor, Jeffrey Ou, McKinzee Pachl, Elyse Postlewaite, Holly Quimby, Summer Raynor, Shane Snyder, Allisa Song, Taylor Stacy, Kelsey Wallach, Junting Yu, Aida Nadzirah Mohamed Zain, and Emily Zeng. Job well done!