Alex Kale: Intellectual Boundary Crosser
"In more than 35 years here at UW, I have not worked with an undergraduate of Alex's abilities to think and question deeply, to integrate across fields (psychology, philosophy, and neuroscience, in this case), and domains of work (laboratory, computational, conceptual, and programming), and to propel his understanding and achievement far beyond his launch point."

- Psychology Professor Steve Buck, speaking about Alex Kale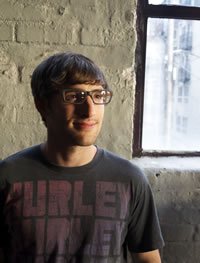 Photo: Alex Kale

As the son of a European history professor at Washington State University, Alex Kale seems to have been born to the academic life. It's no wonder that upon arriving at the University of Washington to begins his own studies his intellectual interests were ignited and he began to take advantage of the wide range of opportunities at his disposal. Now, set to graduate Magna Cum Laude and with Departmental Honors with a Bachelor of Science in psychology and minors in music and philosophy, Alex remembers a time when he worried about overdoing it. As he considered joining the psychology honors program at the beginning of his junior year, Alex wondered if he might be stretched to thin. "I worked part time and played trumpet in multiple ensembles," he recalls, "but I decided to pursue an honors project because I wanted to challenge myself and to experience the process of scientific research from start to finish."
Thinking back on that time of uncertainty, Alex now declares that he could not have chosen a better research lab than that of psychology professor Steve Buck. "Some of my best memories from the last two years are of sitting in the lab with Steve and his graduate students Joris (Vincent) and Tanner (DeLawyer)," says Alex, "realizing that I could come to the table with fresh ideas and make valued contributions in a room full of experts really helped me develop my own intellectual identity." With that now formed identity, Alex is considering graduate programs that will allow him to continue to do research and to explore his curiosities.
While his passion for the study of psychology, specifically the mind-body problem and the intersubjectivitiy of perception, remained central to his studies, Alex's interests extended beyond Guthrie Hall. A class on the philosophy of science, taught by philosophy professor Lynn Hankinson Nelson, caught his interest and led to his pursuit of a minor field of study in philosophy. "Philosophy continues to interest and challenge me," says Alex, "and I am sure it will inform my research in the future." A love of and deep appreciation for music also informed Alex's path. A member of several music ensembles, Alex speaks of his great fortune at having had the opportunity to work with one of Seattle's premier jazz musicians, Fred Radke. Alex notes that playing under Radke's direction as a member of the UW Studio Jazz Ensemble was a highlight of his UW experience.
Characterized by Professor Hankinson Nelson as an "intellectual boundary crosser," Alex has demonstrated throughout his UW career the kind of originality and sophisticated interdisciplinary work that one might hope to find among star graduate students and even faculty. His psychology honors advisor Steve Buck highlights Alex's unmatched ability to "integrate across fields and domains of work." While his faculty mentors hold him up as one of the best students with whom they have ever worked, Alex simply chalks things up to his intellectual curiosity and desire to pose questions. "Never stop asking questions," he urges, encouraging other students to take ownership of their education... and, to take bold and calculated risks. "This is how the best ideas are born," says Alex, "and without such risks, scientific inquiry would grind to a halt."
Far from being ready to grind to a halt himself, Alex plans to continue to play music, to continue researching and taking classes, and to continue asking questions.