Updates from the Diversity Steering Committee
The Diversity Steering Committee (DSC) has new leadership for the 2016-2017 academic year. Starting this past summer, Frances Aunon (Adult Clinical Area with Jane Simoni) joined Arianne (Ari) Eason and Sarah Edmunds as DSC co-chairs. The three students will share coordination and leadership of the DSC's many initiatives, along with this year's faculty chair, Bill George. Future DSC co-chairs will serve for a two-year period such that each year there will be one seasoned and one new co-chair. We anticipate this will help maintain momentum on the DSC's initiatives.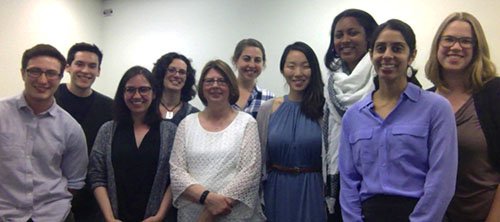 This autumn quarter, with an eye toward encouraging new ideas and gaining new perspectives, the DSC welcomed many new graduate student members. New members this year include: first year students Megan Ramaiya, Lily Durwood, Thea Weiss, Pete Rosencrans, Peter Zambetti, Yingxue Rao, Natasha Gulati, Catherine Dick, Jessica Burgeno, Miranda Petty, Dominic Sivitilli, Madelaine Keim, and Trent DesChamps, as well as fourth year student Saethra Fritscher. Welcome!
At our first meeting of the year, we will share the results of our biennial department-wide graduate student survey on diversity-related experiences. Sixty-nine (out of 104) graduate students from all areas in psychology participated in the study which provides an excellent representation of the Department. Data from this survey will generate discussion regarding how to best address diversity-related concerns in the Department, and contribute to the discussion of the DSC's priorities and initiatives for the upcoming year.
The DSC looks forward to supporting graduate students in exploring diversity science in their coursework, research, teaching, and other domains of engagement within and outside of the UW. Please contact us at psychdsc@uw.edu for more information.
Supplemental Reading: