Undergraduate Program
"The class gave me a lot of confidence going forward and best of all, it gave me deadlines to get things done."
- Logan Kaplan, BS in Psychology - 2016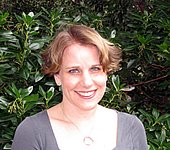 Vicky Hansen
The class in question is PSYCH 298, Graduate School Exploration for Psychology Majors, taught by Psychology Academic Advisor Vicky Hansen. What began in 2005 as a multi-session workshop for psychology majors planning to apply to graduate programs has evolved into a two credit class that is offered each fall quarter. The class focusses on the main components of the graduate school application process: understanding the Graduate Record Exam (GRE), obtaining strong letters of recommendation, crafting CVs, writing compelling personal statements, and preparing for interviews. Many psychology majors aspire to some type of post-graduate education and a number of these students are intimidated by the task of finding an appropriate program and negotiating the application process. "The desired outcome of the class," explains Vicky Hansen, "is that everyone feels more knowledgeable about the process of selecting a program and applying to it, and they feel comforted by the fact that they are not alone on this journey."
Each fall quarter, Vicky welcomes 40-45 registered seniors as well as several recent graduates to embark on this journey together. Logan Kaplan was one of these students during the fall of 2015. Now a graduate student in School Psychology at Eastern Washington University, Logan appreciated the ready access to advice as well as the class structure that helped to keep him on track. "Without this class," recalls Logan, "I would have waited until the last minute to obtain letters of recommendation and prepare my CV and personal statement and the process would have been a lot more stressful." Vicky especially enjoys the opportunity to mentor students through the application process, as well as the ability to work with a large group of students all at once. "I am able to work with 45 or 50 students at the same time for 20 hours over the course of the quarter," says Vicky, "and the group aspect of the class is almost as valuable for students as the information we cover."
Student feedback about the class has been very positive and the opportunity to work both with a group teaching/advising model and to provide each student with individual attention has been especially satisfying from Vicky's perspective. In particular, guiding students through the process of writing a strong and engaging statement of purpose is simultaneously rewarding and challenging. Vicky notes that many students find it difficult to write about themselves and her aim to help them overcome this hurdle and to find their unique voice. In that specific task, as well as in the process as a whole, the aim is to mentor students step by step as they navigate what can be a bumpy path. "I think that students are surprised by how many things they need to do to get ready to apply," observes Vicky, "and while it can feel overwhelming, when you put it together piece by piece, it can be accomplished."
Last June over 1300 people filled the HUB Ballrooms to celebrate the accomplishments of our 2016 Psychology graduates. Well over half of the 500 students who earned their Bachelor of Arts or Sciences degrees in psychology were on hand for the festivities, along with their families and friends, faculty, advisors, and other supporters. Department Chair Sheri Mizumori presided over the event. For the first time ever, this event included two special keynote speeches. Alicia Mendez Sawers spoke representing our graduating seniors. Alicia was a Psychology Honors student, a McNair Scholar, and a peer mentor for incoming transfer students. This fall, Alicia began her graduate studies at Rutgers University's MSW/Ph.D. program. Our disinguished alumni speaker was Policarpio (Polo) DeCano. Polo earned a Bachelor of Arts degree in psychology in 2002 and is now completing his Ph.D. in School Psychology from the UW College of Education. We invite you to now share in this celebration by enjoying photos taken at the event by Psychology Department staff member Kim Arbios.
| | |
| --- | --- |
| | |