Clinical Graduate Student Receives GO-MAP Diversity Dissertation Fellowship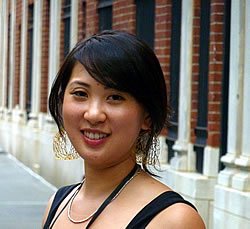 Photo: Jessica Chen

The University of Washington Graduate School Graduate Opportunities and Minority Achievement Program (GO-MAP) provides diversity fellowship support for students.While most of these opportunities are provided during admissions for recruiting new students, GO-MAP has a few awards for advanced students, such as their GO-MAP Dissertation Fellowship. The Psychology Graduate Program nominated Jessica Chen, a 7th year Adult Clinical student working with Ronald Smith, who received a Diversity Fellowship which provided a stipend and tuition exemption for her final two quarters residency in our department! This funding provided support while Jessica finalized and defended her dissertation prior to leaving to complete her required clinical internship.
Here are Jessica's thoughts on being a GO-MAP fellow and being involved the University-wide GO-MAP community.
Let's start with the basics, where are you from and where did you complete undergrad/masters?
I'm from the Bay Area of Northern California. I completed my undergrad at Columbia University in New York City. Huh, where did I complete my masters...oh! Here!
How did you wind up at UW/why did you apply here? What do you think about living in Seattle?
I applied to UW because the clinical program here is exceptional and there were several faculty members whose research interests matched my own. It took me five years to really, really like Seattle, but now I love it. It's hard to imagine living anywhere else.
What is your research interest and how did you get into it (what inspires/motivates you)?
I am interested in making effective psychotherapies more efficient and accessible to all people, particularly those who have difficulty accessing care because of stigma, discrimination, or geography. This research interest has morphed over the course my graduate career. I started out doing research on treatments for PTSD, then began working with my current advisors on Internet-based interventions for stress. I'm inspired by the possibilities technology opens up in terms of disseminating evidence-based psychotherapy and I hope to continue working in this growing research field.
How did you learn about your funding opportunity and tell us about the application/waiting process?
I think my advisor saw a memo about it and forwarded it to me. I thought, "Why not?" I've always loved GO-MAP and their work on campus.
The application was pretty straightforward and short. I took a risk and made my personal statement very personal and honest, even though I worried it would come across the wrong way to others. I'm glad I was true to myself because it ended up working out!
The waiting process was difficult because months after my application was submitted there was no word on its outcome. About four months after I applied, I remember saying to Jeanny (Jeanny Mai, our outstanding Graduate Program Advisor), "I guess no news is bad news." Then suddenly, word came from GO-MAP that money was available and I was awarded a two-quarter dissertation fellowship!
How did you feel when you learned that your application was accepted and that you will receive funding?
AMAZING. It was such a surprise. I actually thought they might have sent the email in error. I made my husband read it to make sure it was my name and that it made sense, then I double checked with Jeanny because I didn't want to get my hopes up.
Do you have any advice/tips/suggestions for others who may apply to this opportunity? About graduate study in general?
I want to hype this award because it has been an amazing opportunity so far! This particular dissertation fellowship comes with a twice-monthly writing group of other awesome doctoral candidates in a variety of fields. They're all such interesting people who are passionate about what they do. Ralina Joseph (Associate Professor in the Department of Communication who runs the writing group) is incredible.
In terms of advice for applying to this opportunity, I would say that it worked out well for me to be thoughtful and honest in how I approach diversity issues in my personal life and in my research.
What do you hope to accomplish with the funding and/or while in the UW Psychology graduate program?
I hope to continue making connections with fellow graduate students and I really appreciate the opportunity to be mentored by faculty of color, because it is a different and unique experience. I hope to one day pay it forward.
Oh yeah, and I definitely hope to finish my dissertation this year!
What do you like doing in your spare time?
Playing with my son, who is going through a trucks and trains phase, and cooking or eating out with my husband.
The last book and/or movie you saw and enjoyed?
I read Gone, Girl this summer/fall and it was addictive! I'm also looking forward to the new Hunger Games movie. I'd like to watch it at the Big Picture downtown, where you can order food and drinks to your seat.
What you plan to do once you complete your PhD?
Clinical internship, then beyond!
Supplemental Reading:
Alcor introduction and2014 article (when Jessica received the ALCOR).
Exu Anton Mates (Animal Behavior with Jim and Renee Ha) and Jose Ceballos (Cognition & Perception withChantel Prat) also received fellowship awards from GO-MAP and shared their experiences.
Support UW Psychology Graduate Students by donating.