Harry and Claire Peterson: Alcor Graduate Fellowships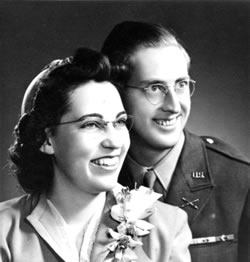 Harry and Claire Peterson
The first recipients of the Alcor Graduate Scholarships in Psychology were named this past year. The seven students, one from each area of the department, each received a $5,000 stipend to allow them to devote time to research and teaching.
The Alcor Scholarships address a critical need for UW Psychology by providing opportunities for summer support for graduate students. Our state funding allows us to guarantee only 9 months a year of graduate support, yet students' academic progress demands that they stay engaged with our program yearlong. Opportunities to bridge this funding gap help tremendously in the lives of the students and in our success in the tough competition for the best graduate-school applicants.
The Alcor Scholarships are made possible by a bequest from Harry and Claire Garlick Peterson to the College of Arts & Sciences to support students in Psychology and Symphonic Music programs. Harry spent his career as a psychologist in the field of corrections, mostly in the Puget Sound area. Claire was a bassoonist for the Seattle and Vancouver symphonies and was Harry's first wife. Alcor is the name of the second star in the handle of the Big Dipper constellation. It figures in many myths and had a personal significance to Harry and his spouse.
Harry initially established the Alcor Scholarship Fund by creating a charitable gift annuity to UW in 2002. The Fund was fully funded from Harry's estate after his death in 2003, in accordance with the wishes of Harry and his second wife, a psychiatrist who had previously established a professorship at another university. The sense of fulfillment they felt in hearing about the uses of that professorship encouraged Harry to establish the Alcor Scholarship Fund.
We are all deeply grateful to Harry and Claire Peterson for their generosity and vision of how to make a positive impact on the lives of our students and the success of our department. If you also would like to make an impact, please contact Steve Buck, Chair, at sbuck@u.washington.edu for more information about planning gifts to UW Psychology.