Updates from the Diversity Steering Committee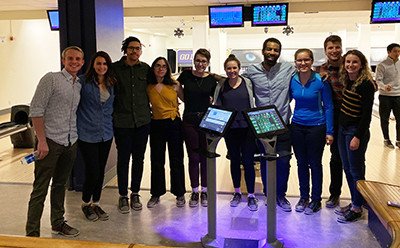 Diversity Steering Committee
The Diversity Steering Committee (DSC) has new leadership for the 2019-2020 academic year. Adriana Germano (Social Psychology and Personality Area with Sapna Cheryan) completed her two-year term as a DSC co-chair this summer to focus on new and exciting research. New this quarter, Noah Triplett (Child Clinical Area with Shannon Dorsey) joined Terrence Pope (Social Psychology and Personality Area with Sapna Cheryan) as DSC co-chair. Together, Noah and Terrence share coordination and leadership of DSC's many initiatives, along with this year's faculty chair, Yuichi Shoda, Ph.D.
This Autumn quarter, we welcomed new and future graduate student members by presenting at the Psychology Department's new student orientation.
At our first meeting of the year, October 3, 2019, we laid the groundwork for this upcoming year. Our new and continuing DSC projects and initiatives include: administering the department diversity climate survey, coordinating campus-wide Allen L. Edward's Psychology talks on diversity, integrating community service into DSC's work and mission, and building the DSC community. You can look forward to hearing updates about these projects as the year progresses!
So far this Autumn, we hosted our first annual bowling night at the HUB! It was a nice opportunity for students to take a break from the stressors of graduate school, connect with one another, and enjoy a free round of bowling and slice of pizza. We also began hosting a department-wide "coffee cart" in Guthrie on Thursdays from 12:00pm to 2:00pm. It's been a great chance to share our work, increase awareness of DSC activities/events, and advertise events featuring diversity around campus all while fostering connections between likeminded researchers. We hope you'll join us for a complimentary cup of coffee or tea sometime soon!
Additionally, the Diversity Steering Committee has spent the quarter updating the recommended course list for the data science specialization, supporting the development of a psychology teaching group, collaborating with diversity groups in other departments to improve our climate survey, reviving the Diversity Science listserv, and forming a committee to pilot a new accountability measure that would allow us to follow up with graduate students comments on their experiences in the department.
The DSC looks forward to supporting graduate students in exploring diversity science in their coursework, research, teaching, and other domains of engagement within and outside the UW. Please contact us at psychdsc@uw.edu or join us on Slack for more information or to ask how you can be a part of one of our upcoming projects!
Supplemental Reading: