New Course: Psychology of Emotion
"I have given students a lot of freedom and input in shaping how the class goes, and they have consistently met this invitation with diligence, preparedness, high quality work, and really fascinating and provocative conversations. We're all constantly learning new things from each other."
- Tabitha Kirkland, Ph.D.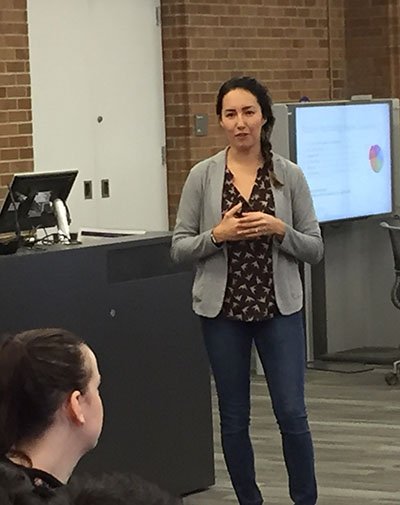 Tabitha Kirkland
New to the lineup of undergraduate courses in psychology is Dr. Tabitha Kirkland's Psychology of Emotion. A social psychologist who has studied and contemplated emotion scientifically for the last 10 years, Dr. Kirkland wanted to develop a small, upper-division course to discuss some of the fascinating and controversial ideas in the study of emotion. In this course, students build community, challenge one another, and learn actively by discussing and doing.
"Emotion is something we experience frequently and think we know a lot about because of those experiences and it's something we are also invested in understanding because of its relevance to daily life," explains Dr. Kirkland. "What's interesting," she continues, "is that it turns out our intuition is not the best guide to understanding emotion." Dr. Kirkland, who says that one of her core teaching values is interaction and peer learning, designed the class to include a number of components to maximize this kind of learning experience. The seminar-style class includes both small group work and larger class discussions in addition to lectures. Readings of different types include book chapters, empirical reports, review papers, and popular science articles. Students write weekly response papers critically analyzing the readings and summarizing their thoughts on the discussion topics.
Dr. Kirkland says that she is having fun with the class and hopes that the students are as well. The class is held in an active learning classroom in Odegaard Undergraduate Library. These classrooms have screens at each table and writeable surfaces everywhere that allow students to write, draw, and project, as fits their needs. "I hope this class will improve students' comfort with and confidence in reading and understanding a variety of scientific sources," says Dr. Kirkland, "as well as taking notes while reading, dissecting, analyzing, and synthesizing ideas in both written and verbal forms, working in small groups, and talking in front of a larger group."