Aric Chandler Memorial Scholarship
"Anything is possible when we surpass our fears. The true beauty of life can only be realized when we learn to push our boundaries. And all it takes is a simple change in perspective."
- Aric Chandler

Aric Chandler had a passion for life and a deep desire to help young people overcome their struggles to reach their full potential. Aric had a dream to begin his journey toward that goal as a psychology major at the University of Washington. On August 4, 2016, that dream was cut short. Just days after being admitted to UW as a transfer student from Bellevue College, Aric died unexpectedly from SUDEP (Sudden Unexpected Death in Epilepsy), which takes the lives of 2,000-3,000 people each year in the United States. What did not die that sad day was Aric's passion and commitment to working with adolescents. Aric's parents, David and Kacee Chandler, along with his family members and friends, established an endowment to keep Aric's dream alive by providing support for transfer psychology majors who plan to work with children and adolescents.
Aric's family and friends are extremely proud of his ability to overcome obstacles and of the kind and generous young man he had become. "Because Aric overcame his own difficult struggles with anxiety as a teenager, his passion was helping young people overcome their challenges and fulfill their life's potential," said David Chandler, who continued, "this endowed scholarship will help dozens of psychology students continue Aric's life's work and passion, who will in turn impact the lives of thousands of young people in our lifetimes and beyond." Because Aric was set to transfer to UW from Bellevue College, his family and friends chose to establish a scholarship that would directly benefit psychology majors who entered UW from Washington community colleges. These community colleges often help people who have tremendous potential but may not be ready nor have the financial means to attend a four-year university.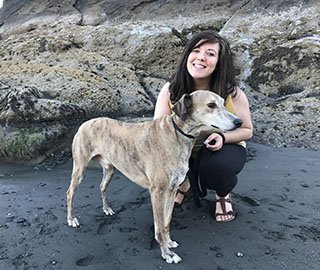 This fall, the psychology department offered the first Aric Chandler Memorial Scholarship. Nearly fifty psychology majors applied for the single award of $4,000. Applicants were asked to demonstrate their interest in child or adolescent psychology by outlining their relevant volunteer, research, work, or personal experiences, as well as their educational and career goals. The recipient of the inaugural Aric Chandler Memorial Scholarship is psychology senior Sunny Allen.
Sunny transferred to UW from Seattle Central College. A full time student, Sunny recently served as a peer mentor for the Psychology Department's Transfer Academic Community (TRAC) class, which helps first quarter transfer students find their academic home and build community within the psychology major. Looking forward, she hopes to work with children and adolescents in the area of treatment and diagnosis of ADHD. "I want to be an advocate for children and teens and work to reverse the effects of implicit bias that begin early in life," says Sunny. Refecting on being the inaugural recipient of this scholarship, Sunny continues, "I am so grateful and honored to receive the Chandler Award this year and I hope to carry on Aric Chandler's vision by helping disadvantaged children realize their potential and achieve their goals."