How National and University Fellowships Help Annie Make The World a Better Place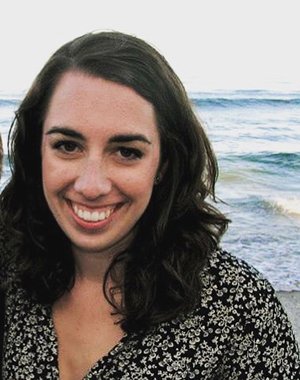 Annie Fast is a graduate student in Developmental Psychology working under the mentorship of Dr. Kristina Olson. She was recently selected by the UW Graduate School to receive their Presidential Dissertation Fellowship, which provides tuition waivers, stipend, and health insurance for one quarter. She also was a recipient of the APF/COGDOP research scholarship. We asked Annie about her experience so far in the program and how these awards will enable her to reach her goals.

Let's start with the basics: where are you from and where did you complete undergrad?

I grew up in a suburb of Albany, NY and then moved to Providence, RI to complete my undergraduate degree at Providence College. I came to UW after receiving my Bachelor's degree from Providence (I can't believe I moved across the country with just two suitcases!).

How did you wind up at UW and why did you apply here? How do you like living in Seattle?

While I was considering potential graduate school advisors, I was very interested in working Kristina Olson, who happened to be moving to UW the year I would be entering graduate school. So, I applied to UW in hopes of working with Kristina and also the possibility to work with Jessica Sommerville. I was thrilled when I got the offer!

Although I was a bit unsure of moving across the country, I knew that Seattle and UW had a lot to offer me and it helped that I have some extended family in town. Seattle is a wonderful place to live, especially for a doctoral student. As a fan of food and live music, Seattle has provided me with a number of opportunities to have fun when taking breaks from work. I love trying new restaurants in the many different neighborhoods of Seattle and attending concerts at the many intimate live music venues in town. Also, summertime here is absolutely gorgeous and I've enjoyed escaping the city to explore the surrounding great outdoors.

What is your research interest and how did you get into it?

My primary research interest concerns human socio-moral behavior and evaluation. That is, I'm curious about when and why humans are prosocial (e.g., helpful, generous) and how they judge other people's prosocial and antisocial behavior (i.e., moral evaluation). As an undergraduate, I studied philosophy in addition to psychology. The philosophy coursework on ethics and social responsibility paired with psychology coursework on development and social cognition inspired me to pursue research on this topic. I continue to be fascinated in what determines human prosocial vs. antisocial behavior, an issue that has been discussed for centuries but is still incredibly relevant in modern society. Although theorists have moved beyond a black and white understanding of human social behavior (humans are not simply good or evil and selfless or selfish), we are still learning about how factors might promote goodness, particularly early in development.

What is the name of your project and the funding source?

My project is titled "What Governs Goodness? The Role of Emotional Reward in Motivating Children's Generosity". I received the UW Graduate School Presidential Dissertation Fellowship, which funds me for one quarter, and I received a Graduate Research Scholarship ($1,000) from the American Psychological Foundation/COGDOP to support my dissertation recruitment costs.

How might your research change the world?

Given that my work seeks to describe factors that influence generous behavior in early development, I hope that my work changes the world by describing how we can promote early acts of generosity. Perhaps determining the factors that initiate and drive generous behavior early in development will also allow us to better understand and prevent the circumstances in which individuals choose to not be generous.

Do you have any advice/tips/suggestions for others who may apply to this opportunity? About graduate study in general?

As mentioned above, the most challenging aspect of applying to these funding opportunities is striking the balance between background/importance of the work and the details about the studies themselves. I recommend writing many drafts to find the best balance for your project. And show it off to others! The more feedback you can get (especially from individuals outside of your area), the more you can improve on that balance.

I want to emphasize that I definitely suggest applying to the UW Graduate School Presidential Dissertation Scholarship, as it provides an entire quarter of funding to focus on your own work and offers a great opportunity to work on succinctly describing your work!

What do you hope to accomplish with the funding and/or while in the UW Psychology graduate program?

With the funding, I hope to focus my time and resources on recruitment for my dissertation project. I still have a lot of data collection to complete yet and I look forward to making quicker progress on data collection so that I can see what I find! I've been fortunate to have several wonderful teaching opportunities in the department during my graduate career, but I'm happy to have time and resources right now to focus on my dissertation research. Looking forward to sharing what I find with everyone!

What you plan to do once you complete your PhD?

I am currently on the job market, seeking a professor position at a liberal arts college or small university. I am also considering visiting professor and teaching postdoc jobs. It is exciting to think about where this job search journey may take me, though if something pans out for me this year, I will miss everyone at UW!
Supplemental Reading: