Students Remember Buz Hunt
The Psychology Department is in remembrance of Professor Earl "Buz" Hunt who passed away in April 2016. Buz and his wife, Marylou, created a fellowship which supported graduate students with their independent research. So far, they have provided 14 awards to students from all areas of our program! We reached out to the students (past and current) who received this award to see just how impactful it was to their progress in the program and beyond.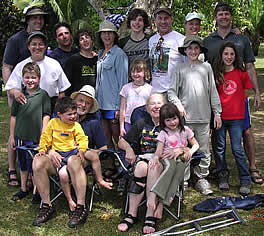 Buz, Marylou, and Family
One of our first Hunt recipients, Tami Rigterink (Developmental), used the fellowship to support her assay work which contributed to her dissertation. She analysed cortisol and alpha amylase that was collected from children exposed to domestic violence. The different levels of cortisol and alpha amylase might interact to predict trauma symptoms in these kids. Tami is currently an adjunct psychology professor at a small liberal arts college in Michigan. She remembers meeting Buz and feeling intimidated due to all his accomplishments, but he was "very warm and encouraging and down to earth." Berit Olsen Martin (Developmental) was the other recipient of the award in its inaugural year.
The next year, Kristie Fisher (Cognition & Perception) recalls that "it was always a treat to hear that Buz was going to guest speak at a colloquium or seminar class" and also experienced Buz's interest in graduate student research as an approachable and involved individual. Kristie supported herself through our graduate program as a teaching assistant, with the Hunt fellowship in hand, it allowed her the "mental space I needed to focus on writing my dissertation during a very stressful period when I was not just trying to graduate but also trying to make big career decisions." What Kristie accomplished in her research thanks to the Hunt award would ultimately have a part in leading her to her career in technology. She says, "I am so very grateful to Buz & Mary Lou Hunt for their support through the Hunt Fellowship, and I know Buz will never be forgotten by myself or my fellow graduate students who had the pleasure to know him." Caglar Akcay (Animal Behavior) was the other recipient of the Hunt award during summer 2011. He recalls Buz with a unique memory: "He was the author of the first textbook I ever read in grad school when I first started at University of Iowa (his Thoughts on Thought was the textbook of choice in the graduate cognitive class). So in a sense Buz Hunt's legacy book-ended my graduate career when I received the Hunt fellowship to finish my PhD in Animal Behavior."
In its third year, Tamara Spiewak Toub (Developmental) was selected as a Hunt fellow. She was able to spend her award quarter completing data collection, analyses, writing her dissertation, and successfully defending. "My research explored the relation between pretense and executive function skills, because many preschoolers struggle with executive function (e.g., acting based on careful thought rather than on impulse), and pretending is a promising strategy for helping them to control themselves in challenging situations." Tamara completed a postdoctoral position with the UW's I-LABS and is now at Temple University continuing her research with children and the benefits of pretending and forms of play to their development. Andrada Neacsiu (Adult Clinical) was the other recipient of the Hunt during summer 2012 and is currently an Assistant Professor in Psychiatry and Behavioral Sciences at Duke University.
In 2013, the Hunt recipients were Tom Soare (Animal Behavior) and J. Oliver Siy (Social Psychology & Personality). They both recognize the Hunt Fellowship support as integral to the completion of their graduate studies in a timely manner and to their careers in research. Tom was finishing his analyses and dissertation, "a population genetics study of the effect of landscape on dispersal behavior of army ants." He is currently at the Psychiatric and Neurodevelopmental Genetics Unit of the Center for Human Genetic Research at Massachusetts General Hospital. Oliver is working in the tech industry as a postdoctoral researcher.
Amanda Gilmore (Adult Clinical) and Yong Sang Jo (Behavioral Neuroscience) completed their degrees in 2014 with support from Hunt Fellowships. Amanda completed an APA-accredited internship at the VA in Puget Sound the following year, as her final requirement from our clinical program. Yong Sang assumed a postdoctoral position as a researcher in the UW Pharmacology Department to study the neurobiology of emotions and learning.
In 2015 both Hunt fellows were students in clinical psychology. Alissa Jerud (Adult Clinical with Lori Zoellner) and Stephanie Thompson (Child Clinical with Liliana Lengua) used the funding period to make major progress on their dissertation research and writing prior to assuming their required clinical internship positions. Both will be awarded PhDs in summer, 2016. Stephanie's work examines the effect of prenatal stress on adjustment of preschool children, while Alissa's research focuses on the effect of living with a parent with PTSD on fear learning of children. Both students have accepted postdoctoral positions and are incredibly grateful for the role the Hunt Fellowship played in helping them achieve their goals!
The current Hunt Fellows are Blake Pellman (Behavioral Neuroscience with Jeansok Kim) and Laura Brady (Social Psychology & Personality with Yuichi Shoda). In continuing the theme of Buz's great support for graduate students and their research, along with lifelong learning, Blake shares, "I once attended a talk he gave to the department during my first year in the program, and it was clear he cared deeply for psychological science and education. I instantly formed a great respect for the man." These students will be graduating in spring and summer 2016 thanks to the support from a wonderful endowment established by a memorable member of our department.
Our deepest gratitude to Buz and Marylou for all they have done and will do, in supporting independent Psychology graduate student research. We all thank you.
L-R: Caglar Akcay, Kristie Fisher, Andrada Neacsiu, Tamara Spiewak Toub, J. Oliver Siy

L-R: Tom Soare, Amanda Gilmore, Yong Sang Jo, Laura Brady, Blake Pellman.

Not pictured: Alissa Jerud, Berit Olsen Martin, Tami Rigterink, Stephanie Thompson
Supplemental Reading: