HINTS Lab at the Shoreline STEM Festival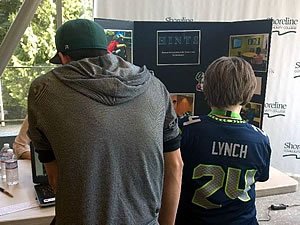 Photo: Hints

The Human Interaction with Nature and Technological System (HINTS) Lab, directed by Peter H. Kahn, Ph.D., was a featured exhibitor at the Shoreline STEM Festival, held on Saturday, May 9, 2015 at the Shoreline Community College. The exhibit showcased the lab's major human-robot interaction research projects that studied people's social and moral relationships with humanoid robots that are designed to look like and interact with people in human-like ways, and also the lab's most recent research that investigated whether human creativity can be enhanced thorough human-robot collaboration.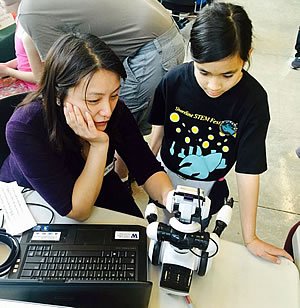 Photo: Solace Shen and Tanya Wickham

Solace Shen, a Ph.D. Candidate in developmental psychology, and Tanya Wickham, a Psychology undergraduate research assistant, engaged the visitors in the exploration of research questions such as: Do people perceive of robots as having moral standing? Do people hold robots morally accountable for causing harm? Will people develop psychological intimacy with robots in so far as they will keep a robot's secret? And can people become more creative through social interaction with a robot? Visitors viewed human-robot interaction video clips from the above mentioned studies, learned about the findings of the research projects, and were provided with hands-on experience in programming the behaviors of a smartphone powered humanoid robot named Momo.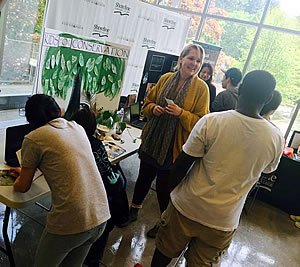 Photo: Dr. Jolina Ruckert and students

Dr. Jolina Ruckert, a recent Ph.D. graduate in developmental psychology, and Xinglu Yao, a recent Psychology undergraduate honors graduate, hosted an adjoining exhibit on human interactions with nature that focused on children and conservation. At this exhibit visitors played a game that tested their knowledge about their local environment and asked them to reflect on their experiences in nature. Collectively, visitors developed a visual display of meaningful interactions they have in nature that they want to conserve, such as "feeling the sun's heat on my face" and "the view at the top of a mountain."
About 100 visitors engaged with the researchers at both exhibits and shared their thoughts and comments about these research topics during the two-hour event. One child visitor commented on the human-robot interaction research saying: "It's really crazy but also kinda cool!" As an adult visitor noted after visiting both exhibits: "The kind of relationships we form with technology and nature is really a reflection of ourselves."
Supplemental Reading: