Child Clinical Graduate Student Named Doris Duke Fellow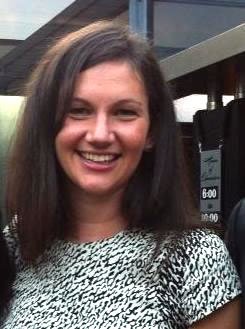 Photo: Charlotte Heleniak

Charlotte Heleniak, a fourth year Child Clinical student with Kate McLaughlin, has been awarded a Doris Duke Fellowship for the Promotion of Child Well-Being by Chapin Hall at the University of Chicago in collaboration with the Doris Duke Foundation. These extremely competitive fellowships are designed to identify and develop a new generation of leaders interested in and capable of creating practice and policy initiatives that will enhance child development and improve the nation's ability to prevent all forms of child maltreatment. Read on to learn about our latest award-winning student:
Let's start with the basics, where are you from and where did you complete undergrad/masters?
I was born in Hong Kong, but grew up in Manhattan. I completed my undergraduate education at Dartmouth College in Hanover, New Hampshire.
How did you wind up at UW/why did you apply here? What do you think about living in Seattle?
My road to graduate school was unusual – I didn't even major in psychology at Dartmouth! However I was drawn to work focused on improving the lives of families touched by chaos and violence. So, following my graduation I worked as a counselor in a group home for teens in contact with the legal system and as an advocate for families of individuals arrested for domestic violence in the Brooklyn District Attorney's office. It was during my time at the DA's office that I grew frustrated with the scope of my work, as there were so many bigger picture issues that I was unable to understand or address in my time-limited contact with families. So two years out of college I decided then to pursue a career in child clinical psychology research. I found a position working in child psychiatry at Columbia University to get exposure to the research process, and loved working there for two and a half years prior to graduate school.
I landed at University of Washington's child clinical psychology program because I knew I could gain excellent training in a diverse range of behavioral and biological methods to apply to my study of how adverse environments might shape adolescent behavior. The UW child clinical faculty is so impressive, it was just too hard to say no to this opportunity even though I was nervous about moving across the country.
Moving from New York to Seattle was a huge transition for me. I think that my first week of graduate school was the most flustered time of my life. I remember that on my first day of school, I planned to pick up a cup of coffee on my way to the bus, then bus to school. Pretty straightforward, right? But my estimate of how long it would take was SO hilariously off. I stopped in my local coffee shop, saw only one person in line, and anticipated leaving with my cup of joe shortly thereafter. Five minutes and a lengthy conversation on the health benefits of almond milk later, I ordered my cup of drip coffee. I was lampooned by the barista for talking too quickly when I ordered. Another five minutes and a slow pour-over later, I was finally on my way. Then I waited, and waited, and waited (or so it felt) for the bus. It turns out that in Seattle, the buses don't run once every minute as my old NYC subway had during rush hour. Looking back, this snapshot of adjusting to life in Seattle really makes me laugh.
I totally love it here now. This is the perfect city for a graduate student. Happy hours make eating out at nice restaurants affordable, coffee shops everywhere mean that my office is wherever I would like it to be. People are kind and friendly. And I have become a (slightly) more patient person ;)
What is your research interest and how did you get into it (what inspires/motivates you)?
I am interested in how adversity, specifically exposure to violence, influences the onset and maintenance of psychopathology in adolescence. This interest is a natural extension of my work in the group home and Brooklyn DAs office. In addition, one of my aims in graduate school has been to learn new biological methods for studying the mechanisms underlying this process. This is inspired by my time working in a psychiatry lab where I learned the importance of understanding the biological vulnerability to and expression of child and adolescent psychopathology. I continue to be inspired and motivated by my advisor, Kate McLaughlin, who is now training me in the use of cognitive neuroscience methods for my research aims.
How did you learn about your funding opportunity and tell us about the application/waiting process?
The chair of our department, Sheri Mizumori, sent an email around to the child clinical faculty about the fellowship, and Kate then let me know about it. The fellowship application is unique in that it asks fellows to identify both an academic mentor who assists fellows conduct their dissertation research and a policy mentor whose role is to shape the fellow's research for maximal policy impact. The application requires a comprehensive plan to support these big picture aims, and letters from each mentor. Finding a policy mentor was intimidating at first, but I am so grateful to have this incredible opportunity to get connected with leaders in policy in the Seattle area. At this point in my career, I hadn't considered what role I may have in shaping policy in the future, let alone now as a graduate student. Several months after the application deadline, top applicants are invited to participate in a telephone interview conducted by a small group of the fellowship's Board of Directors. I learned that I received the fellowship within a week of the interview.
How did you feel when you learned that your application was accepted and that you will receive funding?
My advisor, Kate, texted me that she had just learned I received the fellowship. I think my reply was "WHAT." I was stunned then thrilled. One of my goals in graduate school was to learn how to write a grant application. It's an important skill in and of itself, and critical for a research career. But of course, I know how competitive awards of this nature are. I hadn't anticipated that I might actually get it!
Do you have any advice/tips/suggestions for others who may apply to this opportunity? About graduate study in general?
Apply! In academia I sometimes feel like each lab is its own island, and it is easy to be myopic about my research, not considering how it fits into the big picture. This fellowship provides an incredible opportunity to meet graduate students from a diverse range of fields (e.g. social work, education, law) who are all working to promote child well-being and eradicate maltreatment, and to connect with experts in research and policy in this area through a network of mentors that the fellowship fosters. Doris Duke fellows meet several times yearly to generate new ideas and work together on projects. The application itself helped me to make new connections with local policy leaders that I would never have met otherwise. Talking to them helped me consider new perspectives on my research. So, even if you do not apply to this opportunity, my advice to other students is to find ways to get connected with policy here in Seattle as it can help us to better shape our research so that it can make the biggest difference.
What do you hope to accomplish with the funding and/or while in the UW Psychology graduate program?
I am so excited to have this opportunity to broaden my understanding of child maltreatment by learning from my incredible group of peers and their mentors in a range of disciplines that I am less familiar with. I hope that our conversations together over the next two years will foster new collaborations that generate important information that everyone can use, from the courts to the ivory tower.
I am also really looking forward to immersing myself in the policy work that is happening here in Seattle, through working with my policy mentor, Lucy Berliner.
What do you like doing in your spare time?
I try to take Saturdays off from work whenever I can, it is so important to recharge and have some fun. Lately my boyfriend and I like to do "Treat Yourself Saturdays" where we pick a neighborhood in the area to explore and plan fun activities like checking out the local microbreweries, museums, and restaurants. Every Saturday has become a mini Staycation.
The last book and/or movie you saw and enjoyed?
I am finally reading I Know Why The Caged Bird Sings by Maya Angelou. She is an incredible storyteller. Each time I pick up the book I feel totally transported to another era, while thinking about how sadly similar it still is to what is going on in the country today.
What you plan to do once you complete your PhD?
Celebrate! This is one long haul. And get a job ;)
Supplemental Reading: