NRSA funds student research on sight restoration for patients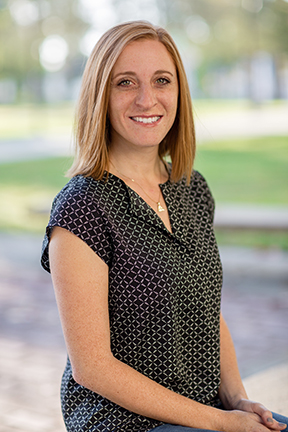 Rebecca Esquenazi
Rebecca Esquenazi (Cognition & Perception Area with Ione Fine) is our latest student to receive predoctoral funding through the National Research Service Award (NRSA) for her research on vision. The background of this research award was covered in a previous article. Learn more about Becca below!
Let's start with the basics, where are you from and where did you complete undergrad/masters?
I am from Los Angeles California, and did my undergraduate and masters work at California State University, Northridge. I got my BA in Psychology in 2015 and my Masters in Experimental Psychology in 2018.
How did you wind up at UW/why did you apply here? What do you think about living in Seattle?
I love living in Seattle! At first I was hesitant, because there is no such thing as "weather" in LA. But I fell in love with the beauty of the PNW. I live right on lake Washington and cannot imagine another summer without spending a day swimming in the lake.
What is your research interest and how did you get into it (what inspires/motivates you)?
I am interested in visual perception, specifically in the area of cortical plasticity and learning. Back when I was just getting into research, I just had a general fascination with neuroscience and wanted to learn more. When I started searching around for labs to volunteer in, I wound up in a vision lab helping out with studies related to multisensory perception in synesthesia. Ultimately I became fascinated with vision because it really is the main the building block for the way we interact with and perceive the world. My research now is focused on visual cortical plasticity and the learning potential of patients with retinal implants to adapt to their device.
How did you learn about your funding opportunity and tell us about the application/waiting process?
I had heard about what a NRSA was through other graduate students, but my advisor Ione Fine was the one who really encouraged me to apply. We had a great project that she thought was a perfect fit for a grant like this. I applied for the first time in April 2019 and it took me a few months to learn that my project did not receive a qualifying score. However, in the mean time I had collected some pilot data that I was able to feature in my resubmission later that year. I found out in early Summer 2020 that I received a qualifying score and that I would be funded starting in the Fall of 2020.
How did you feel when you learned that your application was accepted and that you will receive funding?
I felt extremely validated! Everyone struggles with imposter syndrome, but this was validation that my work was meaningful enough to be funded. It felt great.
What is the name of your project and the funding source?
Project Title: Visual Cortical Plasticity and the Implications for Sight Restoration Technologies
Funding Source: Ruth L. Kirschstein National Research Service Award (NRSA) Individual Predoctoral Fellowship to Promote Diversity in Health-Related Research (Parent F31)
How might your research change the world?
I think my research has the potential to give sight restoration developers and patients realistic expectations of what to expect when learning to live in their new visual world. It might not change the world, but it could help guide people's decision on whether or not they want to endure a potentially life changing surgery.
Do you have any advice/tips/suggestions for others who may apply to this opportunity? About graduate study in general?
Submit your best application and forget about it. If you're happy with the effort that you put in, and know you put your best foot forward, then it's less of a blow if you don't get the grant. My next best advice would be to not expect anything on your first round of applying, because its typical that you will have to apply for a second time. That time between your first and second application is crucial to convincing reviewers that you've made progress on your project (typically by collecting a bit of pilot data and including it in the resubmission).
What do you like doing in your spare time?
I love to garden, hike, camp, hangout with my dog, bake bread and other sweet goodies, and during the pandemic, refurbish furniture.
What do you plan to do once you complete your PhD?
I'd love to continue living in Seattle, but at the moment I'm unsure where life will take me. Hopefully somewhere on the west coast where I can continue doing vision research on the topics I love!
Supplemental Reading: