NRSA Fellow Seeks to Help Asian American Youth
The National Institute on Alcohol Abuse and Alcoholism (NIAAA), the National Institute of Mental Health (NIMH), and the National Institute on Drug Abuse (NIDA) provide National Research Service Awards (NRSA) to support the research of graduate students focusing on biomedical and behavioral issues. The intent of these awards is to provide funding/resources to ensure that there will be a population of highly trained scientists who can help meet the nation's "mental health, drug abuse, alcohol abuse and alcoholism research needs." Graduate students in Psychology at UW have been amazingly successful in competing for these prestigious awards.
Jeremy Luk, a third year graduate student in our Child Clinical area, is a recent recipient of an NRSA. His faculty advisor is Kevin King and Jeremy's project is called "Developmental pathways to alcohol and drug use across European and Asian American Youth."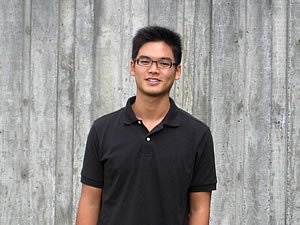 Photo: Jeremy Luk
Let's start with the basics, where are you from and where did you complete undergraduate and masters degrees?
I was born in Los Angeles and I grew up in Hong Kong. I came back to the US for college when I was 18, and I went to UW Seattle!
How did you wind up at UW--why did you apply here? What do you think about living in Seattle?
I met my current advisor, Kevin King, when I was an undergraduate here at UW. In my senior year, I served as a peer TA for Dr. King's first Psych 101 class taught at UW and was impressed by his enthusiasm and his approach to science. I ended up at UW because of the excellent match in research interest and its outstanding clinical training opportunities.
Seattle is a great and diverse city. I like its size and pace, but I still don't like the rain in the winter. I love the summer though!
What is your research interest and how did you get into it (what inspires/motivates you)?
Broadly, I am interested in the development of substance use and problems across adolescence into emerging adulthood. My interest was partly nurtured during my postbaccalaureate year at the Prevention Research Branch, NICHD, where I was drawn to the prevention approach to solve public health problems. Currently, I am interested in how contextual and cultural factors might play a role in the development of alcohol and drug use and problems in Asian American youth.
How did you learn about your funding opportunity and tell us about the application and waiting process?
I heard about NRSA from multiple sources, and I initially hesitated to apply early in my graduate career because we now only have one resubmission opportunity. The application process was tedious, but it was a positive and useful learning experience as it introduced me to grant writing.
How did you feel when you learned that your application was accepted and that you will receive two to three years of funding?
I was so excited! It was like a "dream come true" moment for me as I have planned to write an NRSA even before I came back to UW. I was also pleasantly surprised that it came through the first round!
Do you have any advice/tips/suggestions for others who may apply to this opportunity? About graduate study in general?
Find a good team of mentors and don't be afraid to apply early!
What do you hope to accomplish with the funding and/or while in the UW Psychology graduate program?
I would like to further develop my analytic and quantitative skills which hopefully will enable me to pursue a research-oriented career in clinical psychology.
What do you like doing in your spare time?
Spare time? huh?
The last book and/or movie you saw and enjoyed?
"The King's Speech"
What you plan to do once you complete your PhD?
I still think that I would like to become a full time researcher.
Supplemental Reading: