Undergraduate Program
The end of each academic always brings a rush of activity and the bittersweet moments of saying goodbye to graduating students who have become part of the UW Psychology family. It is also a time to celebrate the accomplishments of all of our outstanding graduates. Both the Undergraduate Honors Poster Session and the Psychology Graduation Celebration are end of the year milestones that mark our students transitions from Psychology majors to alumni.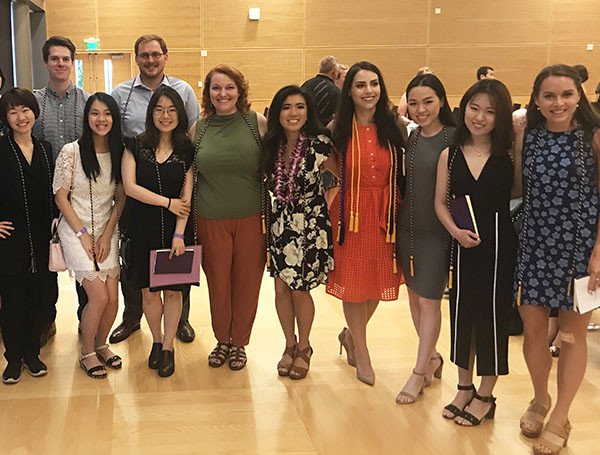 Graduating honors students with Dr. Chantel Prat
In late May, members of the 2019 Psychology Honors cohort showcased the results of their research. The Honors Poster Session, along with the completion of a senior thesis, marks the culmination of a two-year intensive research program. The Department joins with Honors Program director Dr. Chantel Prat in congratulating our students on this impressive accomplishment: Izzi Batt-Doyle, Aarti Bodas, Lauren Hall, Micah Ketola, Ling Wai Lam, Xuanxuan (Kari) Li, Jiafei Li, Vanessa Lim, Akira Sakoda, Isabelle Tully, Heather Wessel, Josh Wolfe, Yinan Xu, and Chia-li Yu. See more information in the Poster Session program here (add link to poster session program pdf). Also of note, 78 Psychology majors took part in this year's campus-wide Undergraduate Research Symposium.
Over 500 students earning their Bachelor's degree in Psychology over the course of this year was definitely cause for a party. On June 13, Psychology Department faculty and staff came together with hundreds of family members and friends to recognize those individuals making the transition from students to alumni. The Psychology Graduation Celebration, hosted by Psychology Department Chair Dr. Cheryl Kaiser, included awards and recognititions, student speakers, and individual recognition of all graduates in attendance. Talks by this year's student keynote speakers - Pelumi Ajibade, Honson Ling, and Katherine Magnuson - were moving and inspirational. Learn more of each of our keynote speakers here.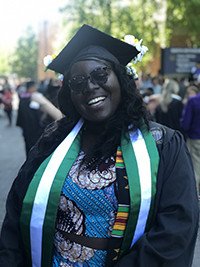 Pelumi Ajibade
"Whatever change you want to see, create it."
- Oluwapelumi Ajibade, Psychology BS 2019
"I wanted to make a difference at the University of Washington and in myself," recalls Pelumi Ajibade of her undergraduate experience, "I didn't want to just attend classes, I wanted to be part of a community." From the time of her arrival as a freshman at UW four years ago until she gave one of the keynote talks at the Psychology Graduation Celebration this June, Pelumi most definitely became not only a part of, but a leader within a community of learners.
This native of Lagos, Nigeria, which she refers to as her hometown and favorite place in the world, took full advantage of the wide array of opportunities available to her as a UW Husky. Pelumi says that she threw herself into all the activities that seemed interesting to her. She was a radio host, worked in mail rooms on campus, was a tour guide, and served as a Resident Assistant. "I made friends, studied abroad in London, and found every opportunity to grow myself," says Pelumi.
Perhaps one of her greatest achievements was when she and fellow psychology majors started a new student club, Diversity in Psychology. Wanting to push the boundaries of what they initially thought they could accomplish, Pelumi and her fellow club officers planned, raised money for, and created a first of its kind conference for high school students interested in learning more about psychology.
Pelumi credits her Psychology Research Methods class, taught by Dr. Ann Culligan, with igniting her love of research. She also credits her advisor, Vicky Hansen, with helping her to connect with a research lab and mentoring her throughout her time in the Psychology Department. "I am thankful for being part of a department where I was able to create a relationship with professors and a friendship with advisors who have shown me that my future can be everything that I want it to be," says Pelumi.
Today Pelumi is a Psychology Department alumna, but continues to be part of this community, working as a research coordinator for the Center for the Science of Social Connection, directed by Dr. Jonathan Kanter. She says that she goes to work each day excited to be challenged and working with a group of people who feel like family. Pelumi sums up her UW Psychology exerience with this advice to future students "this major is everthing that you make of it - the resources are there, the people are there - make use of them!"
"Psychology provides the most practical and direct way of understanding the way in which we understand the world."
- Honson Ling, Psychology BS 2019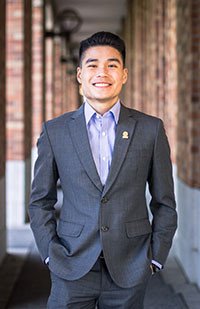 Honson Ling
Honson Ling was drawn to the study of psychology because of its focus on understanding the human mind and human behavior. What he soon learned was that not only does psychology offer a pathway to study these interests, but it also affords students with the flexibility and opportunity to take their interests in multiple directions. Honson found himself exploring a wide range of topics, from religion and morality to philosophy and comparative literature.
As he progressed in his interdisciplinary studies, Honson found himself intrigued by the connection between psychology and technology. This interest let him to a research assistant position in the Human-Interaction with Nature and Technological Systems (HINTS) lab, directed by Dr. Peter Kahn. "I became fascinated by how nature and techology can affect our psychological well-being," says Honson. He later sought out independent research opportunities with faculty members in Computer Science and the Human Centered Design and Engineering (HCDE) programs.
Honson points to the exploration of ideas and information from a number of different fields as being critical in his academic development. "By actively listening, asking questions, and connecting different ideas," recalls Honson, "I was able to materialize my curiosity into active psychological research in human-robot interaction." Specifically, he hopes to work toward designing technological systems that will not only enhance the world, but also promote human flourishing from a psychological standpoint.
Not surprisingly, the next step for Honson begins this fall quarter as he enters the Master's program in HCDE where he plans to continue to learn and hone his skills in technological design and research with an aim of eventually pursuing a PhD in a relevant discipline. "Ultimately," says Honson, "I hope that my research and the work that I will accomplish in the future will leave a positive mark on human existence."
"I found that even though the University of Washington seemed overwhelming at first, there were so many people willing to help me. I found that I wasn't such a small fish afterall."
- Katherine Magnuson, Psychology BA 2019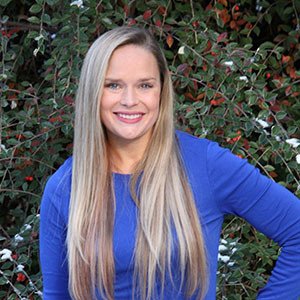 Katherine Magnuson
"Becoming a psychology major came for me a little later than for some," says Katy Magnuson, "but it is part of a pathway that I had dreamed of fulfilling my whole life." Following over a decade of enjoying a very successful career in the film industry, Katy arrived at UW as a transfer student from Bellevue College. Thinking about the transition from an established career to being a community college student to entering UW, Katy recalls felling like she was suddenly a very small fish in a huge pond. "I had to learn that there was strength in asking for help and in fighting for waht you deserve and want to accomplish," says Katy.
Katy found this help in the form of her Psychology professors, graduate teaching assistants, and academic advisors. She notes that being accepted as a major in the Psychology Department was life changing for her and that the people around her have helped her to achieve things she didn't know she was capable of doing. Katy now wants to take these experiences and lessons and turn them outward, with the aim of helping others. "I want to use my strong work ethic, etermination, and courage," explains Katy, "as well as my empathy and faith in the good of people to help those who society has lost hope on."
While a student in the Psychology Department, Katy took on both leadership and volunteer experiences. She credits her volunteer work with the King County Juvenile Detention Center with being eye opening in the best of ways, confirming that a graduate degree in forensic psychology and a career in enforcement is indeed exactly what she wants to pursue. She also enjoyed serving as a peer leader for the Psychology Transfer Academic Community (TRAC) class, helping first-quarer transfer students to connect with the Psychology Department and to find a strong community of support here at UW.
With her Bachelor's degree in hand, Katy is now studying and training for the next leg of her journey. This fall, she will take the written and physical exams required to qualify for selection to become a police officer. She wants to take the lessons that she has learned and the skills that she has gained to work with those who are desperately in need of help. "I hope to one day be part of the solution," says Katy, "I want to help those within my community, especially those who have lost hope."
The Psychology Department is proud of the numerous accomplishments of our undergraduate students. Check out some of the highlights from this year: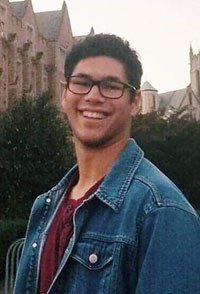 Cristian Rivera-Nales
In fall quarter, Cristian Rivera-Nales was named the 2018-19 Aric Chandler Scholar. This $4,000 scholarship was made possible through the Aric Chandler Endowment which honors the memory of a young man who was poised to transfer to UW from Bellevue College in the fall of 2016. The scholarship fund directly benefits Psychology majors who entered UW from Washington community colleges. Learn more about Aric Chandler and scholarship recipient Cristian Rivera-Nales here.
Each spring, the College of Arts and Sciences awards the Dean's Medal to a particularly outstanding senior in each division of the College. This year, the Psychology Department's nominee for this honor was Isabelle Tully. Isabelle was the recipient of the Paradise Scholarship for Academic Achievement and a Hagenstein Research Travel Award. Following graduation Magna Cum Laude, she is now working at the Puget Sound Veterans Administration. Isabelle also is continuing to volunteer in the lab of Dr. Lynn Fainsilber Katz as well as staying involved in the study that she did her honors thesis on in Dr. Lori Zoellner's lab.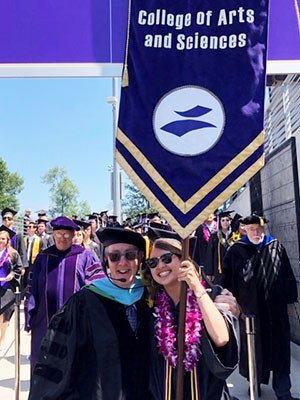 Regan Gong with Associate Vice President for Student Life Lincoln Johnson at Commencement Ceremony
The College of Arts and Sciences selected psychology major Regan Gong to be a gonfalonier at the UW Commencement Ceremony. The gonfaloniere (as they are called collectively), are outstanding graduating seniors who represent their colleges by carrying large banners - gonfalons - into the Commencement Ceremony. Regan graduated in winter quarter 2019, Magna Cum Laude, with dual degrees in Psychology and Comparative Religion. Her post-graduation plans include taking a gap year, applying to graduate school, and working as a youth volunteer program assistant for the City of Mercer Island. Our UW "gonfalonieres" are accompanied by alumni volunteers, known as "Guardians of the Gonfalon," who welcome them into the Husky alumni family and watch over the banner. UW Psychology Alumnus Joe Boldan ('74) accompanied Regan as a Gurdian of the Gonfalon. Joe had not been able to participate in his own commencement as a student and enthusiastically accepted the honor the of our Guarian of the Gonfalon. Joe noted on his experience, "although the thought of being a Guardian of the Gonfalon seemed a bit intimidating, I was paired with an absolutely wonderful Gonfalonier named Reagan. Meeting Reagan and her family was unquestionably the highlight of my Gonfalon experience."
This year's Guthrie Prize is awarded annually to undergraduate students for excellent writing in psychology. This year's winner for the Best Empirical Paper is Aarti Bodas. Aarti's paper, titled "'Can I Count on You?" Siblings Influence Infants' Expectations of Prosocial Behavior Across Contexts," was completed under the direction of Dr. Jessica Sommerville. Aarti is a Mary Gates Research Scholar and the recipient of a Hagenstein Research Travel Scholarship through the Psychology Department. She is set to begin a Master of Science in Experimental Psychology program at Villanova University where she will be researching children's scientific learning and imaginative cognition.
The Guthrie Prize winner for the Best Research Proposal is Cristian Rivera-Nales. Cristian's paper, titled "The Evaluation of Child Outcomes in Community Mental Health Utilizing a Washington State Common Elements Training Initiative," was completed under the direction of Dr. Shannon Dorsey. This year's Aric Chandler Scholar, Cristian will continue on as a Psychology honors student, working with Dr. Dorsey, and is set to graduate in winter of 2020.

Mari Ramirez and Keertana Sureshbabu
Congratulations to the Psychology majors who were selected to be part of this year's Husky 100 cohort. These outstanding students are Mari Ramirez and Keertana Sureshbabu. The Husky 100 recognizes 100 undergraduate and graduate students from the three UW campuses, in all areas of study, who are making the most of the Husky Experience.
This year, eight Psychology majors were named Mary Gates Research or Leadership Scholars. These dedicated students are: Elizabeth Abel, Aarti Bodas, Ling Wai Lam, Honson Ling, Tiffany Luu, Isabelle Tully, Chia-li Yu, and Sophie Ziliak.
In winter quarter, 12 students were named recipients of a Hagenstein Research Travel Award. Made possible by the Ruth H. Hagenstein Endowment, these travel awards assist undergraduate Psychology majors who plan to attend and present at professional conferences. This year's Hagenstein Scholars are: Elizabeth Abel, Aarti Bodas, Maria Ilac, Micah Ketola, Honson Ling, Sanjana Nelluri, Serah Prakkat, Ally Sowers, Keertana Sureshbabu, Isabelle Tully, Joey Ullmann, and Chia-li Yu.