Lyris Tudhope-Locklear: Bringing It Back Home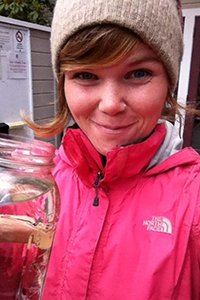 Lyris Tuhope-Locklear
"My goal in completing my undergraduate degree and coming to the UW was to gain as much informed experience and information as I could in order to take what I learn back to my rural community and provide the best services."
- Lyris Tudhope-Locklear
One of two graduating seniors featured as speakers at the June 5 Psychology Graduation Celebration, Lyris Tudhope-Locklear is taking her academic journey full circle back to her hometown of Port Townsend, Washington. That journey began at Peninsula Community College where Lyris earned an Associates of Applied Science degree in Addiction Studies. After working as a chemical dependency counselor at an outpatient clinic and at the county jail, Lyris transferred to UW in the fall of 2015.
Characterizing her move to UW as both challenging and exciting, Lyris says that her experiences at UW showed her that the country girl actually has a city streak in her! She observes that while many students who transfer to UW hope not to be identified as transfers, feeling that they are somehow having a "differenct Husky experience," she actually embraced that identity, becoming an advocate for transfer students. In the fall of 2016, Lyris served as a peer leader for PSYCH 299, the Psychology Transfer Academic Community (TRAC). This course for first-quarter transfer students aims to give them an in depth orientation to the Psychology Department, the major, and resources available to them, as well as helping to offer support and create community in the students' transitional quarter at UW. Lyris ultimately took her advocacy for the transfer student population all the way to the top... speaking to the UW Board of Regents about her Husky transfer experience.
In addition to speaking at the Psychology Graduation Celebration, Lyris has in common with fellow speaker Khalil Somani a tremendous appreciation for Psychology Lecturer Dr. Lauren Graham and Psychology Professor Dr. Jaime Diaz. She refers to meeting Dr. Graham as an "amazing and empowering experience." "Dr. Graham's influence on my mind went beyond just learning about neuroscience (though I loved that beyond measure)," recalls Lyris, "but she was also an inspiration for me and from that first quarter I continued to seek her counsel on the topics of graduate school, research, and professional development."
Another highlight of Lyris's experience as a psychology major included spending a full year conducting research with the UW Fetal Alcohol and Drug Unit, looking at trends in substance use rates in substance using mothers across the changes in medical and recreational marijuana use laws. She is excited to be able to take scientific and evidence based practices back to the work that she will return to in her hometown where she will be employed as a chemical dependency counselor at Safe Harbor Recovery Center and Outpatient Services. This coming January, Lyris will also begin a master's program in Clinical Mental Health Counseling at Northwestern University. Her ultimate goal is to continue to serve her local community on the Olympic Peninsula as a licensed mental health counselor.