Khalil Somani: No Limits!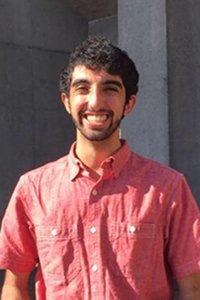 Khalil Somani
"I think the biggest piece of advice I would give to psychology majors is don't limit yourself. The Psychology Department at UW offers so many amazing opportunities. Do research, get out and volunteer, take all kind of classes - especially biologically based ones!"
- Khalil Somani
Earning degrees in psychology and human centered design and engineering (HCDE), Khalil Somani was one of two graduating seniors featured as speakers at the Psychology Graduation Celebration that took place on June 5. In fact, Khalil's parents, Shabir and Salma, have a lot of celebrating to do this year as Khalil and sisters Areesa and Selina - who are triplets - are all graduating from college (Areesa from Seattle University and Selina from Western Washington University).
Khalil recalls that his passion for psychology came at a very young age. "In elementary school, I held informal therapy sessions during reading time for kids who were having a bad day," he remembers, "and while I did not really follow the scientifc method, I managed to make people's day a little better." He also asked his parents if they could replace all of his sister's allergy medicine with placebos to see if she would still sneeze. Khalil seemed like a natural! Once at UW, he found his home initially in the Psychology Department, ultimately branching out to study in the HCDE program, as well. "The HCDE major is highly focused on applying a knowledge of people and human behavior to building solutions for people," explains Khalil, "and it has given me the opportunity to use my psychology degree with a new understanding of technology and design."
Khalil's research endeavors have also crossed disciplines while remaining fundamentally related. In his freshman year, he began working with Psychology Associate Professor Dr. Chantel Prat in the Cognitive and Cortical Dynamics Laboratory (CCDL). Khalil credits this experience with helping him to discover his love of learning through exploration and experimentation, noting that the CCDL "kick-started" his journey in research. Next steps in that journey included working with Psychology Associate Professor Dr. Shannon Dorsey in the area of Cognitive Behavioral Therapy, and as a paid research assistant with Mechanical Engineering Assistant Professor Dr. Kat Steele, helping to design a system for long-term EMG measurement in patients with neurological disorders.
A big fan of Psychology Professor Dr. Jaime Diaz and Psychology Lecturer Dr. Lauren Graham, Khalil encourages other students not to shy away from the more biologically based classes, noting that they "offer a great perspective on the physical mechanisms behind human behavior which are so critical to understand." A veteran of UW's biology, chemistry, and organic chemistry sequences, Khalil emphasizes that the biologically based classes offered by the Psychology Department were more engaging than others and ultimately taught him more.
Next steps for Khalil include some summer travel with family and friends prior to beginning work as a Digital Strategy Consultant on the Customer Experience team with West Monroe Partners, in downtown Seattle. He is excited to jump into a job that will allow him to tap into what he has learned from both of his majors.