Kayla Oliver: Hagenstein Research Travel Awardee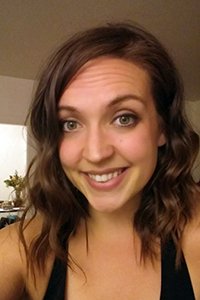 Kayla Oliver
"This may sound odd to most people, but my interest in getting a degree in psychology is due to my desire to work with animals."
- Kayla Oliver
Kayla Oliver, a junior psychology major, is the recipient of a Hagenstein Research Travel Award. Made possible by the Ruth H. Hagenstein Endowment, these travel awards assist undergraduate psychology majors who plan to attend professional conferences. As a psychology major, Kayla's focus has been in the area of comparative animal behavior. "I am fascinated with examining how animals behave in both the wild and captivity," says Kayla, "and I plan to go into research observing communication between highly social animals."
Not surprisingly, Kayla will use her $1000 award to attend the 54th Annual Conference of the Animal Behavior Society, in Toronto, Canada. At the conference, Kayla will present her own independent research on canine behavior in off-leash dog parks. In addition to presenting her research, Kayla looks forward to the chance to connect with a number of professors and graduate students. Kayla's mentor is Psychology Research Professor Emeritus Dr. Jim Ha.
With plans to eventually earn a Ph.D. in animal behavior, Kayla advises new or potential psychology majors to take advantage of networking opportunities. "Talk with your professors and TAs about anything in psychology that seems interesting to you," she counsels, noting that others' ideas and perspecitives might just lead you to find your true passion. Hopefully, the Hagenstein Research Travel Award will take Kayla further down the road to her educational and professional goals!