Katie Champoux: Life-long Husky Awarded McFarlane Scholarship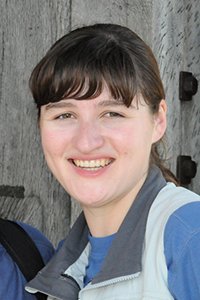 Katie Champoux
"I've been a Husky my whole life - I was born at the UW, attended UW camps in the summers, and the UW was my first choice for college."
- Katie Champoux
A Husky from day one, Katharine (Katie) Champoux will enter her final year at UW as the recipient of an Irene Dickson McFarlane Tuition Scholarship. These $5000 scholarships rotate annually between the four divisions of the College of Arts and Sciences, and are intended to honor and support the College's very best undergraduate students.
Katie, who is pursuing a double major in psychology and neurobiology, was nominated by the Psychology Department with the strong support of her research mentor, Dr. David Perkel, who describes Katie as "having shown the maturity and focus of a mid-career graduate student." Dr. Perkel, a professor of biology and otolaryngology, further notes that Katie "exemplifies the very best of what one hopes to see in a student and scholar at her stage." Katie's research in Dr. Perkel's lab examines the neural mechanisms of memory, learning, and vocalization by studying how juvenile songbirds learn and practice their songs.
With plans to ultimately become a pediatrician or family medicine physician, Katie's is taking full advantage of the wide range of both classroom based and experiential learning opportunties available to her. "I view my undergraduate coursework as a precious time to learn about other people and stretch my thinking," explained Katie in her Scholarship application statement, "as well as to accomplish the pre-med requirements and earn a bachelor's degree." Equally passionate about giving back to the community, Katie has volunteered with the Child Life program at Seattle Children's Hospital and with the Little Bit Therapeutic Riding Center where she helps children and adults with disabilities in equine-assisted therapies.
Katie discovered her interest in psychology in a high school Advanced Placement course. "From the very beginning," she recalls, "I've enjoyed learning about human behavior and the neural pathways involved in memory and learning." Special shout-outs go to Psychology Lecturer Dr. Ann Culligan and Psychology Professor Dr. Jaime Diaz, both for the fascinating subject matter of their courses and for their outstanding teaching abilities. Over the coming academic year, Katie plans to take the remaining courses needed for her psychology and neurobiology majors, as well as a range of elective courses as she prepares to apply to medical school.