The science and practice of sexual-offender treatment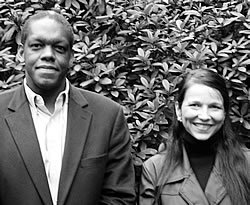 Prof. Bill George and Dr. Jennifer Wheeler
The most widely used treatment of sexual offenders has multiple links to UW Psychology. In the early 1980's, a group of researchers developed the treatment methods that have become the worldwide standard, based on the relapse prevention therapy developed by UW Psychology Professor Alan Marlatt for treatment of drinking problems. Dr. Janice Marques, a former student of Marlatt's, applied relapse prevention to sexual offenders at Atascadero State Hospital in California. UW Professor Bill George, then at SUNY Buffalo and also a former student of Marlatt's, wrote the treatment manual that put research and theory into practice. Today, Professor George serves on the Advisory Board for the Sexual Offenders Treatment Program (SOTP) at the Twin Rivers Unit of the Monroe Correctional Complex in Monroe, WA.
"The theory of relapse prevention is to help individuals recognize the first signs of a lapse [behavior or thought that could lead to re-offending] and to take action on those signs, before a full-scale relapse has occurred," explains Prof. George. "Before 1983, there was no consistent theory or practice of treatment of sexual offenders. But within 10 years, relapse prevention became the primary model around the world."
Over the past few years, Professor George has supervised two psychology graduate students, Doctors Barbara Dahl and Jennifer Wheeler, whose dissertation research investigated the effectiveness of new treatment techniques at SOTP. Dr. Wheeler now works full time as SOTP's Research and Assessment Team Coordinator.
"SOTP is a voluntary treatment program for incarcerated sexual offenders, that begins when offenders are within a few years of their return to the community and continues after they are released," explains Dr. Wheeler. Part of my job is to evaluate offenders as they are starting the program, to help SOTP therapists develop treatment plans to target offenders' risk-based needs. Treatment includes group and individual therapy, using a Relapse Prevention-based approach." . An important part of my job here is to evaluate what and how we are doing and to continue to integrate current research into assessment and treatment protocols. Currently we are focusing on the use of [additional] factors to guide treatment, and also the applicability of other cognitive-behavioral therapies to further enhance the Relapse Prevention model."
"The impact that UW Psychology has had on treatment of sexual offenders is a clear endorsement of its commitment to training clinical graduate students as scientist-practitioners, who continue to integrate research into treatment delivery. Working in a prison-based treatment program, that values empirically-based approaches to complex behavioral problems, is a very rewarding career for a scientist-practitioner."
"The impact that UW Psychology has had on treatment of sexual offenders is a clear endorsement of its commitment to training clinical graduate students as scientist-practitioners."