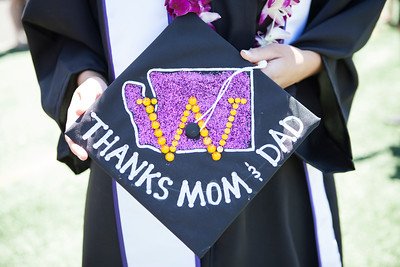 The 2021 Psychology Graduation Celebration will again be in the form of a pre-recorded video to be broadcast at 9:00 am PDT on Saturday, June 12.
Information below is from our 2020 event. Please watch for updates on the 2021 Psychology Graduation Celebration on this page. 
DATE CHANGE - 2020 Psychology Graduation Celebration - June 13, 2020 at 9:00 am PDT
Out of respect for the Seattle-King County Black Lives Matter organization's call for a statewide strike and silent protest march on Friday, June 12, the Psychology Department has made the decision to move the streaming of our Graduation Celebration to Saturday, June 13, at 9:00 am PDT.

We wish that we could all be together to celebrate the accomplishments of our graduating seniors. We instead invite you to join us for a virtual Graduation Celebration that will begin at 9:00 am PDT on Saturday, June 13. Please use the link below to access the event and to share with your families, friends, and supporters.
Thanks for bearing with us during the issues with the live stream! If you missed it or would like to watch it again, you can view it on Vimeo here: https://vimeo.com/uwpsych/2020-graduation-ceremony
Here is a link to the Graduation Celebration program.
Your Psychology faculty and advisors are excited for you as you begin the next steps in your journey. Please keep us posted on how you are doing!