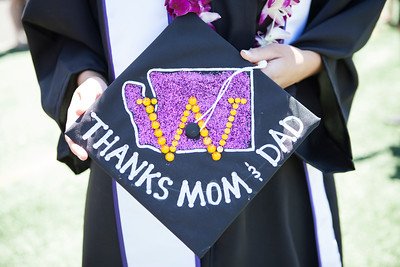 Wednesday, June 10, 2020
5:30 PM - 7:00 PM
University of Washington Husky Union Building (HUB) Ballrooms
Recording of 2019 event available at: https://vimeo.com/uwpsych/graduation-ceremony-2019
The Psychology Department would like to honor your graduation and personally recognize your accomplishments. You and your family and friends are invited to the UW Psychology Graduation Celebration. We hope to provide each graduate in attendance with three guest tickets and one ticket for the graduate. However, due to strict room capacity constraints, the final number of guest tickets per graduate will be dependent on the total number of RSVPs received by the posted deadline. Please note that tickets (in the form of wristbands), will be required for admission of each individual, including graduates.
Please contact the Psychology Advising Office with any questions at psyadvis@uw.edu or 206-543-2698.
At the beginning of May, all psychology majors who graduated in December 2019 or March 2020, or have a graduation application on file for June or August 2020 will be sent an email with a link to a Catalyst survey. This survey is the means by which you will RSVP for the event. Note that the deadline to RSVP will be midnight on May 31. Students who contact the Psychology Department after that deadline will be added to a space available wait list.
Wristband tickets can be picked up by students who have RSVPed at the Department of Psychology front desk in 119A Guthrie Hall. Days and hours for pick up will be posted in early spring quarter. Your name must appear on the RSVP list and you will need to have a photo identification available when picking up your wristbands.
We hope that this FAQ will answer most of your questions about the event. If not, please contact us at the phone number or email address above.
The doors for this event will open approximately 45 minutes before the event. Please ask your guests to arrive between 4:45 and 5:30 PM.
Click here for information about parking.