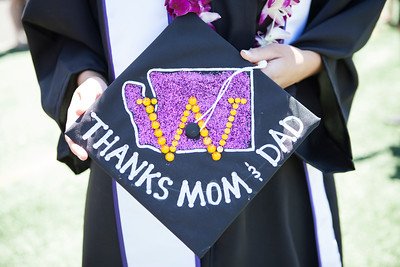 Welcome graduates, families, and friends. This site is where important information about the 2024 Department of Psychology graduation celebration will be shared. Please check back here closer to the event for additional details that will include parking information, suggestions regarding attire for the graduates, and an FAQ that should answer most of your questions.
Date & Time:
Monday, June 3, 2024**
6:00pm -Start time
(Doors will open at 5:00pm)
Location:
Registration:
In April, an email will be sent from the Psychology Department with information registering for the June 3 event. For fall 2023 and winter 2024 graduates, the announcement will be sent to your non-UW email address the University has on file. For spring 2024 and summer 2024 graduates, the announcement will be sent your UW email address (please check junk mail files... just in case!). 
Registration for the event will close on May 24; however, if you did not register you and your guests are still welcome to attend the Graduation Celebration and your name will be read as you process across the stage. Names of graduates who did not register will not appear in the virtual event program.
All participating graduates... please review this link for logistical information for you and your guests for the Graduation Celebration event.
Guest Ticket Information:
Tickets will not be required. The Alaska Airlines Arena is a large venue and the number of guests for each graduate is unlimited.
International students can find information about inviting family members to visit the U.S. to attend both our departmental graduation celebration and the larger commencement. 
Dress code:
Most students will choose for a business casual style. About half of the graduates choose to wear cap and gown, but this is optional.
**We know that holding the graduation celebration several days before the UW Commencement Ceremony (scheduled for Saturday, June 8, 2024), poses a challenge for families and friends of graduates who hope to attend both events. We are one of the largest departments at the UW and the Alaska Airlines Arena is the only venue that will accommodate our graduates and their guests. June 3 was the only available date for our department.