Research Fellow Aims to Help Adolescents' Mental Health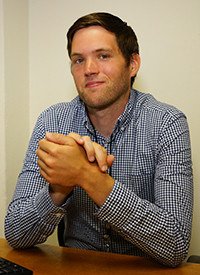 Kevin Kuehn
Kevin Kuehn (Child Clinical Area with Kevin King) is our latest student to receive predoctoral (NRSA, or National Research Service Award) funding from the National Institute of Mental Health for his research on understanding and treating suicidal thoughts and behaviors in adolescents. The background of this research award was covered in a previous article. Learn more about Kevin below!
Let's start with the basics, where are you from and where did you complete undergrad/masters?
I'm originally from the suburbs of Detroit and went to Wayne State University (in Detroit) for my undergrad degree.

How did you wind up at UW/why did you apply here? What do you think about living in Seattle?
After undergrad, I landed a job as a research assistant in Department of Psychiatry at Brown University on a longitudinal study of youth diagnosed with bipolar disorder and also helped out on projects with youth hospitalized for suicide risk. There, I gained some experience in the assessment of suicidal behaviors as well as some familiarity with treatment development research as it pertains to youth at risk for suicide. There are few places in the U.S. where I could pursue that line of research, which led me to apply to the BRTC/UW.
Seattle is a great place to live with the proximity to the mountains, the great restaurants, and the many breweries. I feel fortunate to have the opportunity to live here.

What is your research interest and how did you get into it (what inspires/motivates you)?
My research is focused both on understanding and treating suicidal thoughts and behaviors in adolescents. While in undergrad I volunteered for a lab at the University of Michigan that studies youth at risk for suicide which gave me some perspective on the problem. Suicide is the 2nd leading cause of death in youth ages 12-19, but we still do not know who is most likely to be at imminent risk. Even worse, evidence-based treatments exist to treat suicidal thoughts and behaviors, but a large proportion of youth either can't or don't access them. I'm motivated to make a dent on these two problems.

How did you learn about your funding opportunity and tell us about the application/waiting process?
I first learned about the NRSA through the BRTC, from my mentor (Kevin King), and from other grad students in the department. The application process is a slog and very tedious, but definitely worth it since it helps to organize your ideas and formulate a plan for your dissertation. A couple of other students in my cohort got together to brainstorm and set writing deadlines which was really helpful. I also received lots of feedback and encouragement from Kevin King and Melanie Harned which helped me to feel confident in ultimately submitting it.

How did you feel when you learned that your application was accepted and that you will receive funding?
I felt extremely relieved and overwhelmed. I was also excited to get started on the project and to actually do the research I spent so much time developing.
What is the name of your project and the funding source?
Employing ecological momentary assessment to study impulsivity, emotion regulation, and coping among youth at high-risk for suicide. It's a National Research Service Award (NRSA) from the National Institute of Mental Health.

How might your research change the world?
I hope that we can better identify youth at imminent risk for suicide and connect them with evidence-based treatments. The ultimate goal would be to reduce the rate of youth suicide in the U.S.

Do you have any advice/tips/suggestions for others who may apply to this opportunity? About graduate study in general?
Work closely with your advisors or other people in developing your project and training plan. Talk with a program officer at NIH about the research they think is needed and evaluate whether your ideas and interests align. I also think persistence is a pretty big ingredient in success (and in graduate school). Most people have to apply more than once. After each round reviewers give you feedback on your proposal and (hopefully) suggest ways to improve. Take that advice very carefully and reapply since it's likely to be a stronger application. Criticism is a part of that process.

What do you hope to accomplish with the funding and/or while in the UW Psychology graduate program?
Complete the study I proposed and then spend some time publishing papers and talking about the project. You know, try to be an academic. I'm excited to have more time to collaborate with some brilliant faculty members in the department.

What do you like doing in your spare time?
I challenged myself to run a marathon a few years ago and have since completed 6 of them (as well as a half marathon on Mt. Bachelor that was supposed to be a full but it turns out that running on a mountain is hard). Other than that, I'm excited to travel more with my husband and to continue exploring many of the breweries Seattle has to offer.

The last book and/or movie you saw and enjoyed?
I just watched The Command over the weekend and didn't fall asleep, which is an indicator it was decent. It was based on a true story of a Russian submarine accident.

What do you plan to do once you complete your PhD?
Continue this line of research and pursue projects aimed at reducing the rate of suicide.
Supplemental Reading: