NRSA Researcher Studies Emotion Regulation as Socialcultural Process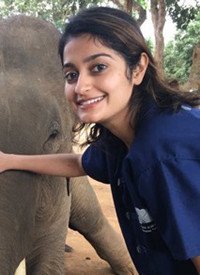 Megan Ramaiya
Megan Ramaiya (Adult Clinical Area with Jane Simoni) is our latest student to receive predoctoral funding through the National Research Service Award (NRSA) for her research on suicidal Nepali youth. The background of this research award was covered in a previous article. Learn more about Megan below!
Let's start with the basics: where are you from and where did you complete undergrad and masters?
I grew up in Macon, GA, but when I'm asked where "home" is, I'll usually say North Carolina or South Asia. I received my undergrad and master's degrees from Duke (in Biology and Global Health).
How did you wind up at UW?
There are so few places in the country where you can study global mental health as a clinical psychology PhD student, and UW is one of them. I was drawn to my advisor's line of work and appreciation for studying culture, and also loved that UW was committed to global health research and training as a university.
What is your research interest and how did you get into it?
My research interests change all the time. More broadly, I'm interested in global mental health intervention development. Since coming to UW, I've developed an interest in how to do ethical and efficient experimental research in low-research settings, with the goal of using findings to directly inform intervention development in the short-term (vs. decades later—whenever the usual life cycle is for research to be turned into action). I got into the field as a Master's student at Duke, where I had a really inspiring mentor and started doing dialectical behavior therapy intervention research in Nepal.
How did you feel when you learned that your application was accepted?
Shocked, relieved, excited, afraid — there are probably more feels underneath there.
What is the name of your project?
Interpersonal emotion regulation processes in suicidal Nepali youth.
How might your research change the world?
That's a big goal. (And I'm not sure is mine.) My project is trying to push our understanding of emotion regulation as a sociocultural process, especially as it relates to suicide risk. A lot of research in the States says that expressing how we feel promotes our mental health and benefits our relationships. However, South Asians can have a different sense of social boundedness (i.e., one that's looser and tighter in places) than what's often taught in the U.S., and for that reason, there may be benefits to suppressing our feelings sometimes. My specific study is using qualitative methods and an experimental set-up to look at how, when, and under what conditions suppressing emotions could be a protective factor for suicide in Nepali youth. My broader goal is to work towards helping cultural minorities with mental illness develop the social connections they need to get better.
Do you have any advice/tips/suggestions for others who may apply to this opportunity? About graduate study in general?
Stay oriented to process rather than outcome. Writing an NRSA is an exhausting process, and I'm not sure there's a way around that other than through. I submitted the application 3 times, and my one wish is that I had leaned on others more in my earlier applications, and sooner. Also, it's okay if you think your idea is terrible. Sometimes I still think mine is.
What do you hope to accomplish with this funding?
Graduate!! (And have the time to deep dive into a research project.)
What do you like doing in your spare time?
Traveling, playing around the kitchen, being with others, and religiously updating my skincare routine.
The last book and/or movie you saw and enjoyed?
Unaccustomed Earth by Jhumpa Lahiri (love how she can craft rich inner lives for South Asian immigrants in startlingly few pages) and a compilation of readings by a stoic philosopher (Epictetus) my best friend gave me. I don't actually remember the last movie I saw.
What do you plan to do once you complete your PhD?
I'd like to do global mental health treatment development research, either by working at an academic institution or an international organization like the WHO. I'm especially interested in figuring out how I could accomplish this while living abroad more permanently.
Supplemental Reading: