Understanding Child Mental Health in New Delhi's Slums
Prerna Martin is a 2nd year Child Clinical student working with Shannon Dorsey. The Psychology Department asked Prerna to share her experiences conducting a research study in India this summer, while being supported by the Graduate School's Top Scholar recruitment award. Shannon Dorsey's lab focuses on disseminating and implementing evidence-based practices for children and adolescents domestically and globally in low- and middle-income countries.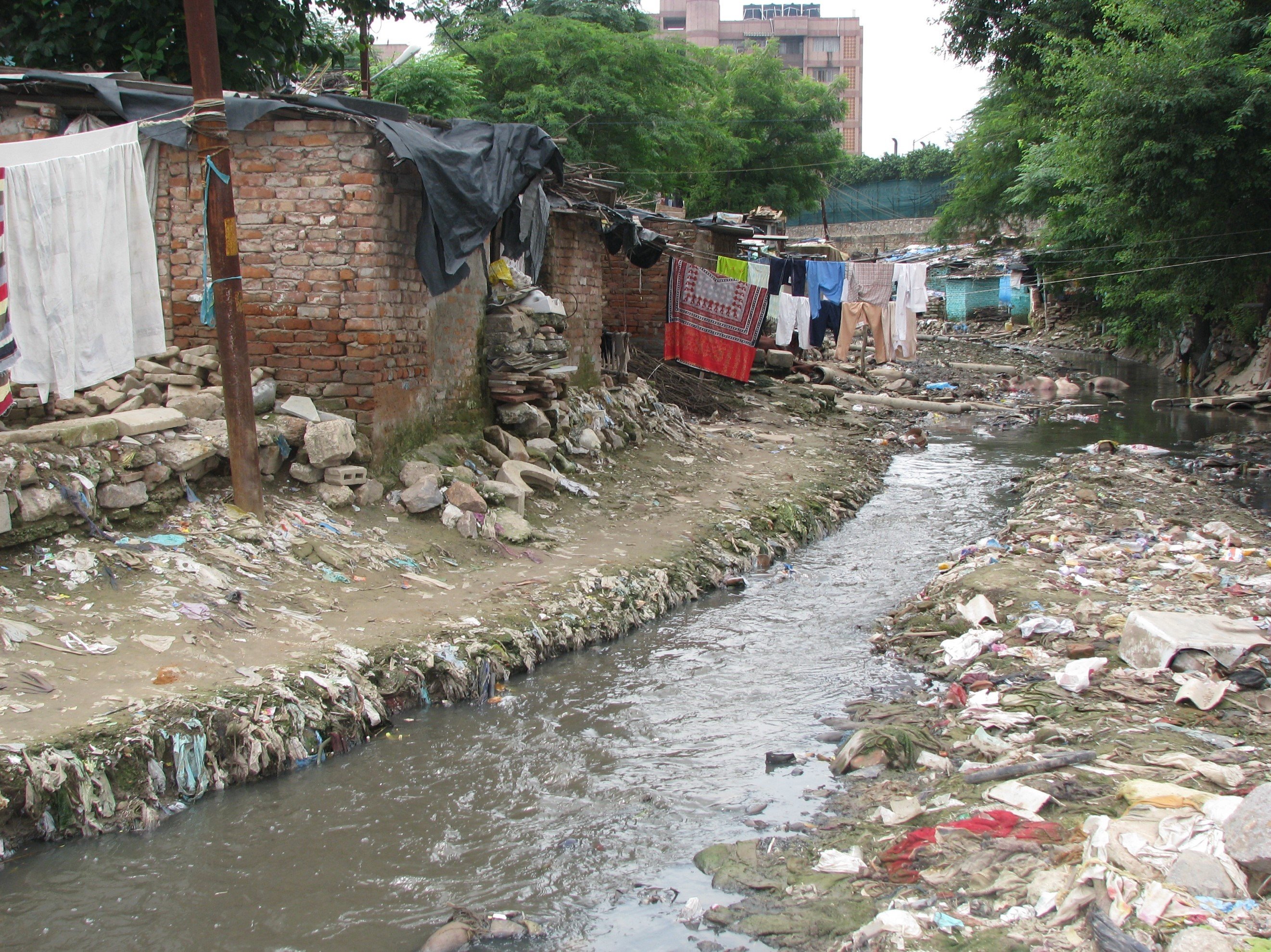 A typical Delhi slum and one of the study sites
Growing up in India, I worked in urban slum communities from a young age. This involvement was through Asha, a non-profit organization founded by my mother that serves over half a million slum residents in New Delhi. Asha has a bottom-up multi-faceted approach to urban development, where trained community workers living in slums help design and lead programs in healthcare, education, empowerment, environmental improvement and financial inclusion. Over the last 30 years, Asha slums have undergone remarkable transformation in these areas – residents have access to healthcare services, morbidity and mortality from preventable diseases is low, most children go to school, living conditions have improved and community members are empowered to fight for their rights. Mental health, however, has been missing from this picture.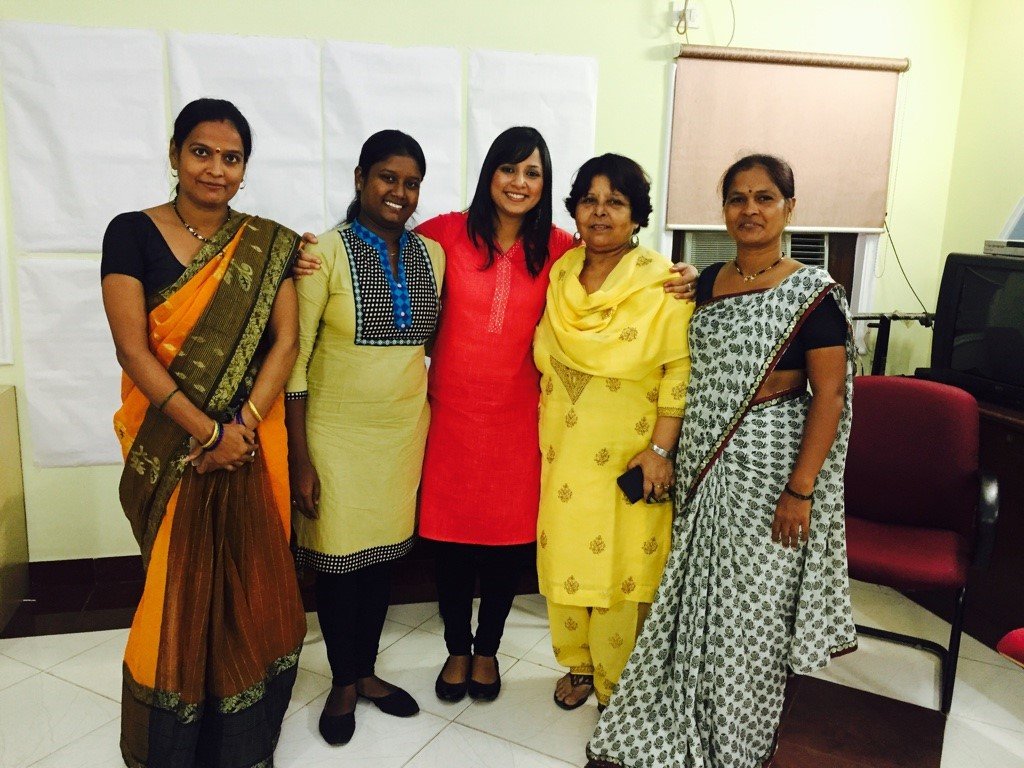 Supervisors & project coordinators oversaw study activities at each site. Prerna in center.

This summer, I had an opportunity to lead a research study that would inform the development of mental health services for children and adolescents in Delhi's slums. Many chronic stressors from living in an urban slum such as overcrowding, residential insecurity, lack of clean water and sanitation, violence, abuse, discrimination, child labor and extreme poverty, place slum children at a high risk for developing mental disorders. Yet, no mental health services have been adapted to fit the needs of this population, and slum children remain one of the most under-represented groups in the global mental health agenda.
For this project, I used the Design, Implementation, Monitoring and Evaluation (DIME) method developed by Dr. Paul Bolton at John's Hopkins University (JHU) to conduct a rapid needs assessment using qualitative interviews and focus groups. We wanted to understand how psychosocial problems of slum children are described and prioritized in this cultural context. At Asha, I trained 16 staff members in qualitative methods, who then interviewed over 120 children and adults living in two Delhi slums. The DIME method involves gathering lists and descriptions of problems identified by general community members, and then investigating potential mental health problems by interviewing key community informants. In order to capture local conceptualizations of mental illness, we conducted all the interviews and analyses in the local language, Hindi.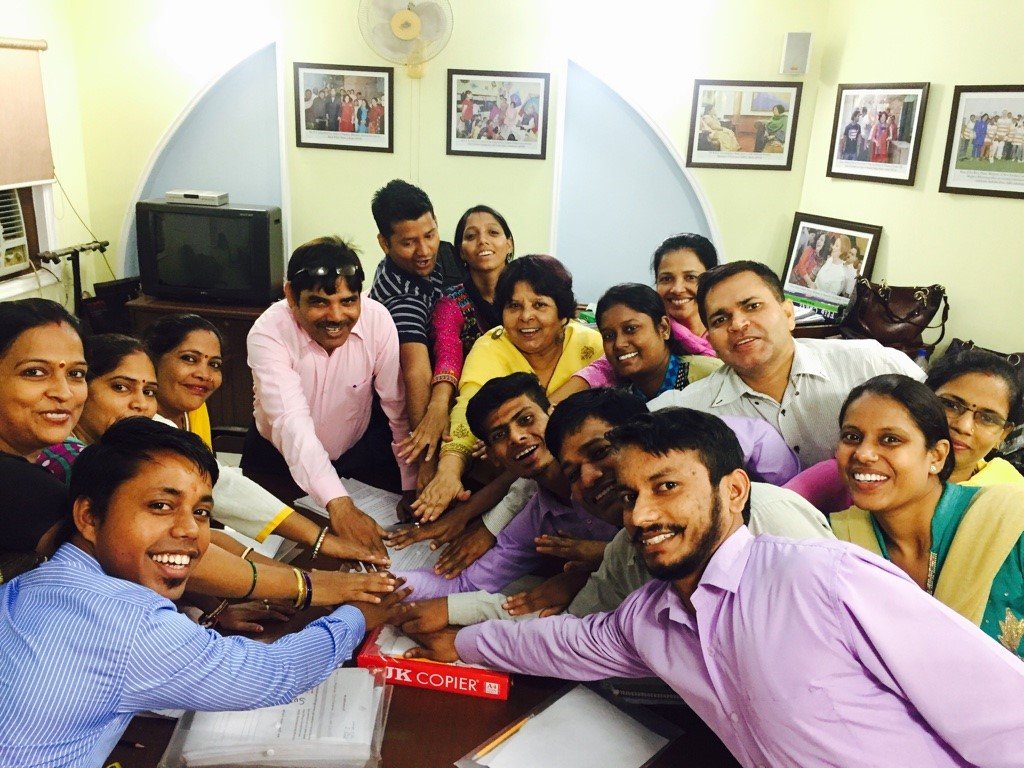 Our team huddle every morning before starting study activities!
For me, this experience was both inspiring and challenging. We learned so much about what mental health problems "look like" in urban slum children. While some of the underlying symptoms of internalizing and externalizing problems were similar to those we see in Western cultures, their descriptions and perceived causes differed. One of the biggest challenges was setting aside our preconceived notions of what mental illness should look like, and letting our understanding be truly informed by local perspectives. I was fortunate to work with a phenomenal team that was hard working, dedicated and really eager to learn new research skills. We started each day with a short affirmation exercise to verbally affirm each other's strengths and unique qualities, which did wonders for team building and morale. It was exciting to see the interviewers grow and improve in their skills over the three weeks of the study. We encountered challenges at almost every step – from coordinating recruitment to translating study materials, making decisions during analyses to interviewer burnout. Through all of it, I was grateful to have so much support from Asha and my mentor and colleagues at UW and JHU. I left with a deeper appreciation of the unique challenges in global mental health research, and was also inspired by the potential for change.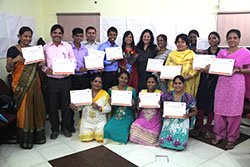 Interviewers and supervisors receiving certificates in qualitative research at the end of the study.
Looking forward, I am so excited about what we can offer kids and families living in Delhi slums. We are partnering with JHU and the Public Health Foundation of India to use this study's data to inform measurement development and service delivery. Ultimately, my vision is to develop a culturally acceptable community-based mental health program that can be adapted for children living in slums worldwide. Thank you so much to the Dorsey Lab and UW Psychology Department for your support and encouragement towards pursuing the work that I love and extending our impact beyond Seattle – all the way to India!
Supplemental reading: